C'mon now, everybody has the hots for ladies in the limelight. So Page 3 asks ...
Who is your celebrity crush?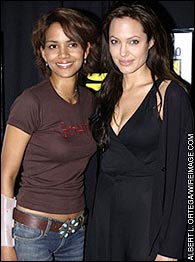 Halle and Angelina are on the top of everyone's list of crushes.
Pau Gasol
, Grizzlies forward
Charlize Theron. I think she is one of the most gorgeous actresses and women that I've seen in my whole life. I've never met her in person, but I've seen her movies and think she is just amazing.
Emanuel Ginobili, Spurs guard
Angelina Jolie is the lady I like most. I like the whole thing. The looks ... the acting, yeah, I don't know about that, but the looks yeah!
Ricky Davis, Celtics guard
Stacey Dash (actress) and Alicia Keys because they are beautiful. There's no other reason why.
Tom Gugliotta, Celtics forward
Angelina Jolie. I just saw her in her new movie, "Alexander." I saw her in character and thought she was very nice. She's just a beautiful woman.
Brendan Haywood, Wizards center
KD Aubert. She's an actress. She was in "Soul Plane." She's attractive and tall and I have a thing for attractive tall women.
Kerry Wood, Cubs pitcher
Jennifer Love Hewitt used to be, but since then I've met my wife! Oh, that's a good answer, huh? But I like Jennifer because she seemed more reserved and down to earth. I like women who are down to earth.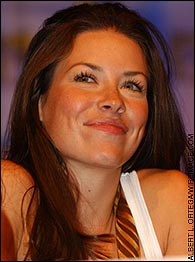 Plenty of guys are getting lost in Evangeline Lilly's smile.
Rocket Ismail, ESPN college football analyst
My wife is pretty famous, so I have to say her. Her name is Melani and she's a record executive at Coz Records. She's a song writer, a composer, you name it, she does it all. She's my crush because she's just an all-around sexy girl.
Brandon Noble, Redskins defensive tackle
You're going to get me in trouble with my wife! But, I do dig Evangeline Lilly (plays Kate) from "Lost." I'm addicted to that show. She's cute. I like her smile. It's special."
Dwight Freeney, Colts defensive end
Christina Millan; she's a singer. I like everything. She shows a lot of style, flash and class. What more can you want?
Carlos Emmons, Giants linebacker
I hate to be obvious, but Halle Berry. What is it that every guy doesn't like about her? Because she's got the whole package!