Yeah, we know the season's all about giving, but still we had to ask:
What do you want Santa to leave under your Christmas tree?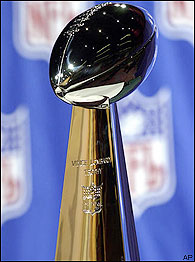 Santa's elves will have tons of fun trying to wrap this.
Ben Roethlisberger, Steelers QB
"A Super Bowl trophy and I guess that means a Super Bowl ring, too. Everyone growing up playing football dreams of winning a Super Bowl and now that I'm doing it in the NFL, that's what I want. In college [Miami of Ohio], we won the MAC Championship, so it's sort of like the same feeling, but a different level, though winning the Super Bowl would mean we are the best team in the world."
Larry Johnson, Chiefs RB
"A better opportunity for my team next year! I just bought a new house, so I could use a subscription to Sports Illustrated and ESPN The Magazine. I need a coffee table set and that would be a good place to put Sports Illustrated and ESPN The Magazine! I need a television, something small, a flat screen. It's a TV for the kitchen area. I'm a big TV watcher. I watch everything from "Sex & the City" to "America's Next Top Model." I'm a reality show and game show watcher."
Rod Coleman, Falcons DT
"I'm into gadgets. I just went to an electronic store today to see what's new. I like loud music. So Santa can bring me big, I mean real big, speakers. I'll take anything and everything that can hold my news. And I need a new iPod. The iPod I have now doesn't hold enough. It only holds 2,500 songs, I need one that holds 5,000. So Santa can bring me a new one. I also watch all the infomercials late night on TV and I buy everything. So anything from an infomercial. I also like games that I can hook up to my TV. I've bought every one they've made, so if there are any new ones, I'll take that. And I want a TV that flips down from the counter in the kitchen."
Lito Sheppard, Eagles CB
"I'd like a Super Bowl ring! What else ... a custom motorcycle, a [Harley Davidson] Chopper. I actually have two motorcycles, an '04 Suzuki GSXR 1000 and a [Suzuki] Hayabusa. But the Chopper would be the more laidback, cool style instead of the fun exciting bikes I already have."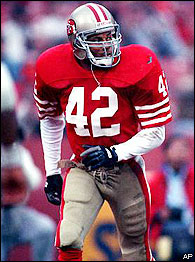 The Niners want a time machine for Christmas.
Donovin Darius, Jaguars S
"A first round of the playoffs. We're also in the middle of decorating our house and I need stuff for the room that's my office. I like those posters with nice nature photos and inspiring quotes on them. I'm really into nature and the pictures are awesome, to see something God made in nature. You guys up at ESPN want to send me something? I'd like a Ronnie Lott jersey. I always liked his style of play. He was a guy I watched when I was in college [Syracuse]. I'd watch documentaries on him. The way he played, I appreciated both what he was like mentally and physically."
Walter McCarty, Celtics F
"I don't believe in Santa, I'm sorry [laughs]. I'm not into material stuff. I'm not into Xbox. I'm into living a simple life. So, I guess I'll say for just a string of wins, how about that? You know, I haven't done any shopping yet because we were on the road. Actually, I did do some shopping in Napa Valley, got me some wine and stuff like that. I'm a wine connoisseur. But I can't even ask for that from Santa because I got all the best wines in the world already. You know, I pretty much have everything, everything that I want to have. I'm very simple, it doesn't take a lot for me. The biggest purchase I ever made was my house. It's about 70-80% decorated. I can't even ask Santa for anything for the house because my wife does all that, I could care less. She loves my input, but I always end up saying that it doesn't matter to me, if you like it, then that's what you do. I will do some shopping for my wife for Christmas though, of course I will!"
Matt Harpring, Jazz F
"Honestly, I wish nothing physical. I would like health. But if it has to be a physical gift, a good book maybe. I like autobiographies. I'm actually reading Christopher Reeves' right now, it's really good. So, something small, nothing big."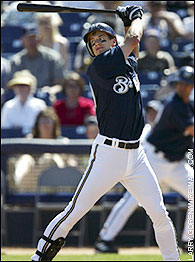 Craig Counsell might need to ask for a new back in a few years.
Craig Counsell, Diamondbacks SS
"A new batting stance. I didn't hit well this past year and everyone always makes fun of me. As for real presents, I always tell my wife not to get me anything."
John Smoltz, Braves RHP
"A permanent home for my kids high school, Kingsridge Christian School. They don't have one yet and we've been trying to get them one for four years. We actually have the place, but we've been to court over it for the past four years, so I'd like that resolved."
Frank Solich, Ohio Univeristy Head Football Coach
"A Bowl game. I was lacking in wins this past year [with Nebraska]. I want wins, so we can go to a bowl game. There's nothing else I need, so I'll stick with that being the only present I want."
Erasmus James, Wisconsin DT
"To be a Top-10 pick and tickets to Disney World. I've been there a few times and I love it. Tower of Terror is my favorite, I'm not scared on it, I thought it was fun."