What is your New Year's resolution?: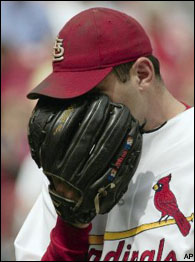 Steve Kline is going to keep his fingers in his mitt in 2005.
Steve Kline, Baltimore Orioles LHP
To keep my mouth shut for one, and to keep my middle finger from going in the air (flipped the bird to Tony LaRussa while pitching for St. Louis in 2004). To not do anything stupid to my new manager. Hmm, what else? Drop 40 pounds. I'm up to 235! I'll try to lose weight by wrestling. Lastly, to be a better dad, but that's kind of mushy.
Linda Cohn, ESPN "SportsCenter" anchor
To not put pressure on myself to be Superwoman, both at work and home -- stop trying to do everything and accomplish everything at every moment. I want to, instead, spend more time making others smile, which in turn makes me smile.
Ricky Manning, Jr., Carolina Panthers CB
My New Year's resolution has to do with real estate. I want to improve myself as a businessman and transition from athlete to businessman. I have an internship with a building company to learn. And in 2005, my fiancÚ and I are going to get our real estate licenses. So, I'll start there before investing more. I already have three homes, but I want to get my real estate license before I buy another one.
Patrick Crayton, Dallas Cowboys WR
You know, I've never had one, but something I'd like to change for 2005 is my role on offense. I'd like to have a bigger role. I think I need to do more work in the offseason. (Head coach) Bill Parcells likes that.
Steve Levy, ESPN "SportsCenter" anchor
To try and slow my life down and not be in a rush all the time -- try and not rush through life. I'm going to cheat and push my clock ahead so I can lie to myself about what time it really is. I always feel like I'm up against it. I want to take some stress out of life. I want to try and not be the last guy on the airplane every time.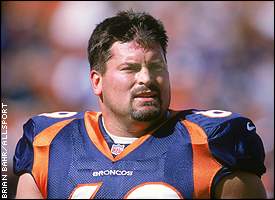 It's no more Mr. Nice Guy for ESPN NFL analyst Mark Schlereth.
Kelly Herndon, Denver Broncos CB
To travel more. Now that I can afford it and have the opportunity, especially while I'm young, I should travel more. Growing up, I wasn't able to go and see different places, so I need to take advantage of that now, while I can. I would've loved to go Hawaii for the Pro Bowl, but I guess maybe I'll just go and check out Jamaica instead.
Mark Schlereth, ESPN NFL analyst
To be meaner than I was last year. I'm way too nice.
Terrence Kiel, San Diego Chargers CB
We haven't finished this season of football yet, so I can't ask for something that might happen this year. I consider the postseason part of this year, so I'm hoping to get to the Super Bowl. So maybe back-to-back Super Bowls then. In my personal life, I'd like to do more reading and to get to know myself better. With football practice being all day, I'm always doing something. So, I'd like more free time to get to know myself and to spend with my girlfriend.
Barry Sims, Oakland Raiders T
To become more organized in both my personal and professional life. This means I will be using my planner for appointments and putting things away, such as clothes in their propper location. (His wife Shae says: I am glad to hear it and happy to not have to yell at him for his closet being messy. I usually yell as I clean it up).
Joe Theismann, ESPN NFL analyst/commentator
Work less and play more -- that's my new motto in life!
CC Sabathia, Cleveland Indians pitcher
To be in the best physical shape of my life. I am already in the gym working hard everyday, but will step it up even more come January 1st. I will start the baseball season fit and healthy.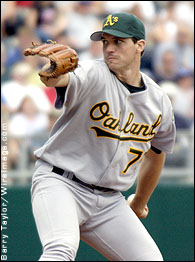 The new year will bring a kinder, more gentle Barry Zito.
Barry Zito, Oakland A's pitcher
My New Year's resolution is to be happier and more loving and thoughtful towards others.
Dennis Francione, Texas A&M head football coach
To enjoy the wins sooner and more, 2003 was a hard year and at least we had more wins in 2004. But a head coach only gets a few hours to enjoy a win. It's a short span to enjoy and then it's on to thinking about the next game. Thinking about who is hurt, who can play, what the game plan is, it's a short window and I'd like to be able to enjoy the wins immediately and for a longer period of time.
Klayton Adams, Boise State OL
To get down to 250 pounds by my birthday, which is on February 13. I'm at 297 now. At 5-foot-11, I really shouldn't be carrying this much weight around. I'll lose it through working and dieting hard. The first 15 pounds will come off easy -- it's the next 20 that will be tough! That seems to always be the way, doesn't it?
Napolean Harris, Oakland Raiders LB
Train harder in the offseason to prevent injuries and become a stronger and faster athlete. Also, I want to get into a few more business ventures, if they are lucrative and make sense.
John Anderson, ESPN "SportsCenter" anchor
I don't have any because I have no willpower what-so-ever. I am spineless. I like me the way I am, frailties, faults, and all -- this is how I am. I have no stick-to-itness, like if someone says, "Don't think of the pink elephant." Doh, I think of a pink elephant. Or if someone says, "Don't smoke." I think, "Where is a cigarette?" I've never made a resolution.