It's become part of the Thursday morning routine: Go to work, turn on computer, rearrange the "IN" box, and recap Jesse Palmer's performance on ABC's "The Bachelor" with co-workers.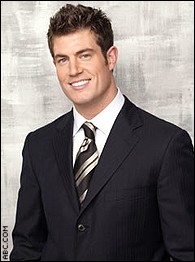 Palmer is currently the third-string QB for the NY Giants.
Since the premiere episode, Page 3 has asked one of Palmer's New York Giants teammates, wide receiver Amani Toomer, to give us his take on how his boy is making out.
But first, a recap: This week, three became two. And, pulling the old "make it last forever" trick, one became two -- as in two hours of programming.
The first hour of the "special" two-hour episode was all about the laaaydaays. Actually, it was more about one lady -- Trish. It was supposed to be the booted women of "The Bachelor" speaking their minds, but it turned into a "we still think you're trash, Trish" show. The gabfest was pretty much a yawnfest. The second hour was the regular episode. Palmer went on three "romantic" dates with Tara, Jessica and Mandy J. Tara's date was in old-world Quebec City. Jessica brought some heat with her Bahamas date. And then there was the fun-filled, madcap date with Mandy J in ... Washington D.C. Wow, there's something about how the Washington Monument makes your eyes look ... amazing. (Ummm, how many times did Palmer say "amazing?" Our money says you lost count.) Not only does Palmer need to find some new expressions, he should also choose them a bit more carefully when dealing with matters of the heart, even if it is reality TV showmance. He decided to come clean -- too clean -- on his date with Jessica: He told her that, yes, he is falling in love with her,
but
he is also falling in love with someone else. After fighting back tears and confessing that she didn't like hearing about this "someone else," the option of staying in separate rooms or sharing a suite as a couple is presented, and all is well. "Not ... gonna ... cry. Stay strong." "Sorry about hurting your feelings and all ... so, you wanna go to the fantasy suite now?" "OK!" As promised, Trish busted up the not-going-that-well-anyway Mandy J date. She asks Palmer for some time to "talk" and totally throws herself at him, including a indecent proposal fit for any cheesy, Hollywood movie. Her advances were completely rebuffed. Incomplete pass. Later, back at the mansion, Palmer makes his choice and Mandy J (surprise, surprise) walks away without the rose. Now, Toomer's take on Wednesday's episode: Jesse's best move
When he confronted Trish
again
... seems like I say this every week (laughs). When Jesse confronted her and said, "I just don't see a future with you" and just put it out there. He didn't really back down or backpedal at any point. When he took the key ... I guess he just took it to be nice. I don't think he should have accepted the key. He should've just been like, "Look, I'm on a date right now and I don't have time for you." Say what he said to her and then left. I don't think he needed to have that long, drawn-out conversation.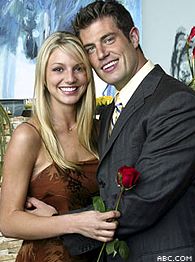 Amani Toomer is still putting his money on Tara to become Mrs. Jesse Palmer.
Jesse's worst move
Awww, man. He broke Player Rule No. 1: You never talk about how you feel about another girl when you are out with a girl. I mean, he was good up until he said, "I think I'm falling for someone else." If he would have left it at, "I think I'm falling for you," it would have been a great date, no awkwardness at all. Women's best move
I think the way Mandy J handled the whole Trish (interrupting the date) situation was classy. She stepped up. Women's worst move
The worst move was on Mandy J's date. She just didn't seem like she was even trying to open Jesse up. I know for a fact that Jesse is a very ... you can talk to him about anything. When they were sitting on the yacht ... it seemed like she was wasn't really trying. It could have been really fun, but at one point he was whistling. You kinda figured out that she wasn't going to work out from last week. As soon as he went to her parents' house and saw all that pageant stuff, it was a wrap. The writing was on the wall about her. Locker Room Ammo
(What Jesse did this week that would cause him to get crap in the locker room)
:
The words that he's saying; I mean he needs to come up with something else ... how many times did he say "amazing" or "unbelievable"? Go to a thesaurus, look it up: amazing, outstanding ... (laughs). "I think you look
amazing
tonight. This is just
amazing
." Come on, mix it up! Overall/Quick wrap-up
I'm still running with Tara. I feel like, from what they show you on TV, she's the more interesting one. She's definitely more interesting than Jessica.