After watching the finale of "The Bachelor," many of us were left with a long list of questions. Some of us were also left humming that song by '80s hair band Poison, "Every Rose Has Its Thorn."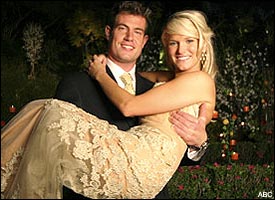 Oh, Jesse, you knock me off my feet!
Was it somethin' I said or somethin' I did?
Did my words not come out right?
Tho' I tried not to hurt you
Tho' I tried
But I guess that's why they say
Every rose has its thorn.

With that in mind, what will become of the new couple so deeply in "love"? How will the rejected runner-up, Tara, mend her broken heart? And did she cure her, uh, nervous stomach? Is Trish still carrying her spare room key (perhaps tucked away in her unmentionables?) on the off-chance she'll run into Jesse?
But perhaps the most pressing question is: What were those "inappropriate" things that Tara accused Jesse of saying ... or more important, doing? Page 3 spoke with the new tabloid cover-story couple, Jesse Palmer and Jessica Bowlin, by phone to get the scoop on life and love once the spotlight dims on "The Bachelor." "I think I was confused by that," Palmer claims about Tara's parting comments on his lack of propriety. "It was a very emotional night. And it was hard watching Tara's feelings get hurt (last night). I'm just still really confused by what she meant by that." Hmmm, we have some ideas. Despite Tara's father's penchant for firearms, Palmer was more respectful than concerned. "As much as the guys were talking about (her dad and his guns) today, I have to be honest ... Tara has a great father. Her entire family was great. It was a shame that they didn't show more of the rest of her family. I'm big fans of all of them. You know, we really like Tara. She's a really good friend of Jessica's and we think highly of her."
Bowlin agreed that watching the finale episode was difficult. "Watching yourself on TV is weird in general. And it was a very dramatic episode. We were both upset when Tara was upset ... it was hard."
Having to keep their new relationship a secret also proved difficult, but a quick check of the confidentiality agreement was a very easy and real reminder to keep quiet. The contract clause states that anyone breaking the silence would be held liable to the tune of $5 million.
After the long separation, Palmer was relieved to be in the same room with his chosen one. He expressed his feelings in typical Palmer-speak: "It's just amazing to be here and be able to look at each other."
What will become of our favorite gold digger anyway?
" 'Amazing,' Jesse? That's your favorite word!" Bowlin chimed in.
"I know, I've gotta find a new word to describe things," he laughed.
Uh, yeah. So, what's the deal with Trish? Was there any concern that she'd lower herself down from a hot air balloon, or something equally desperate, to interrupt the happy couple's rosy moment?
"No. Really, that episode was a big surprise to me. I totally had no idea that she was going to show up like that. But when I did see her, I knew I was going to handle the situation fine. And that would be the end of it. You know, Trish is great and it just didn't work out. I wish her all the best."
As for Bowlin, she wasn't concerned about Trish. Or any of the other women for that matter. "Initially, I thought that watching him with other women would be hard, but it didn't bother me at all. I'm not a jealous person so I was fine with it. I was fine with the show in general. I don't think everything was exactly right on. But I had no control over the situation, so I didn't let it bother me ... my posture bothered me. (Laughs) I watched myself, and said, 'I have to sit up and watch my posture.' "
Both sang the "it's all good" song when asked how they were represented throughout the show's editing process.
"I have no regrets about any of it. I was myself. I was not trying to be this cool guy or this super, romantic guy -- even though Jessica (doesn't like to) hear me say that. It was a great time. It was one of the best experiences in my life. Although I would try to memorize names better, if I could change something. (Laughs) But see, even that was just me being myself."
Now, as the transition from TV to tabloid takes flight, the couple stands to face the mean glare of public speculation. So, when asked what's next, Bowlin harkened back to advice from Palmer's dad.
Letting Jesse fill in the blanks, Bowlin recalled, "If it's right today, it'll be right next year and 10 years from now ... enjoy each other and enjoy the time. You know, enjoy each day one at a time."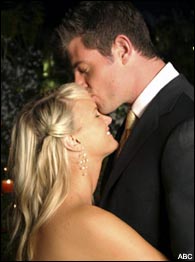 Ah, sweet mystery of life, at last I found you ...
After spending time shopping for engagement rings with both women, Palmer decided to forgo sliding one on Bowlin's finger and instead gave her a one-way ticket to New York -- first class, of course.
"I wasn't expecting anything out of the show at all," Bowlin says. "I didn't feel like I needed a ring. It was a more appropriate and responsible decision to give me a ticket. That ticket was such an important symbol ... it was a symbol of starting a future together."
But is Bowlin hanging on to her sunny California apartment, just in case?
Though Bowlin's friends and family were "thrilled" at her news, they didn't want to her to move to the Big Apple. But her Left Coast peeps can hold off on planning the big sayonara soiree. Yes, she has applied to law schools "in the area," but Bowlin has not moved to New York yet; she's just "visiting right now" and is not sure when the final move will happen.
Right now, they're just taking things one day at a time. Their schedule includes dinner plans with some of the N.Y. Giants and their wives on Thursday night, jetting off to Los Angeles on Friday and travelling around, spending some time together thereafter.
If they do, however, decide to tie the knot, the duo would consider a reality showmance wedding extravaganza, a la Trista and Ryan from "The Bachelorette."
"I would love to (have the show cover the wedding)," said Palmer, "but we'll cross that bridge when we get to it. I think it would be more Jessica's thing; I just hope I have some say in it," Palmer says, making both erupt in laughter.
Bowlin added, "I'm wondering when all of this will sink in ... we did People (magazine) already and we're doing Us Weekly this weekend. It's still all very surreal."