What would an All-Star team of fictitious baseball movie characters look like?
Who would the starting pitcher be? Bingo Long? Nuke LaLoosh? Amanda Whurlitzer?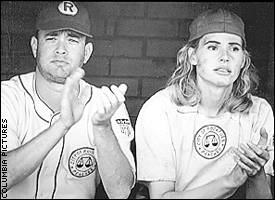 Geena Davis, right, discovered her natural athletic talents on the set with Tom Hanks.
How does a double-play combo of Hardy-to-Hooch-to-Elliott sound?
Moreover, who is the greatest baseball movie character of them all?
We're about to find out and you are going to make it possible. Assembled here is your Official Fictitious Baseball Movie All-Star Ballot. At each position you will find characters from movies you know and love or thoroughly despise.
1. Fictitious characters only. No Gary Cooper as Lou Gehrig, no Ronald Reagan as Grover Cleveland Alexander, no Dennis Quaid as Jimmy Morris and no John Cusack as Buck Weaver. Real players playing themselves in cameos aren't eligible either.
2. No more than four players from any one movie. This leaves out a few favorites like Pedro Cerrano from "Major League," which makes it more like a real All-Star Game when good players are left out because of shortages at one position and excesses at others. Baseball movies tend to be heavy on pitchers and catchers and light on infielders.
3. No television movies or shows. Feature films only.
4. No sequels. That means no "Major League: Back to the Minors," no "The Bad News Bears in Breaking Training" and no "Angels in the Infield."
ALL-TIME BASEBALL MOVIE TEAM
The Nominees:
5. The player must have speaking lines and be at least somewhat germane to the plot. This leaves out an actor like Charles Fick, brother of big leaguer Robert, who has appeared in seven movies and played a ballplayer or umpire every time.
6. The player must have a position. While working on "The Fan," former Phillie John Kruk had been asked by English-born director Tony Scott to play one of the middle infield positions. Kruk, who throws lefthanded, explained to Scott why this wouldn't be a good idea. But for the purposes of this poll, it would have been great if Kruk had agreed to do it because his character never appears on film playing a position. He would have been a welcome addition at second, short or third.
7. The characters need to be from movies most readers have seen or can see with just a little bit of effort. This means 1930s movies like "Elmer, the Great" and "Alibi Ike" and "Ladies' Day" (1943) are not on here. The older movies that show up in the poll ("It Happens Every Spring" and "Take Me Out to the Ballgame") can often be found at decent video stores.
8. No value judgments are passed on the films or the performances. Clearly, some of these movies are better than others. Also, some of the actors involved don't have the prettiest swings or pitching motions. That is not taken into consideration here. The characters are accepted as presented by the film. If the dialogue states a player is supposed to be the best in the league, then belief is suspended to accept that for the purposes of this poll.
You can vote for someone because the actor gave a great performance or really made you believe they were a ballplayer. You can vote because he wore the uniform of your favorite team. You can even vote for someone because they made you laugh or because you had a great date the night you first saw the movie. In the end, just vote with your heart.
Pitchers
Character: Bingo Long
Actor: Billy Dee Williams
Movie: "The Bingo Long Traveling All Stars & Motor Kings" (1976)
Implied playing ability: Long is supposed to be one of the best pitchers in the game, maybe a step below Satchel Paige. He doesn't really shine on screen, though, giving up a number of gopher balls.
Why you should vote for him: Because, in addition to worrying about getting opponents out, he has to fret over the condition of the automobiles, the bookings, the war with the established leagues, the mood swings of his players and the entertainment needs of the general public. In other words, he's got more than pitching on his mind when he's actually pitching.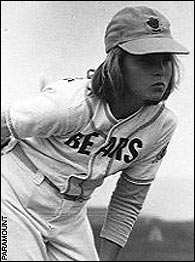 Amanda Whurlitzer had nasty stuff and a nastier look.
Character: Amanda Whurlitzer
Actor: Tatum O'Neal
Movie: "The Bad News Bears" (1976)
Implied playing ability: She could well be the best pitcher in the league. It's her or Joey Turner, played by "The Courtship of Eddie's Father's"' Brandon Cruz. She clearly racks up the PAP (Pitcher Abuse Points), however, as Coach Buttermaker rides her hot hand relentlessly.
Why you should vote for her: In a lot of baseball stories, the arrival of one player turns a team of nobodies into a contender. We know that can't happen in real life but we must accept that in the alternate, fictitious baseball universe, it is a known fact. In "The Bad News Bears," it is the arrival of Whurlitzer that turns the tide for the team. The "acquisition" (or whatever term is used in Little League) of Kelly Leak cements the deal.
Character: Ebby Calvin 'Nuke' LaLoosh
Actor: Tim Robbins
Movie: "Bull Durham" (1988)
Implied playing ability: A star on the rise; Steve Dalkowski without the booze or the learning disability.
Why you should vote for him: LaLoosh is one of the most popular characters in baseball movie history. Robbins was 29 when this movie came out, making him about 10 years older than he was supposed to be in the movie. His batterymate, Kevin Costner as Crash Davis, was supposed to be near his real life age of 33. By now, we are used to this in Hollywood, a place where actors underplay their real-life ages constantly. It starts from the very beginning. In movies, new-born babies are, invariably, played by babies that are days or even weeks older. I ask you: where is the realism? Here's how to get around that: when it comes time to film a scene requiring a just-birthed-up baby, have 10 or 20 extremely expectant mothers on the set. First one that delivers gives birth to an instant movie star.
Character: Prof. Vernon Simpson/King Kelly
Actor: Ray Milland
Movie: "It Happens Every Spring" (1949)
Implied playing ability: When he's on the juice, he's unhittable. Otherwise, he's an egghead with a rag arm. He wins 38 games in part of a season and three more in the World Series. There is no indication that he loses any games at all.
Why you should vote for him: You shouldn't, unless you're a fan of brains over brawn. In this age of real and alleged steroid abuse, we look to a 50-year old movie to help us wrestle with the moral and ethical question of using manufactured substances to enhance performance. Props to the prof for using an old timey nom de plum for his baseball moniker. Look for The Skipper, Alan Hale Jr., as a college catcher. He was 31 at the time. (See above comment.)
Character: Montgomery Brewster
Actor: Richard Pryor
Movie: "Brewster's Millions" (1985)
Implied playing ability: A crafty, aging never-was who gets by on trickery more than talent.
Why you should vote for him: Because he is so delightfully down and out and, when the time comes, he stays loyal to his teammates. When he has the money, he lavishes it on his teammates. This is sort of like when Michael Jordan bought a team bus for the Birmingham Barons.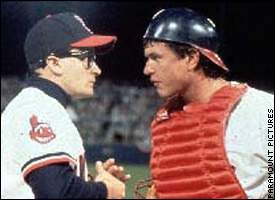 Charlie Sheen has a curveball and that just might give him the edge over Prinze Jr.
Character: Rick "Wild Thing" Vaughn
Actor: Charlie Sheen
Movie: "Major League" (1989)
Implied playing ability: Three-digit speed when he dials it up.
Why you should vote for him: Because he's Wild Thing! He starts the movie in jail, he gets retro nerd glasses and makes them work. He shags the wife of the team's biggest jerk (without really losing the moral high ground because he doesn't know she's a married woman). He can throw harder than God. In other words, he lives the life most men merely dream of.
Character: Henry "Author" Wiggen
Actor: Michael Moriarity
Movie: "Bang the Drum Slowly" (1973)
Implied playing ability: He is the best pitcher on a team headed to the World Series having his best season ever. He earns $70,000 -- pretty good money for 1973. He still sells insurance in the offseason to supplement his income, a detail that will probably boggle the minds of anyone under 40.
Why you should vote for him: Because he does a mitzvah. Instead of holding out for more money, he ties his friend's fate into his own contract.
Character: Henry Rowengartner
Actor: Thomas Ian Nicholas
Movie: "Rookie of the Year" (1993)
Implied playing ability: A very effective pitcher who helps get the Cubs into the World Series.
Why you should vote for him: Because some day, pitchers will have voluntary surgery to make their arms more resilient. I predict it will be called the Rowengartner Procedure.
Character: Whitt Bass
Actor: Neal McDonough
Movie: "Angels in the Outfield" (1994)
Implied playing ability: Not especially great. In fact, he's 3-11 at one point in the movie, but he's got that Mark Fidrych/Turk Wendell OCD act going, and that has to count for something. There are a couple of good, young, up-and-coming actors in this film and it's a shame that none of them fit the criteria of this poll. Matthew McConaughey plays a center fielder but he has no lines. Future Oscar-winner Adrien Brody pinch hits but has no position.
Why you should vote for him: Perhaps you shouldn't, as there is the question of ethics. He wins two starts because of divine intervention. If you think that's a good thing, go ahead and vote for him.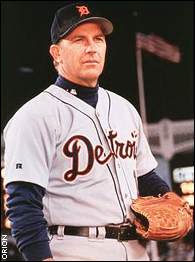 Billy Chapel slays the Yankees in "For Love of the Game."
Character: Billy Chapel
Actor: Kevin Costner
Movie: "For Love of the Game" (1999)
Implied playing ability: According to Vin Scully (in perhaps the best performance ever by a real broadcaster playing himself), he is a sure-thing Hall of Famer. We don't know how many wins he has, but, in a flashback to the 14th year of his career, he reveals he has 134 losses. Figure a .600 winning percentage and that's 200 wins. By the present day of the movie -- five years later -- he's probably up around 275 or so.
Why you should vote for him: Because he saves the best for last.
Honorable mentions: John "Blackout" Gatling (Brad Lesley) and Jim Bowers (Jonathan Silverman) are an intriguing pair of relievers in "Little Big League." Chelcie Ross as Eddie Harris in "Major League" does a good job as the aging trickster junkthrower. Also, Kirby Kyle (Brian Mannain) in "Radio Days." Kyle doesn't really fit the criteria of this poll in that he has no lines and is not germane to the plot, but the brief sequence he's in (where he continues to lose parts of himself but keeps pitching for the Cardinals) is a great gag.
Catchers
Character: Dottie Hinson
Actor: Geena Davis
Movie: "A League of Their Own" (1992)
Implied playing ability: She is the best player in the league. In fact, relative to the characters around her, she may be the most can-do, got-it-together player in the history of baseball movies.
Why you should vote for her: For one thing, she is burdened with a bothersome sibling, Lori Petty's Kit Keller. Dealing with her had to peel 40 or 50 points off Dottie's OPS. She's also dealing with the stress of having her husband off fighting in a war. She's a no-BS person, an adult-in-charge type among teammates and a manager who clearly needs a firm hand at the tiller. The uber-catcher.
Character: Leon Carter
Actor: James Earl Jones
Movie: "The Bingo Long Traveling All Stars & Motor Kings"
Implied playing ability: Think Josh Gibson with a much better speaking voice and healthier lifestyle. In fact, in the opening newsreel, the narrator states that Carter is pretty close to Gibson in terms of talent.
Why you should vote for him: We now think of James Earl Jones as a serious, authority figure-type but when you see him playing Leon Carter, you see an actor who can light up a screen with an infectious smile. Carter is a great character because he is something of a rogue but also carries himself with dignity.
Character: Spike Nolan
Actor: John Candy
Movie: "Brewster's Millions"
Implied playing ability: Before the Newark Bears were revived for the independent Atlantic League, the thought of a minor league team playing in urban New Jersey seemed pretty far-fetched. The team on which Spike Nolan finds himself is on an edge of oblivion far beyond that of a real independent league. One of the funniest baseball gags ever filmed -- and one that best describes the depths of this league -- comes when the outfield fence swings open to allow a freight train right of way during the game. Spike's presence on this team, then, suggests a has-been who never was in the first place.
Why you should vote for him: Because he has so completely and utterly embraced his station in life. When he comes into some money, he buys a solid gold catcher's mask necklace of no small size. In a way, Spike is the adult trajectory of a grown-up Engelberg from The Bad News Bears ...
Character: Engelberg
Actor: Gary Lee Cavagnaro
Movie: "The Bad News Bears"
Implied playing ability: Although his attitude is questionable and his dedication to training and diet hopeless, throughout the film, Engelberg makes the plays and gets the hits.
Why you should vote for him: Because he is unrepentant and makes no apologies for his very obvious desires and indulgences. He's got some talent, too, making him a shining beacon to all the fat kids everywhere (and believe me, there are more of them now than were when this film came out in 1976) who have athletic ability in addition to some extra poundage.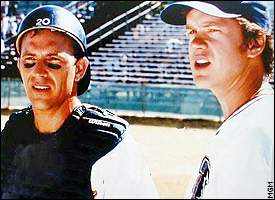 "Bull Durham" tops a lot of critics' lists as the best sports movie.
Character: Crash Davis
Actor: Kevin Costner
Movie: "Bull Durham"
Implied playing ability: Davis breaks the fictitious record for most minor-league home runs, a mark challenged, no doubt, by Joaquin Phoenix's character from "Signs." The notion that a switch-hitting catcher with some pop would be exiled to a lifetime of minor-league servitude is a stretch, but we must assume he's an excellent player for his level, one that is usually described as Quadruple-A.
Why you should vote for him: Because he is a baseball man. His future is obvious: he's going to manage in the minors for five years after his retirement and then do a couple of years as a big-league bench coach before finally getting his own team and becoming one of the more famous managers in the game.
Character: Jake Taylor
Actor: Tom Berenger
Movie: "Major League"
Implied playing ability: A fairly decent catcher at one time. Bad knees have exiled him to the Mexican League for the past few years.
Why you should vote for him: He's the most grounded in a chaotic mix of diverse personalities.
Character: Bruce Pearson
Actor: Robert De Niro
Movie: "Bang the Drum Slowly"
Implied playing ability: A career backup who had talent but never used his head. I always thought of him as a Ron Hodges-type (obscure refence to 1970s Mets catcher), but that's probably because the movie was filmed at Shea Stadium. He's dying of Hodgkin's Disease and it finally makes him focus on what he needs to do to play better. His character, originally created in the book by Mark Harris, inspired one of the most insightful quotes ever about baseball players. Speaking of Pearson's fate, Jim Bouton once said, "If a real ballplayer ever got leukemia, his teammates would nickname him 'Luke.'"
Why you should vote for him: Ranking the seven movie catchers on this ballot in terms of alleged playing ability would probably go like this:
1. Leon Carter
2. Dottie Hinson
3. Jake Taylor
4. Crash Davis
5. Engelberg
6. Bruce Pearson
7. Spike Nolan
Honorable mentions: Matthew Lillard as Billy Brubaker in "Summer Catch" (another 30-something playing a college kid), Paul Douglass as Monk Lonnigan in "It Happens Every Spring" and John C. Reilly as Gus Sinski in "For the Love of the Game" both serve the function of catcher/confessor/friend to the star pitchers on their teams. Both have key hits for them in big games, too. Patrick Renna hit the fat-kid-sports daily-double by playing both a catcher (Ham Porter in "The Sandlot") and a soccer goalie (that's him on the cover of "The Big Green").
CLICK HERE FOR INFIELDERS