First Basemen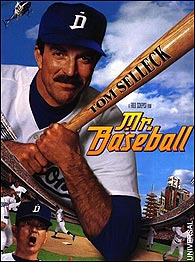 He's a believable ballplayer, but he's still Mr. Private Investigator.
Character: Jack Elliott
Actor: Tom Selleck
Movie: "Mr. Baseball" (1992)
Implied playing ability: Elliott brags about being the World Series MVP in the fairly recent past. He's like a second-tier star who never got into the game's elite circle but was a good guy to have in the lineup. Perhaps a healthier, more risk-averse Kirk Gibson.
Why you should vote for him: Because he learns to adjust to his surroundings without totally compromising his own culture. Yes, the movie's main theme is culture clash (it's a precursor to Bill Murray in "Lost in Translation" only without the subtlety), but there is a hell of a lot of baseball in this movie, and Selleck is very believable as a ballplayer.
Character: Stan Ross
Actor: Bernie Mac
Movie: "Mr. 3000" (2004)
ALL-TIME BASEBALL MOVIE TEAM
The Nominees:
Implied playing ability: Ross is good enough to have 3,000 career hits -- or 2,997 anyway.
Why you should vote for him: Ross looks like an interesting character. He's an obnoxious, self-obsessed star who must come to grips with his own ego and the loss of the one thing that -- he believes -- defines who he is. Plus, Mac is always funny.
Character: Lou Collins
Actor: Timothy Busfield
Movie: "Little Big League" (1994)
Implied playing ability: Decent, veteran player. Career Twin. Think a more diminutive and refined Kent Hrbek.
Why you should vote for him: He's a nice guy and he can hit some, too. Wally Joyner is exasperated with him early on because he's killing the Royals in one game. Later on, he even pulls a nifty trick play on Ken Griffey Jr.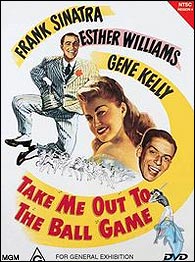 In this baseball musical, Nat Goldberg provided the rally music.
Character: Nat Goldberg
Actor: Jules Munshin
Movie: "Take Me Out to the Ballgame" (1949)
Implied playing ability: Goldberg is the first baseman on the defending champion Wolves and a key component in the Tinkers-to-Evers-to-Chance-inspired double-play combo. He starts two rallies in the film, the second in the bottom of the ninth of the tiebreaker game for the pennant against the Indians. (Munshin was also the third banana to Gene Kelly and Frank Sinatra in the much more famous "On the Town," released the same year.)
Why you should vote for him: Because, as he tells it in the song "O'Brien to Ryan to Goldberg," he took up baseball out of self-defense.
Second Basemen
Character: Marla Hooch
Actor: Megan Cavanaugh
Movie: "A League of Their Own" (1992)
Implied playing ability: She can rip it. A switch-hitting Rogers Hornsby from the distaff end of the gene pool.
Why you should vote for her: She can rip it and she has no personality and her momma died when she was a little girl.
Character: Dennis Ryan
Actor: Frank Sinatra
Movie: "Take Me Out to the Ballgame"
Implied playing ability: One of the recurring themes of the movie is Ryan's inability to put on weight. This is a nice parallel to the player who inspired the role, Johnny Evers, probably the scrawniest man in the Hall of Fame. As a player, Ryan's a key member of a team that wins back-to-back championships.
This is Sinatra's second-most famous Ryan role. Oddly, it's the non-baseball movie that still resonates in baseball. In 1965, he starred in Von Ryan's Express and, when Nolan Ryan showed up on the Mets a year later with his ungodly fastball, the popular movie title was appropriated without the "Von" to describe Nolan's heater. Thirty-five years later, Ryan bought a minor league baseball team in Round Rock, Texas and called it the Express.
Why you should vote for him: There is a wonderful moment early in this movie when Ryan gazes at his tobacco card, a rouged-up image very reminiscent of the T-206 series that featured the famously rare Honus Wagner card. Ryan collects them to give to neighborhood kids outside of ballparks.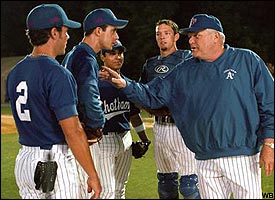 Mickey Dominguez (center) is just happy to be a part of this conference at the mound.
Character: Mickey "Domo" Dominguez
Actor: Wilmer Valderrama
Movie: "Summer Catch" (2001)
Implied playing ability: As head coach Brian Dennehy says at the outset, "It's an honor just to be asked" to play in the Cape Cod summer league. We must, therefore, assume that Dominquez is one of the best second basemen in college baseball. On film, he makes a great catch to preserve a no-hitter and follows that with a leadoff single. He scores what proves to be the winning run.
Why you should vote for him: Come on, man! It's Fez! What else do you need to know?
Third Basemen
Character: Roger Dorn
Actor: Corbin Bernsen
Movie: "Major League" (1989)
Implied playing ability: The scouting line on him is that he can still hit but is just phoning it in on defense.
Why you should vote for him: He's the team's designated jerk but he comes around in the end.
Character: Doris Murphy
Actor: Rosie O'Donnell
Movie: "A League of Their Own"
Implied playing ability: A table-setter for the big bats of Hinson and Hooch. Makes a couple of nice defensive plays, including stabbing a hot liner in the seventh game of the World Series.
Why you should vote for her: She's a rock in a sea of emotional turmoil. While everyone on the team, including the manager, has a crisis of one kind or another, she never does.
Character: Ed Mills
Actor: Benjamin King
Movie: "A Little Inside" (2001)
Implied playing ability: He's good enough to get called up to the Yankees to play for three innings. He holds some records for the Columbus Clippers, the Yanks' Triple-A farm club. This is the only movie ever made about an active third baseman. (Jack Nicholson's character in "Ironweed" -- Francis Phelan -- is an ex-third baseman turned drifter.)
Why you should vote for him: He made a strange career choice. When his wife was killed in a car crash, he quit baseball to raise his infant daughter by working as an auto mechanic. He does this for five years, comes back, and almost immediately proves he is good enough to spell Scott Brosius for a few innings. He also sports team logo wear while off-field perhaps more than any other ballplayer movie character.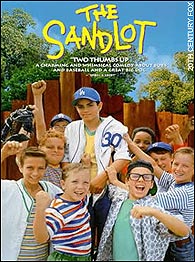 Ben Franklin (30) had the name and the game to make it big.
Character: Benjamin Franklin Rodriguez
Actor: Mike Vitar
Movie: "The Sandlot" (1993)
Implied playing ability: He's good enough to play in the majors into his late-30s.
Why you should vote for him: In the seemingly informal world of the baseball being played at the sandlot, there is actually order in the chaos and that order is dictated by Rodriguez. All the kids understand he is on a big-league trajectory and let him play a different position every day so that he'll have a better understanding of the game. Having this wild card is a good thing for the purposes of this poll because there is a shortage of infielders.
Shortstop (vote for one)
Character: Eddie O'Brien
Actor: Gene Kelly
Movie: "Take Me Out to the Ballgame"
Implied playing ability: O'Brien is the best player on the team. When he concentrates too hard on rehearsing for a musical (he's also a Vaudevillian in the Cap Anson tradition), his play suffers. When his play suffers, his team, the Wolves, blow a seven-game lead and end up in a tie for first that must be resolved after the season ends. Getting O'Brien off his game is the key to dooming the Wolves.
Why you should vote for him: Don't let those Deadball Era stats fool you -- he could play.
Character: Joe Hardy
Actor: Tab Hunter
Movie: "Damn Yankees" (1958)
Implied playing ability: Hardy may well be the greatest player of all time. The impression given is that he's doing what Babe Ruth did at his best but only in about half a season. At one point, he is hitting .524. (Note that Hardy plays outfield as well.)
Why you should vote for him: The guy made the supreme sacrifice and sold his soul to have this talent. Before getting all moralistic, remember that Hardy did not do it for himself, but for his favorite team -- the Washington Senators. How many among you would be willing to make a similar sacrifice?
Character: Tanner Boyle
Actor: Chris Barnes
Movie: "The Bad News Bears" (1976)
Implied playing ability: Wretched. Even when the team rights the ship, Boyle is still pretty bad. But he's always scrappy and fiesty. In other words, think Larry Bowa.
Why you should vote for him: Well, you probably shouldn't. He's pretty twisted. In fact, Tanner makes Ty Cobb look like a Rainbow Coalition member. One could argue that he's not a true racist, that he seems to have hatred for one and all. It's probably more of a serious Napolean complex manifesting itself in hate-filled outbursts against his teammates and anyone else with whom he comes in contact.
Character: Kofi Evans
Actor: Michael Perkins
Movie: "Hard Ball" (2001)
Implied playing ability: He has an ego problem but that's mostly attributable to being insecure about his place in the world. He's pretty good, at one point making a Rey Ordonez-style knee drop/slide on a ball in the hole. He gives the team their first inkling they can succeed when -- trailing by double digits -- he hits an inside-the-park home run. You could argue that several of his teammates are just as deserving of spots on the ballot (Julian Griffin as Jefferson Albert Tibbs and A. Delon Ellis Jr as Miles Pennfield II), but it's the shortstop slot that needs beefing.
Why you should vote for him: Very few characters in baseball movie history had to go through more just to get to the field than the boys in "Hard Ball." Anything they do beyond that is gravy. Kofi must play the championship game with a greater sense of loss than probably any baseball movie character other than Betty 'Betty Spaghetti' Horn (Tracy Reiner) in "A League of Their Own."
CLICK HERE FOR OUTFIELDERS