Managers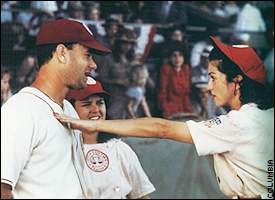 Jimmy Dugan kept everyone, including himself, guessing in "A League of Their Own."
Character: Jimmy Dugan
Actor: Tom Hanks
Movie: "A League of Their Own" (1992)
Managerial style: "Booze is the only answer," as Woody Woodbury used to say. Get good players and things will sort themselves out. Once he comes out of his fog, he reveals himself to be a proponent of the big inning. He eschews the squeeze with the cleanup hitter at the plate. Sometimes a tyrant, sometimes compassionate.
Why you should vote for him: If only for the "I loved you in The Wizard of Oz" line. Loses his cleanup hitter late in the year, one of his starting pitchers and his best player for the first six games of the World Series but manages to overcome all that.
Character: Morris Buttermaker
Actor: Walter Matthau
Movie: "The Bad News Bears" (1976)
ALL-TIME BASEBALL MOVIE TEAM
The Nominees:
Managerial style: It changes. He goes from laissez faire to overly intense and then, finally, to getting the mix right. Keanu Reeves follows the same basic trajectory as Dugan and Buttermaker as Connor O'Neill in "Hard Ball."
Why you should vote for him: Yes, he lies to children and drinks in front of them, but he finds redemption in the end.
Character: Pop Fisher
Actor: Wilfred Brimley
Movie: "The Natural" (1984)
Managerial style: Confrontational. Stubborn. "Crusty-but-benign," as they said in "Network."
Why you should vote for him: Because he had heartbreak early in his career. In the book, Bernard Malamud tells of a moment in Pop's playing career in which he pulled something like "Merkle's Boner," costing his team a championship. I always thought the movie version could have done with a brief flashback of this -- a grainy, black and white thing from the Deadball Era showing "Pop's Flop."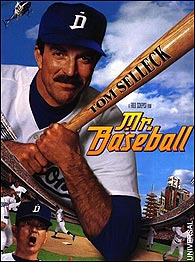 With Uchiyama (lower left) it's team first, except in this poster.
Character: Uchiyama
Actor: Ken Takakura
Movie: "Mr. Baseball" (1992)
Managerial style: Representative of what we understand Japanese baseball to be: tradition-bound, demanding work ethic and putting the team before the individual.
Why you should vote for him: Because he's not quite as rigid as he seems and is willing to bend if he can see an end game in the result.
Character: Dutch Schnell
Actor: Vince Gardenia
Movie: "Bang the Drum Slowly" (1973)
Managerial style: A talker. A speechmaker. Something of a micromanager. He expends a little too much energy worrying about where his players were in the offseason. On the other hand, he's also not afraid to delegate. When he finds out his catcher is dying, he brings in a special coach to help him out.
Why you should vote for him: He has an excellent handle on his team.
Character: Benny van Buren
Actor: Russ Brown
Movie: "Damn Yankees" (1958)
Managerial style: A rah-rah guy, grizzled but enthusiastic. A big believer in chemistry. He claims baseball is only "one-half skill." The rest is heart, and he psyches his charges up by singing to them about it.
Why you should vote for him: For one thing, he looks like Sparky Anderson did in the later stages of his Tigers career. For another, he instigates the singing of "You Gotta Have Heart," one of the great scenes in baseball movie history.
Honorable mention: Lou Brown (James Gammon) in "Major League." Jimmy Doolan (Ted de Corsia) in "It Happens Every Spring." Danny Glover's George Knox in "Angels in the Outfield" starts out as the most violent, Type-A manager in the history of movies but softens considerably by its end. He allows his starter to throw 160 pitches in the final game of the year.
Coaches
Character: Red Blow
Actor: Richard Farnsworth
Movie: "The Natural"
Coaching style: Plays the good cop to Pop Fisher's bad cop.
Why you should vote for him: For his steady, calming presence in the dugout and clubhouse.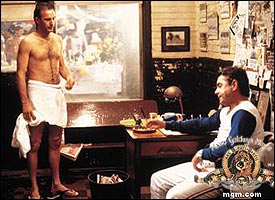 Coach Hockett during a quieter moment.
Character: Larry Hockett
Actor: Robert Wuhl
Movie: "Bull Durham" (1988)
Coaching style: The holler guy.
Why you should vote for him: Because where would the game be without the holler guys?
Character: Joe Jaros
Actor: Phil Foster
Movie: "Bang the Drum Slowly"
Coaching style: A one-of-the-boys approach. Plays cards with the players.
Why you should vote for him: He's a character and he fits the coach stereotype well in that he's paunchy and looks like he never could have possibly played the game professionally.
Character: Mac MacNally
Actor: John Ashton
Movie: "Little Big League" (1994)
Coaching style: Even-keeled approach -- the exact opposite of hot-head George O'Farrell (Dennis Farina). It's good to see a manager fired on-screen. This might be the only time that happens in baseball cinema history.
Why you should vote for him: He handles a difficult situation very well -- being the pitching coach to a 12-year old manager. He stays in the background for the most part and steps up when he most needs to.
Character: Phil Brickman
Actor: Daniel Stern
Movie: "Rookie of the Year" (1993)
Coaching style: Volume over substance.
Why you should vote for him: For the sideburns.
VOTE ON THE BASEBALL MOVIE ALL-STAR BALLOT