After all the recent fracases in sports, a lot of us have been left asking, "Where's the love?"
Apparently, the answer is "Washington, D.C."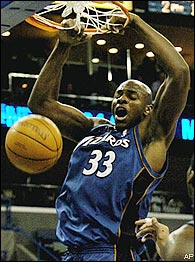 Brendan Haywood's digits? Ten points and eight boards per game.
I recently took on the task of a Washington Wizards' "home-game host" -- you know, emceeing those inflatable sumo wrestling contests and embarrassing couples by making them kiss for the Jumbotron.
So when the Wizards hosted their first of five "Singles Nights," yours truly got to play matchmaker.
Now, I've played matchmaker for my friends -- quite successfully, I must admit -- but never for an entire sports arena, so the pressure was on. (Not to mention trying to introduce people while an eight-foot fuzzy blue mascot is making "bunny ears" behind your head.)
But I took my work very seriously -- there were sports-loving singles who needed help! So dutifully, I strapped on my quiver of Cupid's arrows and went to work.
I've always believed sporting events are a great place to meet potential mates. In fact, awhile back, I wrote a column on where men could meet sports-minded women and included sports arenas as a hot spot. But I've always been on the inside of the single life. This event gave me the chance to watch singles mingle from the outside.
The fun began in the "Singles Lounge," a three-level, makeshift club inside the MCI Arena, complete with candles and velvet curtains to set the mood. A local DJ spun tunes while singles enjoyed food and wine and, of course, mingled. Washington's own master meeter-and-greeter Tommy the Matchmaker and I were there to nudge the shy ones along. (On camera, of course.)
And boy, were they shy. Washington is known for its confident, overachieving singles. But the scene I watched resembled an eighth-grade dance. The girls (the ones who didn't run when they saw us coming, anyway) clumped together and stayed that way while the guys tried to look tough, or worse, try to impress the girls with dancing, strategic posturing and fine clothing -- one fellow wore a tuxedo-screened T-shirt.
I was beginning to see why some of these folks were single.
But the night's ice-breakers (and probably a few beers) helped people come out of their shells. "Speed-dating" was one offering. Between quarters, participants in designated "singles" sections had to switch seats and watch the game with a new neighbor.
For "The Dating Game," nine lucky singles competed for dates with Wizards' seven-foot center Brendan Haywood, a Wizards dancer, or Baltimore Ravens free safety Will Demps. Then again, all this depends on how you define "lucky." Contestants not only had to explain -- before 15,000 people -- why they were a good match for the bachelor or bachelorette, but also perform dance moves.
At the postgame party, singles packed the lounge again for the Q&A game. Participants paired up and asked each other questions their favorite athletes, favorite foods and other items.
But the singles weren't getting off that easily. Those who answered correctly, then had to -- surprise! -- perform a dance move or two (the "running man" was busted out more times than I care to remember) to receive a gift certificate to a local restaurant.
Whether there were any lasting love connections remains to be seen, but everyone had a great time, and, at the very least, got a souvenir ballcap. That's more than most of us singles come home with after a night out, right?