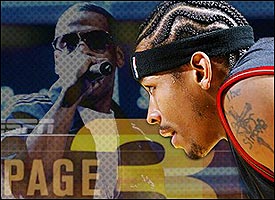 Players like A.I. are the living embodiment of hip-hop in a basketball uniform.
If I wasn't in the rap game
I'd probably have a key knee
deep in the crack game
the streets is a short stop
either you slingin' crack rock
or you got a wicked jump shot
-- "Things Done Changed," The Notorious B.I.G.
When hip-hop pioneer Kurtis Blow released his single "Basketball" in 1984, he verbalized a connection between hip-hop and basketball that is more real now than even Blow himself could have imagined when he originally spit the lyrics to the song.
Now, 20 years later, the combo of hip-hop and basketball is as common as Will Smith in a summer blockbuster, and the connection is only getting stronger.
When Blow's record first came out, hip-hop was still in diapers, and basketball was a lot different, too. The year 1984 was not only the infamous year invoked by that George Orwell novel, but it marked the beginning of the modern era in the NBA. For the first time that year, Magic Johnson and Larry Bird faced each other in the NBA finals, while Michael Jordan and Charles Barkley were the 3rd and 5th picks in the draft that summer. All four of these figures helped, in their own way, transform the NBA from being perceived as a league of "overpaid black drug addicts" to its current status as a preeminent sport around the globe.
In my mind, the song "Basketball" marks the beginning of the hip-hop/hoop era, yet it's been only recently that we have seen the full evolution of this unique merger. I have always said that hip-hop and basketball go together because they have so much in common. Both endeavors start off as solitary pursuits, be it writing in your book of rhymes or shooting jumpers on an empty court. In the beginning it's a solo endeavor. It's all about the individual and his craft. There is something like a spiritual connection here, a oneness even, between the artist and the art form, between the baller and ball, between the rapper and rap. The two become as one. Like Nas says, "All I need is one mic."
SPORTS & MUSIC

Page 3 will examine the connection between sports and music all summer long.


I ball for real
Y'all n----- is Sam Bowie
And with the 3rd pick
I made the earth sick
MJ, Him Jay
Fade away perfect
-- "Hola Hovito," Jay-Z
When Michael Jordan arrived at the 1985 NBA All-Star Game as a rookie, he didn't rock the traditional Eastern conference warm-up suit, he wore his own Nike Air Jordan warm-up. At the time, Jordan was also fond of wearing gold chains. When he debuted his new Air Jordan sneakers, the league not only fined him but they banned the shoe as well. Jordan, though, in defiance of the league continued to wear them. The notoriety surrounding the shoe, along with Jordan's funky fresh game, quickly propelled Jordan and his sneaks to legend status.
Jordan's defiance of convention early on in his career was not unlike what the trio Run-D.M.C. was doing in its music. The Air Jordans, along with the Adidas "Shell Toe" favored by D.M.C., went on to became staples of the hip-hop wardrobe. Jordan's shaved head and his long baggy shorts eventually became the style as well, both on and off the court. He was not only a trendsetter and style arbiter, but he was a young rebel intent on gettin' money and dominating the game. These things would become mantras in hip-hop, too, over time.
Like any pioneer who stays around long enough, Jordan would go from being independently rebellious in his early days to being a mainstream figure of the highest order. Over the course of his career he even managed to transcend all sorts of boundaries -- especially racial. But when Jordan retired for the third time in 2003, he left behind a Washington Wizards franchise with a lot of young players who were said to hate his very existence. He had gone from being a rebel in his own way to being the establishment.
By '03 he often seems to be the opposite of hip-hop. This is not unlike Chuck D of Public Enemy, for instance, who put it down for hip-hop back in the day, but most recently he has been very critical of what his younger hip-hop siblings have done with the culture he helped create.
Jordan is an O.G. and his ability to use his image to propel his bank account is at the heart of what hip-hop would become down the line. Though he may have been regarded as a playa hater by the end of his illustrious career, he must be thought of as an originator in fusing the energy of hip-hop and ball, however early his contributions might have come.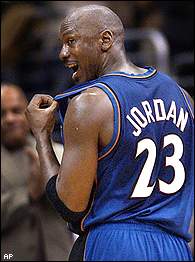 If you feelin' like a pimp, Jordan, go on brush your shoulders off.
If Jordan set it off in terms of style, it was his boy, Sir Charles Barkley, who added the lyrics. Barkley's roughneck steez made him an instant favorite on the court with the hip-hop set. Chuck D immortalized Barkley when he said, "Simple and plain/give me the lane/I'll throw it down your throat like Barkley," on Public Enemy's classic, "Rebel Without a Pause."
Off the court, though, you could always count on Barkley to "keep it real." In the early '90s Barkley described himself as a "90s n----." Shortly thereafter, he did the Nike commercial that would make him a household name when he told the world that he was "not a role model," rejecting the cultural noose of control that many were still trying to tie around the neck of black athletes.
Over time, Barkley kept in real on the regular, getting in bar fights, throwing people through windows and refusing to apologize when confronted afterwards. In spite of his wealth and fame, Barkley became the embodiment of the hip-hop phrase "I'm gonna do me" and hip-hop loved him for it. Though he lost points later on for declaring that he wanted to be the Republican governor of Alabama, he now seems to have reconsidered that somewhat.
College basketball too had its moments in this evolution. The UNLV Runnin' Rebels of the late '80s to early '90s represented in basketball the gangsta ethos that rappers N.W.A. popularized in music. The Rebels played like "n-----," displaying a defiant attitude. Their intimidating street posture was similar to that of the Detroit Pistons during their reign as the "Bad Boys." Larry Johnson and Stacey Augmon were the stars of the team, but one of my favorites was Moses Scurry, who rocked a flattop and screamed out as loud as he could every time he got a rebound.
UNLV put the fear of God in their opponents and, like Mike Tyson in his prime, they were not content beating you, they wanted to destroy you. UNLV, like John Thompson's predominantly black Georgetown teams of the early-to-late '80s, which featured one of the game's original gangstas, Michael Graham, bought thug life to collegiate life in a real way.
Yet it was the University of Michigan Wolverines basketball team who really bought hip-hop and 'ball together like no other. Lead by two Detroiters, Chris Webber and Jalen Rose, the "Fab Five" enacted the takeover of college ball in 1991 when their coach Steve Fisher decided to start five freshmen. The five teenagers, with their shaved heads, extremely baggy shorts, black socks and overall swagger, were straight out of a hip-hop video. Because of the influence of the Fab Five, Michigan basketball jerseys and athletic gear in general started becoming quite common as the attire of a newly emergent hip-hop generation.
It is reported that when the Fab Five broke their huddle following a timeout, instead of simultaneously saying "Defense!" as is customary, they ended said, "Let your nuts hangs," quoting a lyric by Geto Boys rapper Scarface. While many might assume that "Fab Five" referred to the Beatles ("Fab Four"), in this case it also echoed Fab Five Freddy, a hip-hop pioneer and host of the influential "Yo, MTV Raps!" music video show.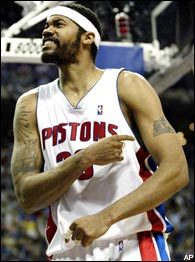 Wallace is old skool; he brought Nike Air Force 1s back to the kicks spotlight..
By the mid '90s hip-hop had overtaken all other forms of popular music and many of the newly minted NBA millionaires had grown up with hip-hop as the exclusive soundtrack of their lives. When Shaq was just an
Orlando Magic
rookie, he appeared on "The Arsenio Hall Show" and spit a verse with the rap group Fu-Schnickens. A connection that had only been suggested before had suddenly become the real deal.
Shaq would go on to record several hip-hop albums, and he would later be joined in the music game by several of his NBA colleagues, also aspiring rappers. At one point several ballers disguised as rappers even recorded an extremely wack compilation album called "The NBA's Best Kept Secrets," which featured an array of NBA players attempting to showcase their rap skills. This record served to underscore the fact that all of these ballers should keep their day jobs.
When the Philadelphia 76ers made Georgetown's Allen Iverson the first pick in the 1996 draft, the connection between hip-hop and 'ball entered a new more overtly dramatic phase. AI was the living embodiment of hip-hop in a basketball uniform. His own take on stylish penitentiary chic involved wearing his hair in cornrows and more tattoos than a Hell's Angel. He refused to bend over backwards to accommodate the tastes of the mainstream, traveling with a crew of friends from back in the day, and getting popped right after his rookie year with a gat and a bag of that sticky icky under the seat of his car. His unrepentant, "I don't give a f---" attitude provided hip-hop's "Answer" to a world of potential haters.
Iverson was considered so toxic by the establishment that the NBA airbrushed away his tattoos when he was on the cover of the league's official magazine, "Hoop," hoping to make him look more "acceptable." But in his own way, Iverson, like Jordan and Barkley before him, pioneered a way of behaving that set the tone for the league. The baggier-than-baggy shorts that he helped popularize even cost some players -- including superstars Shaquille O'Neal, Kobe Bryant, Tracy McGrady, Stephon Marbury, Kevin Garnett and Rasheed Wallace -- a little cash when the NBA fined them for wearing their shorts too long.
Wallace in particular carried on in the same vein as Iverson.
Rasheed was retro, in a way, yet his style and overall disposition was all hip-hop. He wore a headband like back in the day and he fixed his jersey inside the undergarment of his extra long shorts so that it looked like he was "saggin'."
Rasheed also brought back the popular Nike Air Force I. The Air Force I had originally come out in the '80s, and was now the shoe of choice again, along with the Jordans and Shell Toes, throughout the world of hip-hop fashion. Rasheed, who had a hip-hop show on a local Portland radio station at one point, also ended up in a battle with Bay Area rapper E-40, after 'Sheed had dissed 40's music in a radio interview. 40 Fonzarigadel -- one of E 40's many monikers -- responded to 'Sheed with a track called "Record Haters," which featured the hilarious chorus, "What's that n----'- name? Rasheed Wallace!"
Rasheed also began getting a lot of attention for the numerous technical fouls that he began receiving. He was a marked man and things got so bad that referee Ron Garretson, a true playa hater, once called a technical on Rasheed for "looking at him funny," as they say. Not only was Garretson's call a demonstration that Rasheed had gained an outlaw status among the league's refs, but it was really an act akin to the bogus "reckless eyeballing" charge that was often leveled at blacks during the days of Reconstruction in America. Rasheed cemented his status last year when he told the media that he was not a "a dumb-ass n----" and went on to criticize what he saw as the hypocrisy of many of the league's policies.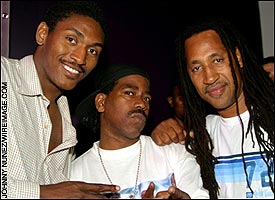 Pacers SF Ron Artest, left, kicks it with hip-hop pioneers Kurtis Blow and Kool Herc.
Ultimately, though, Rasheed had the last laugh. He was traded to the Detroit Pistons midway through the 2003-04 season and became the missing piece to the Pistons' championship puzzle. Rasheed's new team went on to claim the crown as they pimp-slapped the much ballyhooed Lakers in this year's finals.
No one doubts now that hip-hop and hoops are blended, one large whole. What happens on the basketball court is often influenced by what happens in hip-hop, and vice versa. Much of what was once controversial has now become quite mainstream.
So many players have cornrows and tattoos now that this is no longer even news. Master P, the hip-hop mogul, has had tryouts with a couple of NBA teams, while hip-hop beats pound out of the speakers at virtually every NBA arena now. The NBA All-Star weekend has become the "Players Ball," where the best and brightest from both worlds commingle as though they were at the Democratic National Convention.
As new players come into the league now, like LeBron "Straight Outta High School" James, the league gets younger and younger, and hip-hop gets woven more tightly into the fabric of the game. Jay-Z made a career in hip-hop spittin' some of the dopest rhymes ever, often comparing himself to Michael Jordan in the process, and now he owns a portion of the New Jersey Nets, who are scheduled to move to Jay's beloved Brooklyn in the near future. Black billionaire Robert Johnson parlayed his penchant for playing hip-hop videos on his Black Entertainment Television (BET) network and used the capital acquired from the sale of BET to purchase the expansion Charlotte Bobcats, becoming the first African-American to own a major sports franchise in America.
Though there may still be many haters out there among us, it doesn't matter. hip-hop and hoops are as tight now as Halle Berry's catsuit, and that does not appear to be changing anytime soon. The connection between basketball and hip-hop may have started in the 'hood, but it has taken over the suburbs, and the style that comes from this merger also influences the many foreign players around the world now who aspire to be the next KG or the next Carmelo Anthony.
Meanwhile, young black men look to hip-hop and the NBA as their way out of impoverished circumstances, and as they travel "on the road to riches and diamond rings," as Jay-Z said, they recast the American Dream in the process. In my mind, it's all good, with more to come. As Biz Markie once said, "Damn it feels good to see people up on it!" No doubt.
Dr. Todd Boyd, author of "Young Black Rich and Famous: The Rise of the NBA, the hip-hop Invasion, and the Transformation of American Culture," is a Professor of Critical Studies in the USC School of Cinema-Television.