The game of basketball has a different flavor these days, thanks in large part to these influential figures of the hip-hop/hoops era.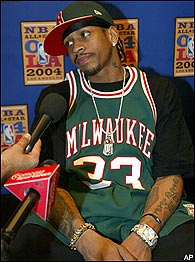 Allen Iverson is having what may be the best season of his career.
1.
Allen Iverson
On and off the court, AI represents the link between hip-hop and basketball in mind, body and soul. His cornrows, tattoos, doo rag, extremely baggy shorts and oversized throwback jerseys have defined his style and eventually the style of many others in the league and around the globe. AI is so influential that even the sleeve that he wears to protect his injured elbow has become a hot basketball accessory on streetball courts all over the nation.
When he repeatedly lampooned a reporter's question about being too late to practice, he may have sent shudders through the ancient media minds that cover him, but hip-hop heads everywhere knew he was saying that he was so good he didn't need to practice, much less be asked about it. Though his gangsta rap record never made it out of the studio, the buzz it generated just on the knowledge that he had recorded it furthered his ultimate outlaw status. AI plays basketball like his life depends on it, and this pimp or die attitude is the best articulation of the hip-hop spirit to touch a basketball court thus far.
2. The Fab Five
Led by two Detroiters, Chris Webber and Jalen Rose, the Michigan Wolverines changed college basketball forever, despite not winning a title in their two consecutive appearances in the championship game. From 1991-93, the "Fab Five," which also included Juwan Howard, Ray Jackson and Jimmy King, strolled through the NCAA tournament with mad youth, shaved heads, super-sized shorts, black socks, and the overall vibe of pimps on their way to the International Players' Ball. Their presence prompted an increase in the sale of Michigan gear, and with this the sale of athletic attire exploded, becoming a fundamental element of the hip-hop wardrobe. The university eventually erased this era from their records after a recruiting scandal implicated Webber, but they can never erase the "Fab Five" from the memories of the legions of fans who watched them perform and set it off on the court.
SPORTS & MUSIC

Page 3 examines the connection between sports and music.


3. Jay-Z
The self-described "first non-athlete with a shoe" and "Mike Jordan of rap" dropped more basketball-related rhymes than any other rapper in history. He was fond of comparing his dominance in the rap game with Jordan's dominance on the court. Jigga wrapped up Grammy awards and record sales like they were scoring titles and MVP trophies. All of these accomplishments prompted him to say, with conviction, that he is the "best rapper alive." Having retired from the game now, Jay-Z has become part owner of the New Jersey Nets, with the intent of moving the squad back to his crib, Brooklyn, in the near future.
4. Shaquille O'Neal
"Shaq Daddy," "Shaq Diesel," "The Big Aristotle" and lately "MDE" (Most Dominant Ever) are just a few of the many hip-hop-like names that helped to define Shaq as the premier hoops-to-hip-hop crossover artist. In 1992, he became the first player to directly link life as a hooper with his aspirations as a rapper. Shaq made news when he appeared on "The Arsenio Hall Show" and spit a verse with the Fu-Schnickens on the track "What's Up Doc? (Can We Rock)," and he went on to record several albums. While Shaq's flow was as wack as a three-dollar bill, he had started something. His strongest connection to hip-hop attitude in recent years has been his often-hilarious comments made during interview sessions. But he was the one to bring together all those loose threads dangling in the air in the early '90s.
5. Michael Jordan/Charles Barkley MJ and Sir Charles share this spot because their entrance in the league in 1984 marked the beginning of the Hip-Hop/Hoops Era. Jordan defied protocol when he wore his new Nike Air Jordan shoes as a rookie. The shoes were banned by the league, and this controversial status made the shoes a must-have item from the 'hood to the suburbs and beyond. Jordan also wore his own Air Jordan warm-up suit to his first All-Star Game, angering some veterans, and he sometimes showed up with gold chains hanging from his neck. Jordan would come to dominate the game and use his image as a way to continually "get money," and both moves would come to define hip-hop as well. Meanwhile, Sir Charles provided the substance to Jordan's beats. Barkley never hesitated to keep it real through his words and deeds on and off the court. The self-described "'90s n----" upset many when he said he was not a role model, but this statement also reinforced Barkely's reputation as someone not to be messed with.
6. The Bad Boys
The Detroit Pistons of the late '80s and early '90s redefined basketball with their hard-nosed defense, a thuggish street persona and a mastery of the art of intimidation on their way to three straight NBA finals appearances and back-to-back titles in 1989 and 1990. The Bad Boys were making their move in the league around the same time that gangsta rap was emerging in hip-hop. The "Oakland Raiders" of basketball were lead by Isiah Thomas, who had grown up on Chicago's West Side, where gangs tended to run things. Zeke appropriated the vibe and overall attitude of these gangstas and brought it to the basketball court. His soldiers were people like Bill Laimbeer, Rick Mahorn and a young, relatively sane Dennis Rodman, all of whom made sure that you would never get to the basket without being "touched." Isiah also got in some hot water for agreeing with Rodman's comment that Larry Bird was overrated as a player because he was white. Zeke's statement may have upset a lot of folks, but the hip-hop world heard him loud and clear.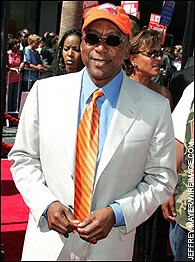 Bob Johnson continues to pave the way while wearing a suit.
7. Robert Johnson/Black Entertainment Television
Though Bob Johnson was often criticized for the many hip-hop videos that played on his BET network, he refused to surrender to his critics. Instead Johnson, who started BET in 1979, rode the success of those videos and the explosion of hip-hop culture to billionaire status. Meanwhile, he and BET helped to create this hip-hop explosion in the first place. Before MTV aired many hip-hop videos, BET was the primary source. When MTV changed course, BET often offered videos of lesser-known artists that one could not see on MTV. Johnson, in 2002, used his riches to purchase the
Charlotte Bobcats
, who will take the court for the first time this coming season. As the first black owner of a major sports franchise, Johnson demonstrates the connection between hip-hop and basketball in economic terms like no other.
8. Rasheed Wallace
This Philadelphia native is the walking embodiment of hip-hop. His headbands and Air Force 1s have brought back old school trends. Meanwhile, his never-give-an-inch demeanor, especially toward refs, garnered technical fouls at a record rate. Rasheed who once hosted a hip-hop radio show in the Portland area, got in a verbal battle with rapper E-40 at a time when very few people were even thinking about hip-hop and 'ball. Rasheed's steez is what makes him hip-hop, and his insistence on being himself in spite of the demands of others is what makes him fit so well with the culture, both on and off the court.
9. The Notorious B.I.G. a.k.a. Biggie Smalls
The "Black Frank White" made hip-hop/hoops history when in the song "Things Done Changed" he uttered the immortal words "If I wasn't in rap game game/I'd probably have a key knee deep in the crack game/because the streets is a short stop/either you slingin' crack rock or you got a wicked jump shot." Biggie's lyrics served as the philosophy that have underscored so much of the connection between hip-hop and basketball in the modern era. Though he wasn't around to see the full evolution of the connection between these two worlds, these words from the greatest rapper of all time live on like a mantra for many of today's aspiring rappers and ballers.
10. Arsenio Hall
The Cleveland native made late night television history in 1989 when his self-titled talk show debuted. At the time, Johnny Carson was still king of late night, but Arsenio in effect kicked in the door and most definitely made his presence known. What made "The Arsenio Hall Show" so relevant was the fact that he regularly featured both NBA players and hip-hop artists as guests for a national audience. For the first time, one could see individuals from both of these worlds occupying the same space. The fact that Arsenio recognized their mutual attraction long before anyone else in the mainstream media makes his show stand out as fundamental to the inspired merger of these cultures today.
Dr. Todd Boyd, author of "Young Black Rich and Famous: The Rise of the NBA, the hip-hop Invasion, and the Transformation of American Culture," is a Professor of Critical Studies in the USC School of Cinema-Television.