I love all kinds of sports and all kinds of music. I love golf, hockey, bowling and boxing. I love Nat King Cole, AC/DC, George Strait and Tupac Shakur. Life is a rich pageant and neglecting any of it is only cheating you out of life. Yes, I believe Marshall Holman and Jay-Z are one in spirit, both with balls of Brunswick.
SPORTS & MUSIC

Page 3 will examine the connection between sports and music all summer long. Also, catch SportsCenter's music series all this week at 6 p.m. ET on ESPN.


Bon Jovi rocks a new arena


Coming up:
At-bat songs for all 30 MLB teams

The hip-hop and hoop connection

But let's face it -- some music goes better with particular sports. When I hear a song, I think of a sport it would go best with in a SportsCenter "Plays of the Week" segment of that sport. If I see an athletic movement, a song comes to mind.
So here are my "Big Four" sports and music breakdowns:
NFL football
I wanted to do what I do (wear makeup and talk about sports on ESPN) because of three things: NFL Films; former Pittsburgh Pirates play-by-play man Bob Prince, whom I grew up listening to as a kid in Western Pennsylvania; and Chris Berman.
Nothing defines my childhood more than playing football, by myself, on the side of my tiny cinder block house. I would play in slow motion, humming NFL Films music and dreaming I was Jeff Van Note or Bill Bergey. I would throw the ball up the air and, in slow motion, catch it and roll on the ground. I was Floyd Little, Greg Pruitt and Frenchy Fuqua. I would put goldfish in my Chuck Taylors and begin every game with a 99-yard touchdown run in my first career carry.
There was a generation of NFL fans who lived on this rich imagination island. Kids don't do play imagination football as much in their side yards. They play X-Box. But for me, the soundtrack of football was and will always be the NFL Films classical music from the 1970s and '80s. The new music isn't as good.
Baseball
These days, baseball's ideal setting is Little League ball in small town America. There are thousands of Williamsport, Pennsylvania's all over the United States.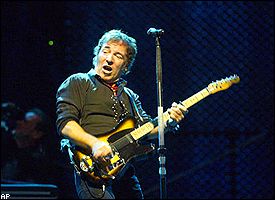 Bruce Springsteen: the ultimate stadium rocker.
I just got back from a five-city ballpark tour that included stops at the Baseball Hall of Fame and Rock and Roll Hall of Fame, and it occurred to me that baseball, while it is slowly changing, is still white corporate rock personified. I can remember looking at baseball yearbooks in the mid-to-late '80s, and 87 percent of players said their favorite band was Huey Lewis and the News. I liked the "Picture This" album, but Huey Lewis' standard-issue rock sums up baseball and music in the '80s.
Things are changing. Hip hop is gaining ground among the players who pick their theme songs coming to the plate for each at-bat.
However, the sport's fans are still largely into '70s and '80s arena rock. I saw Bruce Springsteen at Fenway Park last summer, and, I've got to admit, the two fit perfectly together. You couldn't have put an artist and baseball venue together more seamlessly than Springsteen and Fenway.
Baseball is a quiet game with space and that's the kind of music I associate with it. "Sister Golden Hair" and "Ventura Highway" by America are two songs that make me think of '70s ball. The music of Jack Johnson, Bruce Hornsby, Counting Crows, Ben Folds, Neil Young, Dave Mathews and Lucinda Williams is the sound of baseball to me. Something with space -- space to think.
NBA hoops
No sport and music genre is more closely linked than basketball and rap/hip hop. Hip hop is city pavement, like George Strait is country roads, and city pavement fits best with the fast-paced game of basketball.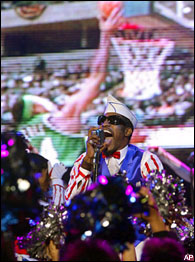 Outkast is the sound of today's NBA.
The rap segment of hip hop fits perfectly with the two-man game of the NBA. It's largely about bravado, attention-getting and one-ups-manship, not sportsmanship. Robert Parish rebounding the ball and outlet passing to Dennis Johnson, who goes up the sidelines to Larry Bird, who touch-passes to a cutting Cornbread Maxwell for a down-the-lane finger roll, is not rap -- it's R&B and classical combined. Basketball seems to bring a lot of anger now, such as after a hoop and a foul. It always brought me joy like it did Magic Johnson.
I grew a white suburban jump shot pansy. I didn't live in the city, and thus didn't have enough people for a game. Just a lot of day and night jump shot dream sessions. I liked my hoop music loud and fast since I was quiet and slow. One cassette tape I can still remember playing until it squeaked on my boom box was a compilation of Chuck Berry, The Who, AC/DC, Run DMC, ZZ Top, Donnie Iris and J. Geils' "Centerfold." If I were to burn a CD today to shoot hoops in my backyard, it would include Outkast, Modest Mouse, Jet, The Hives, Blink 182, Prince and anything else fast and fun.
NHL hockey
In so many ways for me, hockey's musical cousin has always been punk. Fast, furious, unscripted and unrelenting. You can't control either and when you try, you sap some of the life and soul out of the genre. Overcoaching and the trap have done that in the NHL, and Abercrombie and Fitch mallrats have for punk.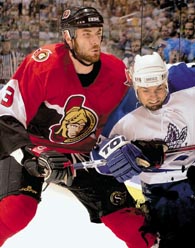 Pucks and punks go together like hockey sticks and guitar picks.
At the Rock and Roll Hall of Fame, there was a great quote from the late Joe Strummer of The Clash that I wished I had written down. It was basically about how life is
fun
, and that unbridled joy is what life is all about. I've hung around lots of hockey players and there is no athlete more fun and crazy than them.
The groups that show allegiance to punk and hockey are small but passionate. To them, having a large number of followers does not equate to relevance. You're either in or out. I think when people attempt to defend or promote their passion they aren't being true to the soul of the thing. Who cares if others bash or don't subscribe to your passion? It's yours. And, anyway, the fewer posers the better. Just love it for what it does to you and how it makes you feel.
I have a special relationship with NHL hockey because it is the underdog of big-time sports. And whenever I write or talk about it, the same mantra comes to mind and it can be applied to the music of your choice: Don't be ashamed of what moves you. Don't limit yourself and don't be ashamed. And don't care what anyone else thinks or what the music and sports snobs say.
Rock on.
John Buccigross is a SportsCenter anchor and the host of NHL 2Night.