Even in the middle of January, Red Sox tickets are hard to come by.
Bronson Arroyo worked under the lights in front of a sold-out, hometown crowd on Sunday night, but the hurler wasn't toeing the rubber. Arroyo was tickling the six string as fans packed the Paradise Rock Club in Boston for Peter Gammons' fifth annual Hot Stove, Cool Music concert to benefit the Jimmy Fund.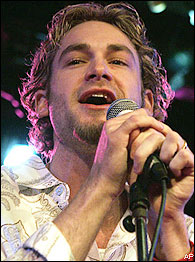 Bronson Arroyo's performance was solid, just like his relief work in the World Series.
A myriad of musicians rocked the stage, including the Dropkick Murphys, Majorette, Buffalo Tom, Bill Janovitz, the Gentlemen, Juliana Hatfield and Kay Hanley, but the 27-year-old right-hander with the 4.03 ERA stole the show.
With Bronson belting lead vocals, the pitcher and his band kicked off their set with a cover of Better Than Ezra's 'Desperately Wanting.' The ace seemed a bit nervous in his early innings on stage, but he soon settled in and found his groove.
Once warmed up, he picked up his acoustic guitar -- covered in colorful clippings, a la magazine mosaic -- and strummed along with the band. I must admit, Bronson's voice was thicker than I expected from the downright wiry guy, but, I should have given him the benefit of the doubt. After all, he looked a little more like a rock star tonight than when last I'd seen him. Gone are the teeny-bopper-braids. Bronson took to the stage sans trademark cornrows and pipe-cleaner thin polyester pants, this time sporting a head of wavy blonde locks and a sturdy set of 'burns.
I never would have thought it possible, but as Bronson's head bent back, eyes wincing to reach the notes of Bush's intense 1996 radio favorite, 'Machinehead,' I noticed a scary likeness to lead singer Gavin Rossdale.
Yeah, I said it, Bronson Arroyo and Gavin Rossdale. Hey, at least I'm not comparing the Dropkick Murphy's to the Who! I'd only let the reverend Peter Gammons get away with an assessment as bold as that.
In any case, Arroyo headed a handful of other covers including Alice In Chains, Stone Temple Pilots and Tom Petty. He ended his set with 'Staind's 'Outside Looking In.'
After Arroyo's respectable performance of a set heavy in 90's garage grunge, actor Mike O'Malley -- the event's emcee -- snuck in a fun-loving dig, imploring the audience to pitch in and lend a hand in bringing Bronson's CD collection into this century. Valid point.
At the risk of dating myself, I will assert that most of Arroyo's selections were topping the charts when I was running off the school bus, trying to catch Mike O'Malley play host to Nickelodeon's brilliant American Gladiator-esque kids show, "Guts."
Remember the AgroCrag or the referee lady with the British accent? ''D-d-d-do ya have it?" C'mon, relive your youth with me, Page 3!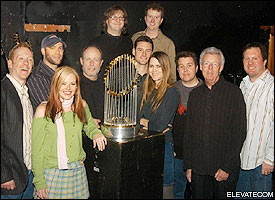 Peter Gammons knows baseball; he also knows how to throw a jammin' party for a good cause.
Anyhow, I digress.
In other musical highlights -- Juliana Hatfield can still flat-out jam. Peter Gammons dolled out only the highest praise for Juliana, proclaiming In Exile Deo (May 2004) as his favorite album of the year. Hatfield's beefy set featured two hard-hitting Lemonheads covers, including a poppy rendition of "It's a Shame About Ray," and a snappy cover of the Pixies' "Where Is My Mind?"
Sox reliever/guitarist Lenny DiNardo was on stage holding down the chord progression with the long time Bay State indie-rocker. As Peter Gammons said: I hope the left-handed Floridian fully appreciated his exclusive opportunity to share a stage on Comm. Ave. with Juliana Hatfield while covering the Pixies.
Wow. That's the musical equivalent of finishing off a Curt Schilling victory. Nothing is more quintessential Beantown music scene than that. ... Except for maybe Boston-bred Kay Hanley.
Hanley, who found fame singing stirring chick-rock hits in the band Letters to Cleo and has since moved to L.A., came home for a sold-out show at T. T. The Bear's last week, and brought down the Paradise with a poignant set, masterfully blending the delicate with the intense as only Kay can do. It's so nice to have her back on the east side.
----------------------------------------------------------
The evening was as much about music as it was about supporting a great cause while soaking in the afterglow of a Red Sox title. Host Mike O'Mally had a few of the event's one-line gems, making even the bearded Theo Epstein blush by encouraging bids for a faux auction item of "a night of love with GM Theo Epstein." That gag was topped only by bids on ''a night of love with Peter Gammons."
Phony pranks aside, there actually was some matchmaking taking place at the Paradise ... for seats at Boston's other paradise. One big-money item that helped the event raise close to $150,000 for the Jimmy Fund was, in fact, a date with John Henry. A pair of seats for a game with the Sox owner went for over eight grand. Another big bidder was the guitar signed by all the Red Sox and celebs involved with the event, and a baseball signed by a Beantown's own, The Pixies.
The top auction draw however, was a set of four seats in Theo's box -- with Theo himself -- for an all-you-can-eat (READ: drink) Red Sox extravaganza. The bidding was fast and furious, escalating until the seats finally sold for $22,000 -- with the generous GM throwing in a matching prize for the second-place bid of $21,000.
When the auction winners were brought on stage, O'Malley asked them what we in the crowd were all wondering -- what the heck they did for a living that allowed them to drop over 20 G's on a day at Fenway? The first bloke confessed that he was a producer for "This Old House." I hope for his sake Bob Vila doesn't decide to take a sabbatical anytime soon.
But perhaps the event's most comical moment ensued when O'Malley asked the second auction winner -- a middle-aged, down-to-earth-looking woman -- how she found the dough for the final bid. She dropped her head and shuffled her glance to her shoes before proclaiming in aw-shucks style, ''I got a divorce on Friday."
Rebound with "a night of love with Theo Epstein" ... Brilliant!
A night of great tunes for a great cause. Hang another pennant on the wall for Peter Gammons' fifth annual Hot Stove, Cool Music event. Boston truly had something to sing about this year.
Mary Buckheit is an editor for ESPN.com and can be reached at mary.j.buckheit@espn3.com