Jake Taylor: You're a celebrity now, Vaughn. Ricky "Wild Thing" Vaughn: I thought you had to do something good to be a celebrity. Taylor: Not if you do it colorfully. -- "Major League"
Athletes make it to the bigs because they're good at what they do. But sometimes, their antics -- whether on the field or off -- overshadow their abilities.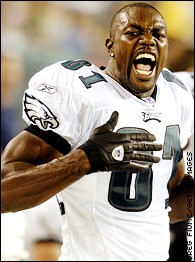 T.O. is his own biggest fan.
Terrell Owens
' mocking of
Ray Lewis
and his tackle dance in the Ravens' end zone last Sunday launched this list of 10 current sports celebrities who have earned reputations for doing it "colorfully."
1. Terrell Owens
The Philadelphia Eagles receiver has punctuated his play by defiantly posing on the Dallas star, signing a ball with a Sharpie after a touchdown and whipping out pom-poms to celebrate. There's no denying T.O.'s talent or charisma, but if he's running the risk of being forever cast as a showboat.
2. Dennis Rodman
Which is more memorable -- the photo-op in a wedding dress, his marriage to Carmen Electra (which he was too drunk to remember), kicking a courtside cameraman, the dye jobs, the tattoos or the ejections? His final basketball wish is to be ejected and completely disrobe in his last NBA appearance. Any wonder why David Stern would rather watch The Worm on "Celebrity Poker Showdown" than in an NBA uni? Oh, did we mention he owns five NBA championship rings?
3. Tiger Woods
Woods once pummeled the opposition with a 19-under par performance at the British Open. But that was in 2000. Then he met Elin Nordegren. He won two majors in 2002, around the time they moved in together, so it's not her fault he's become just another golfer -- or is it? After all, the most publicity he's gotten for making a cut this year was for the one he made in his wedding cake.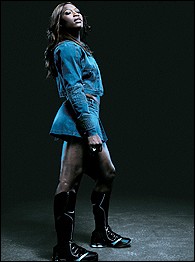 Perhaps Serena has had a little too much time off between matches.
4.
Venus and Serena Williams
The First Sisters of Tennis have opted for stealing fashion headlines instead of sports headlines. Not to be outdone by the skin-tight black cat suit Serena wore at the 2003 U.S. Open, Venus unveiled a white corset-style tennis dress that made heads turn at Wimbledon this year. Serena countered by warming up in go-go boots at the U.S. Open. Neither sister advanced to a Grand Slam final in 2004. Serena's excuse? She's still rehabbing a left knee injury. Venus's excuse? We're still trying to come up with one.
5. Charles Barkley
Never scared to throw a blow or lend an opinion, Sir Charles is a top-50 player who carved out a commercial niche during the Jordan ad era. He stirred up a nationwide controversy and debate with his "I am not a role model" spots, which catapulted him to the forefront of "not just an athlete" personas. Today, Barkley's broadcasting work has arguably made him more recognizable to a whole generation as a television personality than a player. His agent says his new book, "Who's Afraid of a Large Black Man?" with Michael Wilbon, will grab more headlines.
6. John McEnroe
"You cannot be serious!" Yes we are. McEnroe used to be celebrated for his play (seven Grand Slam singles titles) and criticized for his personality. These days, all we hear about is his personality. During the last year, Superbrat has made headlines as a marginal political pundit with a failing talk show and for his antagonistic role in ex-wife Tatum O'Neal's autobiography "A Paper Life."
7. Deion Sanders
There aren't many things "Primetime" hasn't tried to get our attention. From gold chains and hip-hop to Major League Baseball and Super Bowl rings, he's been there, done that. The high-stepping Sanders is still out to prove he's "too legit to quit," just as he did in an MC Hammer video. In Week 7 against the Bills, he made two interceptions and scored a touchdown ... and is probably the only NFLer who enjoyed T.O.'s end-zone exhibition.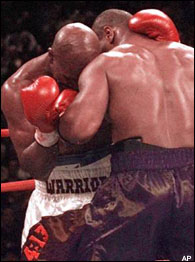 What looked like a lock by Tyson ended up being his lunch.
8.
Mike Tyson
Why does it seem that Tyson biting Evander Holyfield's ear and announcing his desire to eat another man's children happened yesterday? Maybe because an eon has passed since he actually beat a worthy opponent. In his last fight, Iron Mike got knocked out by a no-name -- and blew out his knee. Accordingly, Tyson's eccentric antics trump his boxing career.
9. Brandi Chastain
An integral part of arguably the greatest women's soccer squad in history, Chastain scored the game-winning penalty shot against China in the in the 1999 Women's World Cup final. Yet, Chastain whipping off her jersey and revealing a black Nike sports bra is tournament's indelible image. Nothing wrong with good, healthy enthusiasm.
10. Joe Horn
Joe who? After Horn caught the second of his four touchdown catches against the Giants last year, teammate Michael Lewis handed him a flip phone from underneath the goal post. The NFL sent him a $30,000 phone bill. When asked about the celebration, Horn said: "I had told my kids to be at home, watching the game, and I told my momma, 'Mom, if I score the second one, I'm going to get my cell phone out.'" At least Horn's a man of his word. This fleet-footed receiver is well known in New Orleans and among fantasy football aficionados but to the casual sports fan he'll always be remembered for the cell phone.