The 12th annual ESPY Awards were taped in Los Angeles on Wednesday. While the hot topic question was about The Big Aristotle leaving Los Angeles and heading to the Heat in Miami, and whether Kobe Bryant was the next to toss the purple and gold, Page 3 had a few other ideas.
We decided to make full use of our access to the high-profile sports stars and celebrity fans, and hit 'em up with, not 10, but Three Burning Questions.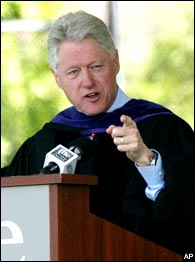 Bill Clinton would be the perfect running mate for any endeavor.
Here's what they had to say:
1. Who would your running mate be?
"I would need a good talker so probably [Minnesota Lynx center] Tamika Williams because she can convince you to do just about anything."
-- Diana Taurasi, guard, Phoenix Mercury
"A running mate? What's the endeavor, because needing a running mate if you were President or a running mate for going out chasing chick is different-- two different guys. (Laughs)"

For President: "Scott Hatteberg, a guy on my team ... he's a really cerebral guy and can always take a look at the bigger picture. Just a really insightful guy."
Chasing chicks: "I can't really say ... everyone's got a girlfriend. It's really weird. I'll say Mark Bellhorn (Red Sox). He's a good buddy of mine."
-- Barry Zito, pitcher, Oakland A's
"Can I bring Bill Clinton back out? I would roll with Bill Clinton."
-- Dante Hall, wide receiver, Kansas City Chiefs
"Any one of my teammates."
--Lindsey Hunter, guard, Detroit Pistons
2. What is your favorite sports memory, as a fan? Why?
"When I was a kid, rooting for the Yankees and watching Mickey Mantle hit homeruns; and basketball, rooting for the Celtics & those are my really vivid memories. As we get a little older, I enjoy it, but back then I was a die-hard Yankee fan. You cheered for 'em and cried for 'em when they lost."
-- Ken Howard, actor "The White Shadow"
"When Michael Jordan hit the winning shot against Utah to win his sixth Championship."
-- Dante Hall, wide receiver, Kansas City Chiefs
"My sophomore year of high school, I got to play with my older brother in football. We played a lot in the back yard, but to put it together on the field where it really counted ... was one of the most specials years I had playing football."
-- Peyton Manning, quarterback, Indianapolis Colts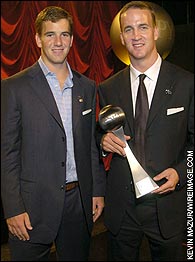 Peyton Manning celebrates his ESPY Award with his brother -- and fan -- Eli.
"As an athlete, my sophomore year we went down to Baton Rouge and beat LSU in Tiger Stadium in a comeback victory. That was a big win, just being in New Orleans and my whole family was there. As a fan, probably watching Peyton this season in those two playoff games when he had two perfect games in a row. I was rooting him on and always want him to do well."
--
Eli Manning
, quarterback, New York Giants
"Ooh, I can't look at myself as a fan, I'm still competing. There are too many great moments, to be honest, I really can't even pick one. I guess just the entertainment aspect of sports in general is probably the best part. But I would say, personally, the '92 Olympics just because it symbolized my comeback from my Graves Disease, and now, I just made my fifth Olympic Games. There's not many people who can say that at this age. They call me the grandmother of the sport. I'll be 38 and I'm running against people who are 20 years old."
-- Gail Devers, track and field star
"So many of them, but I'd have to go with ... I was bartending in New York City; it was 1986. When Dave Henderson hit the homerun to go to the World Series against the stinkin' rotten Mets who went on to beat us. But here's the thing when (Henderson) was at-bat, my boss said, 'Well, Chickie, they're done.' And I said, 'No-no-no. Hendu's awesome; he could hit out.' He was down in the count. Just before he hit it out, my boss said, 'If he hits it out, I'll give you two tickets to Game 2 of the World Series. If he doesn't you have to work double shifts for a week." Next pitch - BOOM! I was like, "Yeah!" We went on to win that game 2-1. I can't wait to meet him and thank him for that."
-- Michael Chiklis, actor, "The Shield"
3. If you could tell everyone you know about one thing to read, watch, or listen to, what would it be and why?
"OK, but there's a difference between those two things ... because what I watch and what everybody else should be watching are two entirely different things! (Laughs)"
-- Andy Roddick, tennis champion
"Watch the movie called 'Waking Life.' It pokes holes in people's boxes ... makes you contemplate certain things."
-- Barry Zito, pitcher, Oakland A's
"Go to a WNBA game. (Laughs) We need more fans! Come out to the games; we need you guys!"
--Diana Taurasi, Best Female Athlete, ESPY Award winner
"I'm really all about dressing down. I'd usually wear a long gown here, but right now I'm about being funky. That's why I have all these necklaces on and these plastic earrings that are like 10 bucks. It's just the whole crazy '80s look."
--Serena Williams, tennis star