I was in my neighbor's den the first time I heard Chuck Berry's "School Days," and that's where it all began. I went off to the Melody Shop to buy one of those little blue Chess 45's, and so began a rock-'n-roll-everyday relationship with music.
All music, art, poetry or writing is personal.
I remember the first time we heard "Heart Full of Soul" on the radio. I was driving down Congress Street in Portland, Maine, and having John Messersmith jump out of the car, run into the record store and come out with the record. Or driving to a place in Naples, Maine, called "The Rocks" in my friend Deny's car when we heard Alan Price's "I Put a Spell on You," or sitting in a car at Cohasset Beach when I heard "Substitute."
In the road life, music has always been flashbacks: "How Long Has This Been Going On?" driving over the Bay Bridge, "Jesus in ¾'s Time" driving through Fort Lonesome on one of those long drives across flatland Florida and "Join Me in L.A." canoeing down the Saco River.
Some of us can't run without music: Emmylou Harris' "One Paper Kid" on the hills of Otisfield, Maine, Marshall Crenshaw's "Material Girl" along the Charles (River), "Fat Man in the Bathtub" along the Milwaukee shore, "I Can't Turn You Loose" around the lakes of Minneapolis, Lyle Lovett's "Church" running the lake during the '89 playoffs in Toronto, Del Amitri's "The Last to Know" along the lake in Cooperstown, Jackson Browne's "Your Bright Baby Blues" (
I'm Just a Day Away From Where I Want To Be...
), "Wish List" and "Progress" and Susan Tedeschi's incredible version of "Rock and Roll." Here's a list of my 10 favorite CDs. Impossible. The list is 20.
1. "The Rolling Stones, Now." "
And listen to my heart go bumbitybump ...
"
2. "Waiting for Columbus," Little Feat. "Boogie my scruples away ..."
3. "Pearl Jam Live" at Great Woods, July 2, 2003. "...Such a happenin' tailpipe of a party ..."
4. "Live in Blue," Midnight Oil. "Some say that's progress, I say it's cruel ..."
5. "Electric Ladyland," Jimi Hendrix. "And the gods made love."
6. "Live in Europe," Otis Redding. "Justajustajustajusta try a little t e n d e r n e s s ..."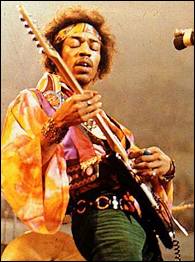 Jimi Hendrix could play today's music with his eyes closed, too.
7. "For Everyman," Jackson Browne. "Let me clue you in/it ain't like him/to argue over ten/honey let me introduce you to my redneck friend."
8. "Loud, Fast, The Ramones: Their Toughest Hits." "Sheena is a punk rocker."
9. "A Joyful Noise," The Derek Trucks Band.
10. "Highway 61 Revisited," Bob Dylan. "Ezra Pound and T.S. Eliot fighting in the captain's towers ..."
11. "Then and Now," The Who. "I see right through your plastic mac."
12. "Live at The Apollo II," James Brown. "Please, please, please ..."
13. "Mr. Bad Example," Warren Zevon. "I've been a rebel all my days."
14. "Live in San Antonio," Lyle Lovett. "If the preacher preaches long enough, even he gets hungry too."
15. "Just Won't Burn," Susan Tedeschi. "Mama, he treats your daughter mean."
16. "Blackout," Dropkick Murphys. "The worker is workin' when the fat cat's about."
17. "An American Music Band," The Electric Flag. "You gotta nickel, I gotta dime, let's get together and drink some wine ..."
18. "Live at The Fillmore," The Allman Brothers. "I ain't goin' out that front door."
19. "The Best of Wilson Pickett."
20. "The Last Record Album," Little Feat. "Help wanted, but not enough."
Now, I'd like to take The Byrds' boxed set, Emmylou Harris' "Quarter Moon in a Ten Cent Town," "The Best of John Hiatt," "Cherry Marmalade" by Kay Hanley, Buddy Guy and Junior Wells live, anything by Jeff Beck and "The Best of Howling Wolf" with me when my ride is here.