by Patrick Hruby
Special to Page 3
John Salley looked confused. Michael Strahan looked perplexed. Usually, this wouldn't be noteworthy -- as hosts of Fox's "Best Damn Sports Show Period," both are accustomed to bewildering chaos, to say nothing of sports goof Tom Arnold.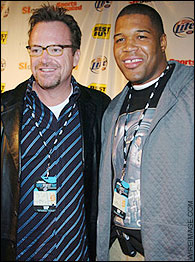 Tom Arnold and Michael Strahan had to give a darn.
Sunday was different, however. Salley and Strahan stood on the show's Jacksonville set, ready to host what Salley dubbed the "best damn eating contest." A New England fan was set to go against his Philadelphia counterpart, scarfing chili and blueberry pie before snorkeling in a vat filled with clam chowder and cheesesteaks. In other words, high-brow entertainment. Suddenly, the broadcast audio cut out, dropping to whisper level. A man with headphones walked into the frame. Not part of the script. The assembled crowd hushed. "You can't say 'damn' on Fox," said the man with headphones. "It's our fault. Don't even worry about it." "Let me get it out," said Salley. "Damn! Damn! Damn!" "We have to say 'darn' today," said Strahan. Fox abruptly cut to a commercial -- but not before the point had been made. What hath Janet Jackson's halftime peek-a-boo wrought? Try Sunday's Super Bowl, a squeaky-clean affair in which sexagenarian Paul McCartney played halftime, horse-fart commercials were no longer welcome, Ronnie Lott recited the Declaration of Independence and "Best Damn" changed its name to "Best
Darn
," at least for one FCC-kowtowing afternoon. As Salley might put it, that's a damn shame. The Super Bowl needs sin. Simple as that. As many as 150 million people were expected to watch at least part of the big game, far more than turned in for the highly-rated AFC championship clash between New England and Pittsburgh. Translation? Outside of the Olympics, the Super Bowl might be the one sports event where most of the audience doesn't care about sports. They're in for the hype, the spectacle, the commercials. They crave entertainment, lest they flip over to "Desperate Housewives." Speaking of "Housewives," most of today's top-rated entertainment just happens to be racy. Blame it on Hollywood Babylon? Hardly. Demand creates supply; the people have spoken, and they want Eva Longoria schlepping the garden boy. NippleGate might have gone too far, but the NFL had the right idea in pairing Jackson and Justin Timberlake.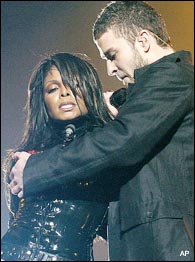 What hath Janet wrought? Paul McCartney and swaying lighters.
To wit: I watched last year's game with four friends, all of them casual football fans. Actually, "casual" is an understatement -- three couldn't pick Jake Delhomme out of a lineup consisting of him and the Harlem Globetrotters' starting five. Yet when halftime rolled around, they raced to the television set, squealing "JT! JT!" That includes my buddy Chad.
Oy.
To paraphrase Shakespeare, the game ain't the thing. So were non-football fans out of luck Sunday? Not entirely. Even with the values police cracking down, sin still had a place at the Super Bowl. You just had to look a little harder for it:
Pride
Forget the colossal sense of self-worth it takes to play professional football -- and the even greater ego required to host a pregame show. The Fox broadcast brought us the "Million Dollar Hole-In-One Challenge," a chance to see Royce Clayton and Brian Urlacher hit balls into the water at TPC Sawgrass. The event was held for charity, which makes it mostly virtuous. Still, doesn't it take a wee bit of pride -- and by "wee," we mean a bucketful - to assume that the rest of us want to see these hackers play golf? Honestly, would winner Dale Jarret want to watch me weave my way through Beltway traffic? Runner-up honors go to aging, aptly-named rocker John Fogerty, who wore what was either a toupee or a Donald Trump hair graft during his pregame song set. Hmmm. Maybe the real sin here is vanity.
Greed
Geez, let me count the ways:
Fox reportedly charged $2.4 million for a 30-second Super Bowl spot.
Gillette Stadium, home of the New England Patriots, only accepts Visa cards.
Tickets to the game cost a bundle.
Alicia Keys' pregame performance of "America the Beautiful" ended with a plug for the movie "Ray."
A Jacksonville taxi shortage meant staggering fares, and according to Page 2's Bill Simmons, ATMs in the city were charging $5 per transaction, with a maximum withdrawal of $100.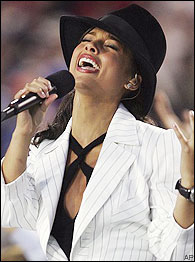 Ah, the beauty of America: greed.
Wanna use your cell phone to vote for the MVP? Premium rates apply. A charitable observer might call this the free market at work. Of course, the charitable observer in question might be Gordon Gekko. Gluttony
Beer and pizza. Chips and salsa. More beer. Fox can rest easy. We've got the sloth part covered at home. Figuratively speaking, there was the gluttonous media coverage of the game. Just before noon, during Fox's approximately 34 consecutive hours of Super Bowl-related programming, the network ran a show called "Untold Stories of the Super Bowl." Cute. But really, there's no such thing. With two weeks between the conference title games and the big one, every stone was turned, every story told twice. And that's just on SportsCenter. Who hadn't heard the breathless daily updates on Terrell Owens' ankle? About Freddie Mitchell's big mouth? Tom Brady's pocket cool? That construction worker playing for the Eagles? ESPN's pregame show saw Chris Mortensen deliver a well-meaning live report on the turf at Alltel Stadium, and how it might affect the players' cleat lengths. In the business, this is called overkill. Envy
From the Bud Bowl to the Lingerie Bowl -- and really, why can't the two be combined? -- the Super Bowl always inspires copycats. Thanks to Animal Planet, this year's contest offered more of the same. The network ran a three-hour "Puppy Bowl," which consisted of a group of puppies playing on a faux football field. They scrapped. They ran around. They munched on chew toys (one shaped like a football) and drank water from an end-zone dish. The whole thing was a blatant rip-off of the big game, down to the instant replays and a multi-puppy wrestling match that resembled the Eagles' pregame frolicking. At one point, a human referee threw a flag and called "illegal use of the paw," which raised two questions:
Didn't Timberlake get into hot water for pretty much the same thing?
Who is the actor playing this referee, and how badly does he need work?
Mercifully, the Puppy Bowl ran without color commentary. Perhaps the networks could follow suit. Oh, and you can order a DVD of the program for $9.95. Pass me my wallet.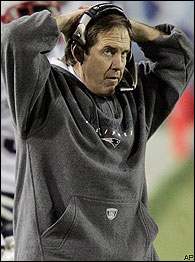 Bill Belichick was arrested by the fashion police after the game.

Sloth
Again, can't hang this one on the TV guys -- even Tom Arnold wore a blazer. Fortunately, Bill Belichick sported his signature gray sweatshirt. What, are Zubaz pants too highfalutin' for him? Wrath
Following last year's halftime debacle, the NFL booted JC Chasez from the Pro Bowl lineup -- possibly because the league was uncomfortable with Chasez's song "Blowin' Her Up (With My Love)"; probably because Chasez was Timberlake's former bandmate. That's retaliation. Wrath. Pure and unvarnished. This year's entertainment was more of the same, with McCartney blowin' up the memory of previous, semi-relevant pop acts such as Aerosmith and, um, Aerosmith. No writhing Britney Spears this time around; instead, fans enjoyed a pregame concert starring Charlie Daniels, Santa Claus with an electric fiddle. The Devil came down to Georgia? Not in this number. Forget cutoff football jerseys: the women dancing around the stage wore sweaters and scarves. And possibly burqas. Lust
Last week, Ford nixed a planned commercial depicting a clergyman tempted by a new pickup truck. Apparently, victims of real-life clergy sex abuse claimed the spot was inappropriate. Much like real-life clergy sex abuse. Still, family-unfriendly entertainment was alive and well in Jacksonville. Super Bowl week saw a Maxim party, a Sports Illustrated swimsuit shindig, a Playboy soiree with the theme "what happens in the grotto, stays in the grotto." We're guessing they don't mean elementary school literacy programs. Page 3 even sent Darren Rovell to cover all the parties and judge a bikini contest. Anything to get the story. Game day offered more skin. Leeann Tweeden wore a half-zipped jacket (half-unzipped, if you're an optimist). Jillian Barberie modeled a midriff-bearing shirt. She also gave Fogerty a kiss on the cheek -- creepy, if not exactly erotic. Tabasco trotted out a bikini-clad babe, and a USA Today spot had Pam Anderson in an outfit better suited for soliciting Johns than newspaper readers interested in infographics such as "What's In America's Fondue Pots?" For the portion of the audience that Ohio residents voted to keep single, there was footage of Owens running shirtless in a pool. Oh, and that Jonny Zero guy, who bowled over all 15 people who actually saw "The Italian Job." Wasn't he dreamy? A "Best Darn" segment saw Jerry Rice and Deion Sanders escorted onstage by Hooters girls in full-length warmups. But think about it: both women were still naked under their clothes. Also, they work at Hooters. As for the Muppets' pizza commercial? Everyone knows that Miss Piggy has the hots for Kermit. That's pig-on-frog action. The FCC would not approve. In fact, a strongly-worded letter to Michael Powell might be in order. Before something this darn immoral happens again. Patrick Hruby, a sportswriter for the Washington Times, is a regular contributor to both Page 2 and Page 3.