Last year's inaugural Lingerie Bowl was a debut disaster and a pay-per-view blunder of the highest order. Which, of course, can only mean one thing.
A sequel was inevitable.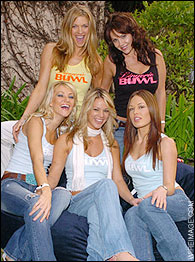 Lingerie models playing football -- can't miss television?
Seeking to stay atop the ultra-competitive market for scantily-clad FHM cover aspirants playing a poor facsimile of a real sport, the second Lingerie Bowl promised more -- four teams instead of two and a second helping from the show's producer Mitch Mortaza, a Julio Iglesias look-alike.
The logic behind Lingerie Bowl II was a lot like the logic behind "Elektra" -- if you hated the first, you'll despise the follow-up a little less. However, since when has reason gotten in the way of putting half-naked models on television?
Keep in mind that with the same $14.95 pay-per-view fee, you could order actual pornography or just get a pizza and download nudie pics from the Internet for free. Then again, the pics wouldn't be football-related, unless you're good with Google.
As a critical observer, I would have to follow suit from my first critique of last year's program. So, this time, I watched the Lingerie Bowl with my wife.
A bad idea? Possibly. Suicidal? Probably.
Or perhaps not. After all, who better to bring a different perspective and help me see the game through the eyes of its female participants?
If my lovely significant other could enjoy slender, chesty young women bouncing up and down for no other reason, save the love of the game, maybe I could feel a little less sleazy for watching it. Also, it would help me explain that "adult" charge on our next cable bill.
Opening Program
The show began with hosts Mike Goldberg and Tammy Sheffield sitting in what appears to be a small sound stage -- or an oversized garage. Talk about downsizing, last year's game was played in the Los Angeles Coliseum.
Behind Goldberg and Sheffield, a young woman wearing eyeblack, soaked in a bathtub of suds, and a crowd of dozens gathered in the bleachers to watch the game.
My wife was unimpressed, particularly with Goldberg.
"This guy is trying to bump Roger Lodge off his post," she sneered. "Why isn't he wearing pajamas? There are some things I would tighten up with this show."
Such as Sheffield's outfit? While Goldberg wore a suit, Sheffield sported a black bustier and wore wildly unflattering fishnet stockings.
"She's a bit thick," noted my wife. "And that's probably not her [Sheffield's] real name. They need to get someone like Carmen Electra or at least, Jenny McCarthy. That's who dudes want to see. What's McCarthy doing these days, anyway?"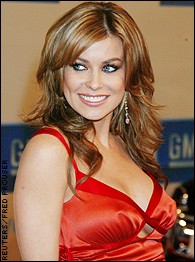 For all those dudes who want to see Carmen Electra.
Good question.
Next, the teams were introduced where qualifications ran the gamut from Miss Bikini America to "Baywatch" Babe Search finalist. All résumé builders.
Linda Overheu of the Dallas Desire was dubbed a "tomboy who still likes to shop."
"She's pretty," said my wife.
Wisely, I kept my mouth shut.
Too bad Goldberg didn't do the same. After labeling the New York Euphoria as a "team in need of anger management"-- or perhaps better talent management -- he threw things out to the game's sideline reporter, Trishelle from the Vegas "Real World."
The bombshell's appearance raised two important questions:
Does the Lingerie Bowl need a sideline reporter?
And really, does Trishelle think she's too good for the next "Real World-Road Rules Challenge"?
"Can you imagine the people she beat out for this?" my wife said. "These are her credentials: she auctioned a date with herself on eBay that no one bought. And she was a backup dancer in a William Hung video."
Trishelle proceeded to chug a beer while a group of shirtless male tailgaters -- later revealed to be credited actors -- looked on.
Pregame Warmups
The four teams came out to stretch, crowding the puny 25-yard indoor turf field. Small wonder, that the cameramen had little choice but to zoom in on butts, chests and other areas.
Meanwhile, four cheerleaders danced in the background. Redundant? Sure, but so is talking about football players making football plays to win the football game. And wouldn't you rather watch a shimmying, long-legged brunette than some retired talking head?
Goldberg interviewed Mortaza, who announced the Lingerie Football League would expand to San Francisco, Atlanta, Miami and Las Vegas with league play starting in 2007. Over the porn-esque background music, he also noted that a portion of the Lingerie Bowl proceeds would go to tsunami relief, making me feel approximately 10 percent less lame for ordering the show.
In a subsequent locker room report, one of Team Euphoria's leggy blondes threatened to "hurt somebody and tear their top off."
"Ask her to spell tsunami," my wife said.
Then, there was the making of the Lingerie Bowl calendar, instructions on how to order it and a lingerie fashion show featuring a performance from rapper Chingy. Victoria's Secret, it was not.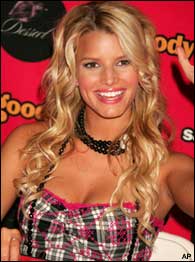 One day Jessica and Ashlee will sing a duet at the Lingerie Bowl.
As I was nodding off, I was quickly jolted by the national anthem. Two female "referees" in hot pants, fishnet stockings and tied-off striped shirts held American flags as a singer, dressed in a high-slit slip and fishnets, belted out the anthem.
"She's probably a nice girl who sings in church," my wife said. "Jessica Simpson is one bad career choice away from this."
The Game
The competition finally begins -- only sans pads, helmets and hitting. Unlike last year's semi-real football game, this year's iteration offered skill drills, three-on-two football and a touchdown dance competition. The whole thing seemed like an excuse to watch the players jiggle. Which, come to think of it, makes sense.
"I wonder if these cameramen work for free," my wife joked.
Sadly, the skill challenge was exceedingly dull. Hit a tackling dummy, run through tires, roll on the ground and catch a 2-yard pass. Not much strategy was involved and yet, each team had a coach oddly swabbing himself with a towel, despite not actually calling out plays.
The three-on-two football was equally tedious. When Los Angeles managed to score, Goldberg noted, "they definitely had the formation for the gaining of points."
Hmm. Let's see -- three players, one ball. How tricky can the formations be?
Likewise, the touchdown dance competition fizzled.
The players on Team Dallas kissed each other, albeit unconvincingly, and Team Chicago's players pulled off their tops, flashing pasties.
A fitting move? Yes, but it would have been a wee bit sexier if the accompanying music had started on time. Audio problems plagued the whole production, including Trishelle's insightful interview before the New York-Los Angeles final.
Trishelle: "Anything you're going to surprise us with?"
Player: "We're just going to keep it real."

Postgame Analysis


In the end, reality was the problem with Lingerie Bowl II. Real phony. When Los Angeles "gained" points with a go-ahead touchdown, the puny bleachers next to the punier end zone were empty; when the players celebrated their second-consecutive championship, they couldn't get the champagne spray right, failing to douse their skimpy, cutoff T-shirts.

Never mind the scaled-back football. In terms of pure titillation, the game was a flop similar to last year.

"I'm dumb for watching this," my wife said. "I'm such a loser. I'm so embarrassed for these girls."

Me, too. As far as I'm concerned, bathtub girl needs a towel. And, so does the Lingerie Bowl.

Patrick Hruby, a sportswriter for the Washington Times, is a regular contributor to both Page 2 and Page 3.