With the Oscars on everyone's mind, and the American Film Institute's plan to name its list of top 100 movie quotes this summer, it's the perfect time to take a look back at the top 100 sports-related movie quotes that have made an impact over years.
Obviously, there's some subjectivity involved here, so here are our ground rules:
1. Quotes must be sports-related, though they don't have to come from a "sports movie." So the "It must be take a worm for a walk week" line in "The Karate Kid" doesn't qualify because Daniel-san wasn't in the process of getting his head bashed in at the time. But the diving scenes in "Back to School" count.
Nation: Movie Chat!
Read what Paul Katcher had to say about his Top 100 Movie Quotes in his Tuesday chat.
2.
Some deserving quotes have been omitted based on the inappropriate nature of the comments. No doubt, those omissions will lead to reader feedback peppered with four-letter words and insults.
3. Real-life quotes are allowed if they made it into long-beloved movies, such as Lou Gehrig's speech in "The Pride of the Yankees." But Al Michaels' "Do you believe in miracles?" doesn't count.
4. No more than three quotes allowed from any one movie. This was a nearly impossible task for "Caddyshack" and, unfortunately, "Be the ball" is on the outside looking in.
Count 'em down:
100. "I must break you."
Rocky IV
A little long-winded for typical Ivan Drago dialogue, but Dolph Lundgren pulled it off nicely. Hard to imagine him needing cue cards for this flick, ya know?
99. "According to Greek mythology, the Titans were greater even than the gods. They ruled their universe with absolute power! Well, that football field out there tonight, that's our universe. Let's rule it like Titans!"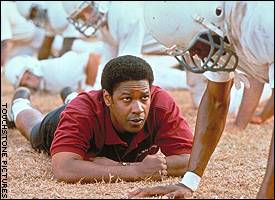 We "Remember the Titans" because of Denzel Washington's Herman Boone.
Remember the Titans
And we have the first over-the-top pep talk of the list, compliments of Coach Boone.
98. "The drivers can't stand to be reminded of what can happen to 'em in a race car. They don't go to hospitals. They don't go to funerals. You get a driver to a funeral before he's actually dead, you've made history, darlin'."
Days of Thunder
You wanna talk about making history? How 'bout one of Hollywood's most-famous marriages (Cruise-Kidman) being forever linked with stock car racing?
97. "All right, men, now here's the play we're gonna use. I don't think the guards know this formation. It's called 'incidental punishment after the ball is blown dead.' Remember, any man you tackle gets an elbow, knee or kick in the mouth."
The Longest Yard
Money says the guards will learn soon enough.
96. "You wanna know how stupid you are? Rube Walker, man. I conned you out. Rube Walker!"
Mask
Nothing makes for high drama like a baseball-card swap in a movie involving disfigurement, the 1952 Dodgers and Sam Elliott's "Free Mustache Rides" T-shirt.
95. "How many eyes do you need to finish this fight?"
Million Dollar Baby
One's enough for Maggie Fitzgerald.
94. "If you can dodge a wrench, you can dodge a ball."
Dodgeball
Patches O'Houlihan's training techniques are straight out of the "Book of Miyagi."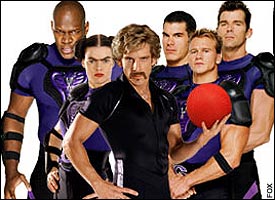 If you've learned anything from "Dodgeball," remember that underdogs can still pull through with teamwork.
93. "Ladies, ever had a quarterback sandwich?"
North Dallas Forty
Don't really see Jared Fogle hawking these things, now do we?
92. "Oh, he was the catcher on the high school baseball team. The star pitcher had a big-league curve. Not all of his pitches hit Roy in the mitt. Ouch. The team thought 'Tin Cup' was a whole lot better than 'Clank.' "
Tin Cup
And Roy McAvoy's nickname is forever explained.
91. "He's got one foot in the frying pan and one in the pressure cooker. Believe me, as a bowler, I know that right about now, your bladder feels like an overstuffed vacuum cleaner bag and your butt is kinda like an about-to-explode bratwurst."
Kingpin
Ah, the classic distraction technique in bowling, talking to an opponent when he's on the verge of toppling the great Ernie McCracken to become the 1979 Odor-Eaters champion.
90. "I love Brian Piccolo. And tonight, when you hit your knees, please ask God to love him."
Brian's Song
Can anyone spare a tissue?
89. "You better watch it, Dr. Death. I'm pretty damn fast for a Caucasian."
The Best of Times
Robin Williams makes his first of two appearances on the list. Who would have guessed?
88. "Dead meat!"
Rocky III
What passed as intimidating back in 1982 falls short of more current standards, such as Mike Tyson's, "I wanna eat his children."
87. "I wanna see the kid in the net who wouldn't take the test."
Miracle
Herb Brooks to Jim Craig after the goalie finally offered to take a psychology test, if that's what was gonna get the coach off his back.
86. "Einhorn is Finkle! Finkle is Einhorn! Einhorn is a man! Oh, my God! Einhorn is a man!"
Ace Ventura
And it's straight to the bathroom for Ace when he learns Lt. Lois Einhorn is the former haunted place-kicker for the Miami Dolphins. Cue the theme from "The Crying Game."
85. "It's in the hole!"
Caddyshack
The final line of Carl Spackler's monologue about a former greenskeeper-turned-Masters champion has been a staple on "SportsCenter" and on the local greens for a quarter-century.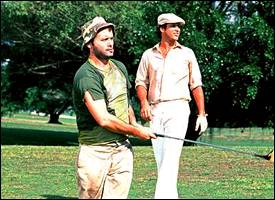 "Hey, Lama, hey, how about a little something, you know, for the effort, you know."
84. "I didn't ask him, 'Can he beat you?' I already know he can beat you. I asked him, 'Will he?' With Eddie, that's two different things."
The Hustler
That Bert. He's always being so supportive of Fast Eddie.
83. "I'll tell you what. Why don't we take all these bricks and build a shelter for the homeless, so maybe your mother will have a place to stay?"
White Men Can't Jump
One of many put-downs in a pretty good sports movie with some hideous fashion. Painter's caps, muscle shirts on top of muscle shirts ... that ain't the way Charles Oakley rolled in the '90s.
82. "We're gonna yank 'em ... tear 'em ... rrrrip 'em. We're gonna take 'em and roll 'em around and rip 'em up to pieces. And then we're gonna slaughter 'em!"
Grease
Coach Calhoun's pretty confident for a guy on a seven-season losing streak.
81. "Money won is twice as sweet as money earned."
The Color of Money
The new math from "Fast" Eddie Felson: If Jimmy earned $10 and Bobby won $20, how much happier is Bobby than Jimmy? Answer: four times, of course.
80. [A reporter asks, "Rocky do you have something derogatory to say about the champ?"] "Derogatory? Yeah, he's great."
Rocky II
They didn't call him Rocky because he looked like Bullwinkle's buddy.
79. "All I want to do is race, Daddy."
3
There will come a time when you can sit through two straight ESPN commercial breaks without hearing this line promoting the Dale Earnhardt movie on TV or DVD. I'm not saying it's gonna come this year, or even next year, but there will come a time.
78. [After Kareem Abdul-Jabbar protests being ejected from his farewell game.] "Well then, let me be the first to say, 'Farewell!' "
Forget Paris
Billy Crystal was always a Clippers fan anyway. Just the first of two Kareem appearances on this list, of course.
77. "I want a guy who can play 36 holes of golf and still have enough energy to take Warren and me to a baseball game and eat sausages and beer. Not light beer, but beer. That's my ad, print it up."
There's Something About Mary
Fat, drunk and stupid is no way to go through life. But fat, drunk and a baseball fan? Well, Cameron Diaz is listening.
76. "People say that it can't work, black and white; well, here we make it work, every day. We have our disagreements, of course, but before we reach for hate, always, always, we remember the Titans."
Remember the Titans
Now I can't eat black-and-white cookies while watching a black-and-white movie without thinking of the Titans. Thanks, Sheryl.
75. "My dad died when he was 39. Hodgkins. My grandfather, my uncle, same thing. None of 'em made it past the age of 45, so I'm gonna live my life the way I want! Why don't you get off my back. Call your wife, go cry to her about it."
61*
Billy Crystal's movie showed an amicable relationship between Mickey Mantle and Roger Maris, but this was one time The Mick didn't apologize for his hard-livin' ways.
74. "He must be the stupidest son of a bitch alive. But he sure is fast!"
Forrest Gump
A football coach finds his diamond in the rough.
73. "520? You get 400 for just spelling your name correctly."
Blue Chips
Pete Bell learns his recruit is no brain surgeon. In fact, he messed up his name on the SATs.
72. "See that look in their eyes, Rock? You gotta get that look back, Rock. Eye of the tiger, man."
Rocky III
And the title of one of the cheesiest rock songs ever was born.
71. "Dodgeball is a sport of violence, exclusion and degradation."
Dodgeball
The wit and wisdom of a young Patches O'Houlihan.
70. "My mother was 13 years old when I was born. Why? Because my dad raped a little girl that was in a room asleep. My dad was going out with my mother's mother. There you go. There's some bones for Jake the Snake."
Beyond the Mat
A heavy moment in a pro wrestling documentary.
69. "Hi, my name's Mae, and that's more than a name, that's an attitude."
A League of Their Own
And she might plant an open-mouthed kiss on Britney Spears when her playing days are through.
68. "He didn't slam into you, he didn't bump you, he didn't nudge you. He rubbed you. And rubbin', son, is racin'."
Days of Thunder
Harry Hogge teaches Cole Trickle Commandment No. 1 of stock car racing. Commandment No. 2: Cram those sponsors' names into every postrace interview.
67. "Listen, Lupus, you didn't come into this life just to sit around on a dugout bench, did ya? Now get your ass out there and do the best you can."
The Bad News Bears
Morris Buttermaker challenges the "booger-eatin' moron."
66. "Wormser is a master of aerodynamics. He has engineered the javelin to complement Lamar's limp-wristed throwing style."
Revenge of the Nerds
Now there was a track athlete who was never suspected of steroid use.
65. "If there's magic in boxing, it's the magic of fighting battles beyond endurance, beyond cracked ribs, ruptured kidneys and detached retinas. It's the magic of risking everything for a dream that nobody sees but you."
Million Dollar Baby
Eddie "Scrap-Iron" Dupris on the risks and rewards of a vicious sport.
64. "I'll make it."
Hoosiers
Maris Valainis, who played Hickory hero Jimmy Chitwood, indeed nailed the final shot of the 1952 Indiana state high school championship ... on the first take.
63. "The most important thing to remember is to protect your quarterback — me!"
The Longest Yard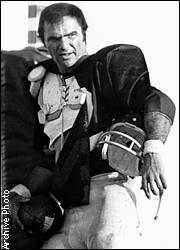 Burt Reynolds' Paul Crewe had to back up his words in "The Longest Yard."
Lest Burt Reynolds lose his helmet and the toupee go with it.
62. "Wax on. Wax off."
The Karate Kid
Someday a column will have to be written about which was the more unbelievable premise: an entire Southern California community going gaga over youth karate or diving being the most popular sport at Grand Lakes University in "Back to School."
61. "And you're always talking about, 'Muhammad, you're not the same man you were 10 years ago.' Well, I asked your wife, and she told me you're not the same man you was two years ago!"
When We Were Kings
Wait, someone married Howard Cosell?
60. "Just a reminder, fans, about Die-Hard Night coming up here at the stadium. Free admission to anyone who was actually alive the last time the Indians won a pennant."
Major League
And here's the ripoff: We never got to see footage from Die-Hard Night.
59. "This is a simple game: You throw the ball, you hit the ball, you catch the ball."
Bull Durham
There is a law in Hollywood — with a 10-year minimum prison sentence for breaking — that no baseball movie shall be made where the team actually has the fundamentals down at the start. Also, the first 15 minutes must include at least one scene where four fielders converge on a pop-up that falls between them.
58. "Tackle by Jefferson! Jefferson! Jefferson!"
Fast Times at Ridgemont High
Spicoli's dad had that ultimate set of tools and all, but Jefferson's wrecked car was the best thing that ever happened to the Ridgemont football team.
57. "You can do it!"
The Waterboy
Rob Schneider in his recurring role as cheerleader.
56. "Protect yourself at all times."
Million Dollar Baby
Frankie Dunn's ring advice is a metaphor for life. And spring break.
55. "Well, I figure against today's pitchers I'd only probably hit about .290."
Cobb
Remember, now, Ty Cobb was 72 when he said it.
54. "Let them play! Let them play!"
The Bad News Bears: Breaking Training
Sure enough, the second game of the Cincinnati-Houston doubleheader will have to wait, as the Bears and Toros retake the field, and the Bears win one for the Luper.
53. "Well you're better than any player I ever had. And you're the best God damn hitter I ever saw. Suit up."
The Natural
Roy Hobbs' mama didn't get no farmer, but Pop Fisher ain't complaining.
52. "Look, mister, there's two kinds of dumb. Uh, guy that gets naked and runs out in the snow and barks at the moon, and, uh, guy who does the same thing in my living room. First one don't matter, the second one you're kinda forced to deal with."
Hoosiers
George after coach Norman Dale bluntly tells him that his coaching days are over.
51. "Good crowd out there tonight, boys, let's really try to win this one."
Slap Shot
That man traveled 15 hours by bus to say that?
50. "I sure miss playing basketball. I got depressed as hell when my athlete's foot and jock itch went away."
Breaking Away
So that's why Michel Jordan came back twice.
49. "I believe God made me for a purpose, but he also made me fast. And when I run, I feel His pleasure."
Chariots of Fire
Yep, God's a huge track fan. Believe it.
48. "Hey, unless you're gonna kiss me, get your hands off my ass."
Any Given Sunday
McKenna's reasonable reaction to quarterback Willie Beamen lining up under the wrong lineman.
47. "I was crippled for the rest of my life. I got better. He made me better. Hell, you made me better."
Seabiscuit
Red Pollard gives credit where credit is due.
46. [Ed Rooney learns the score of the baseball game is nothin'-nothin'.] "Who's winning?"
Ferris Bueller's Day Off
That Rooney always was on top of things. Kinda like the way Wile E. Coyote always was.
45. "Uh, Lord, hallowed be thy name. May our feet be swift; may our bats be mighty; may our balls be plentiful. Lord, I'd just like to thank you for that waitress in South Bend. You know who she is — she kept calling your name. And God, these are good girls, and they work hard. Just help them see it all the way through. OK, that's it."
A League of Their Own
Like a prayer and confession all in one.
44. "People always say to me, 'When you get to the NBA, don't forget about me.' Well, I should've said back, 'If I don't make it to the NBA, don't you forget about me.' "
Hoop Dreams
One of the best sports documentaries ever made is summed up in a single poignant quote from William Gates.
43. "You never played for Charlie Comiskey."
Eight Men Out
Chick Gandil explains to Sport Sullivan why seven men on the best club that ever took the field would be willing to throw the World Series.
42. "If you put your effort and concentration into playing to your potential, to be the best that you can be, I don't care what the scoreboard says. At the end of the game, in my book, we're gonna be winners."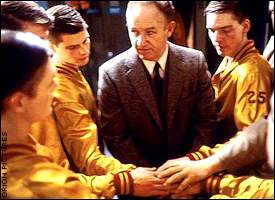 Inspiration from the coach (Gene Hackman) in one of the greatest hoops movies ever.
Hoosiers
Coach Norman Dale's most emotional address to the Hickory High hoops team.
41. "Today, I consider myself the luckiest man on the face of the Earth."
The Pride of the Yankees
It may be the most famous quote in sports history — aside from maybe "Have another donut, you fat pig" (Jim Schoenfeld to Don Koharski during the 1988 NHL playoffs) — but it's not like Hollywood gave it to us. So it doesn't challenge for a top spot on the list.
40. "In case you haven't noticed — and, judging by the attendance, you haven't — the Indians have managed to win a few here and there and are threatening to climb out of the cellar."
Major League
And if you haven't noticed that Harry Doyle is the king of movie announcers, you're crazy. Three appearances on this list for Bob Uecker's character.
39. "You're 5 foot nothin', 100 and nothin' and you have nearly a speck of athletic ability. And you hung in there with the best college football team in the land for two years. And you're gonna walk outta here with a degree from the University of Notre Dame. In this life, you don't have to prove nothin' to nobody but yourself."
Rudy
You either love "Rudy" or hate it (ya know, considering it was the corniest thing ever), but this quote from Charles Dutton as Fortune stands up pretty well.
38. "I don't hate Balboa. I pity the fool."
Rocky III
And Mr. T.'s catchphrase was born.
37. "U-G-L-Y, you ain't got no alibi! You ugly! You ugly! Yo momma said you ugly!"
Wildcats
What a cheer. Sure beats that 2-4-6-8 crap.
36. "Sex and golf are the two things you can enjoy even if you're not good at them."
Tin Cup
If you're not good at either, though, you might have trouble finding playing partners.
35. "Being perfect is about being able to look your friends in the eye and know that you didn't let them down, because you told them the truth. And that truth is that you did everything that you could. There wasn't one more thing that you could've done. Can you live in that moment, as best you can, with clear eyes and love in your heart? With joy in your heart? If you can do that, gentlemen, then you're perfect."
Friday Night Lights
Love this one, because, for the first time in the movie, the kids were told that the final score isn't everything in life. And they can just go out and play instead of worrying about the yahoos in the crowd.
34. "Billy, listen to me. White men can't jump."
White Men Can't Jump
And if you disagree, we have highlights involving Chris Andersen at the 2005 All-Star slam dunk contest.
33. "Hey, Yankees, you can take your apology and your trophy and shove 'em straight up your ass!"
The Bad News Bears
The Yankees have got to be tired of playing the villains: in "The Bad New Bears," in "Major League," in "Brewster's Millions" ... and in real life.
32. "Put it in the face!"
Coming to America
Yes! Yes! Halftime is my favorite part of the game, too.
31. "Sometime when the team is up against it and the breaks are beating the boys, tell them to go out there with all they've got and win just one for the Gipper."
Knute Rockne, All-American
"And if you could do it on NBC before a national TV audience, that would be great, too."
30. "So we finish the 18th and he's gonna stiff me. And I say, 'Hey, Lama, hey, how about a little something, you know, for the effort, you know?' And he says, 'Oh, uh, there won't be any money, but when you die, on your deathbed, you will receive total consciousness.' So I got that goin' for me, which is nice."
Caddyshack
Carl Spackler, always looking on the bright side.
29. "I just slid my ticket across the table and I said, 'Sorry, guys, I gotta see about a girl.' "
Good Will Hunting
A smart line in a smart script, Robin Williams' character recounts missing Carlton Fisk's Game 6 home run in the 1975 World Series.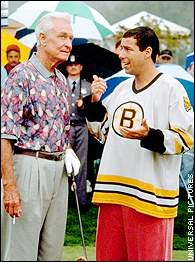 Sandler takes a cheap shot at Bob Barker in "Happy Gilmore."
28. "The price is wrong, bitch!"
Happy Gilmore
No one speaks to Bob Barker like that without a fight. No one!
27. "I enjoy watching football in the afternoon. One of the things I love about this country. Baseball, too. I love baseball ever since Arnold Rothstein fixed the World Series in 1919."
The Godfather Part II
Clearly the best movie to make an appearance on the list.
26. "If he had held the ball laces out like he's supposed to, Ray would never have missed that kick. Dan Marino should die of gonorrhea and rot in hell!"
Ace Ventura
Well, Mrs. Finkle, at least you know why Don Shula never had Marino hold the snaps.
25. "... Whose bright strips and broad stars, in the perilous night. O'er the ramparts we watched, as the da da da da da da. And the rocket's red glare, lots of bombs in the air ..."
The Naked Gun
Frank Drebin's "Star-Spangled Banner" is still better than what Carl Lewis sang January 21, 1993, before a Bulls-Nets game. I don't think Charlie Steiner has stopped laughing yet.
24. "I guess what I'm trying to say is, if I can change, and you can change, everybody can change."
Rocky IV
The apex of unintentional comedy in sports movie history.
23. "There will be an additional springboard installed for Melon's dive, the Triple Lindy!"
Back to School
The Triple Lindy, is that hard? It's impossible (unless you're a melon).
22. "Get him a body bag, yeaaahhh!"
The Karate Kid
Howard Dean in the making right there.
21. "Which brings me to my second point, kids. Don't do crack."
The Waterboy
Lawrence Taylor's first point? Always send hookers to opponents' hotel rooms the night before big games.
20. "What about Brett Fav-ruh?"
There's Something About Mary
Eh, he's no Steve Young.
19. "I'm gonna make Gretzky's head bleed for SuperFan99 over here."
Swingers
The only video game-related entry of the list, a favorite of all early '90s Sega Genesis hockey players.
18. "Jocks only think about sports. Nerds only think about sex."
Revenge of the Nerds
It's safe to say Tri-Lam Louis Skolnick and Wilt Chamberlain weren't exactly tight.
17. "Mike Eruzione! Winthrop, Massachusetts! I play for the United States of America!"
Miracle
Nice movie moment here, where the future U.S. hockey captain figures out what will make Herb Brooks end the grueling in-the-dark sprints. But two things bother me: It never happened (Eruzione has confirmed that), and you could see it coming a mile away. I was almost screaming at the screen, "Just tell him you play for the U.S. and you won't be puking all over the ice!"
16. "Well, Nuke's scared because his eyelids are jammed and his old man's here. We need a live ... is it a live rooster? We need a live rooster to take the curse off Jose's glove, and nobody seems to know what to get Millie or Jimmy for their wedding present."
Bull Durham
Safe to say this was not the mound discussion when Joe Torre took the ball from Kevin Brown in Game 7 of last season's ALCS.
15. "Fat man, you shoot a great game of pool."
The Hustler
Eddie Felson's final line in the movie, before walking out with his money and his pride. One reason it works: Jackie Gleason was really fat.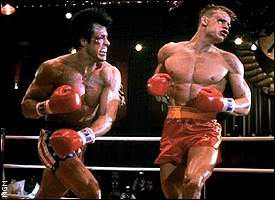 One of Rocky's memorable nemeses, the monosyllabic Ivan Drago.
14. "There's one thing I want you to do for me. Win. Win!"
Rocky II
Of all the cheesy "Rocky" lines and all the unintentional comedy they provide, this one still inspires. Balboa's gal implores him to kick butt, and Bill Conti's "Gonna Fly Now" is cued.
13. "Pick me out a winner, Bobby."
The Natural
"Wonderboy" lies dead, but the batboy does indeed pick out a winner. Look out, lights, as the most dramatic home run in movie history is coming right at ya'.
12. "Noonan!"
Caddyshack
Applies to golf putts, free throws, just about any situation when you're hoping for a choke.
11. "If you build it, he will come."
Field of Dreams
And if you build it now, he'll probably come for no less than $70 million over six years.
10. "You're gonna eat lightning, and you're gonna crap thunder!"
Rocky
That would have been enough for me to quit the business, but for Mr. Balboa, it was all the inspiration he needed. Nearly 30 years after the movie's release, it remains a mystery what Sylvester Stallone had for lunch the day that line popped into his head.
9. "Oh, there they go. There they go. Every time I start talkin' 'bout boxing, a white man got to pull Rocky Marciano out their ass. That's their one, that's their one. Rocky Marciano! Rocky Marciano!"
Coming to America
Yeah, but he beat Joe Louis' ass -- even if he was 137 years old.
8. "You guys. You lollygag the ball around the infield. You lollygag your way down to first. You lollygag in and out of the dugout. You know what that makes you? Larry!"
Bull Durham
[Say it with me] Lollygaggers!
7. "There's no crying in baseball!"
A League of Their Own
Jimmy Dugan's managerial career obviously predated Wade Boggs' tearful dugout breakdown after the 1986 World Series.
6. "Sweep the leg."
The Karate Kid
Sensei John Kreese has no love for fly-catching, car-polishing, fence-painting, floor-sanding mama's boys from Reseda. You got a problem with that, ESPN.com reader?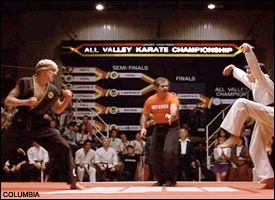 After watching Daniel win, almost every teen in America knew how to kick the 'crane.'
5. "I'm out there busting my buns every night. Tell your old man to drag Walton and Lanier up and down the court for 48 minutes."
Airplane!
Some little snot's dad thinks co-pilot Kareem Abdul-Jabbar ("Roger Murdock") doesn't work hard enough on defense, that he sometimes doesn't even run down the court and that he only tries during the playoffs. Man, he has been hearing that crap ever since he was at UCLA! Also, this might be the most misquoted line on the list. Every time someone recites it, they throw in Russell or Chamberlain or somebody else. It's Walton and Lanier. Get it straight!
4. "Juuuust a bit outside!"
Major League
C'mon, is there ever a time when you see a wild pitch and this Harry Doyle line doesn't pop into your head?
3. "Show me the money!"
Jerry Maguire
Cuba Gooding Jr. might be able to walk the street for 10 minutes without someone screaming this line at him.
2. "You don't understand. I coulda had class. I coulda been a contender. I coulda been somebody, instead of a bum, which is what I am. Let's face it. It was you, Charley."
On The Waterfront
Terry Malloy's taxicab speech to his brother, lamenting his boxing days, ranks as one of the most appreciated, recited and parodied quotes in movie history, sports-related or otherwise.
1. "Yo, Adrian!"
Rocky
An easy choice for the top spot: the most memorable line (though often repeated) from Hollywood's most-popular sports-movie series. Incidentally, it might have ruined the life of every man or woman with that name. I mean, how many drunken cell-phone messages beginning with "Yo, Adrian!" have they gotten?
Paul Katcher is a freelance writer based in New York City. He welcomes questions, comments and Web links to interesting sites and news items at pkatcher@mindspring.com.