"Seinfeld" was a show about nothing, yet it appealed to everyone: men and women, young and old. It covered everything from soup ("No soup for you!") to nuts (crazy Lloyd Braun and his Chinese gum). And, yes, even sports played a big role.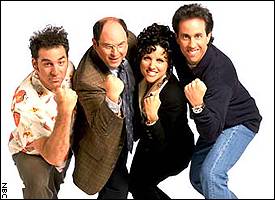 No sitcom cast in history can match the muscle of the cast of "Seinfeld."
Jerry Seinfeld himself is a sports fan, a New Yorker whose allegiance lies with the Mets. But when it was time for George to get a job in Season 5, it was the Yankees who were woven into so many memorable episodes. The marriage of Seinfeld and sports was not limited to baseball, however. Kramer loved his golf and tennis, George was a regular Charlie Hustle on the softball diamond, Jerry a sprint champ, and Puddy a life-long Devils fan from New Jersey.
With the release of the first three seasons on DVD, as well as a Thanksgiving night TV special, now is the perfect time to run down the Top 10 sports-related moments of the hilarious show.
10. Yankees Hire George as Assistant to the Traveling Secretary
"The Opposite," Season 5, Episode 22, May 19, 1994

The union of two idiosyncratic Georges -- Steinbrenner and Costanza -- influenced a few of the moments on this list, so we might as well start with the hiring of Costanza as the assistant to the Yankees' traveling secretary. It all started when George realized that every instinct he'd ever had turned out to be wrong. Goodbye, tuna on toast. Hello, chicken salad on rye ... UNTOASTED! That moxie got him not only a date with fellow diner-goer Victoria ("My name is George. I'm unemployed and I live with my parents") but, through her uncle, an interview with the Bronx Bombers.
In the initial interviewing stage, Costanza met with Mr. Cushman, to whom he admitted his previous failings in the work force (being fired for having sex in his office with the cleaning woman, and quitting over not being allowed to use his boss' private bathroom). Cushman was so impressed with Costanza that he passed him onto The Boss, whose Yankees had yet to emerge from a lengthy playoff drought. Constanza's hiring coincided with the start of the Yankees' decade-long streak of postseason appearances.
Give Derek Jeter, Mariano Rivera and Joe Torre all the credit you want. Costanza got there first.
Quotes:
Mr. Steinbrenner: Nice to meet you.
George: Well, I wish I could say the same, but I must say, with all due respect, I find it very hard to see the logic behind some of the moves you have made with this fine organization. In the past 20 years you have caused myself, and the city of New York, a good deal of distress, as we have watched you take our beloved Yankees and reduce them to a laughing stock, all for the glorification of your massive ego!
Mr. Steinbrenner: Hire this man!
Jerry: Ruth, Gehrig, DiMaggio, Mantle ... Costanza?!
9. George Becomes a Marine Biologist, Thanks to Kramer's Golf Game
"The Marine Biologist," Season 5, Episode 14, Feb. 10, 1994

"Who wants to have some fun?" Kramer asks George and Jerry, before explaining that he's got 600 Titleists in the trunk of his car and a date with Rockaway beach, where he plans to tee it up between the dunes and watch as "that ball goes sailing up into the sky, holds there for a moment, and then ... gulp!" The boys instead opt for lunch at Monk's, and the K-Man is on his own.
Later, Diane DeConn, a former classmate of George, asks Jerry what his buddy is up to. Remembering George's fascination with whales, and not wanting to tell Diane the dreadful truth, Jerry lies and says that George is a marine biologist ... "and a pretty damn good one, too." While George is thrilled that Diane remembered him, he's upset with Jerry for making up that marine biology tale, when George has always really wanted to pretend to be an architect. Now he's got a date with Diane and can't even lie about what he wants to lie about.
Kramer comes home in a huff, lamenting that his golf game stinks, except for "one really good ball that went way out." Meanwhile, George is enjoying a nice, untruthful stroll with Diane on the beach when they notice a crowd surrounding a beached whale. A man yells out, "Is anyone here a marine biologist?" Despite treacherous conditions ("The sea was angry that day, my friends, like an old man trying to send back soup at a deli"), George saves the day by pulling a Titleist golf ball out of the whale's blowhole. A marine biologist without peer.
Quotes:
Jerry: Well, the crowd most have gone wild.
George: Oh yes they did, Jerry, they were all over me. It was like Rocky I. Diane came up to me, threw her arms around me, and kissed me. We both had tears streaming down our faces. I never saw anyone so beautiful. It was at that moment I decided to tell her I was not a marine biologist.
Jerry: Wow! What'd she say?
George: She told me to go to hell, and I took the bus home.
8. Kramer Promises Sick Kid Two Paul O'Neill Home Runs
"The Wink," Season 7, Episode 4, Oct. 12, 1995
When George gets squirted in the eye by Jerry's grapefruit, the ensuing sting instigates a lot of one-eyed blinking, which people assume to be a wink and an understood, though unspoken, alternative message to whatever George says. So when George says he doesn't want Kramer to take George Steinbrenner's team-signed birthday card and sell it to a memorabilia dealer, he means it. But Kramer sees the wink and, before you know it, bed-ridden Bobby is holding the now-framed birthday card.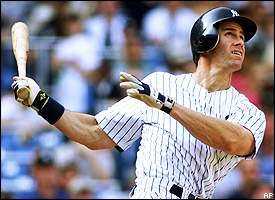 Paul O'Neill knocks one, not two, out of the park for Bobby.
To get the card back, Kramer gets creative and promises one, then two, home runs from Bobby's favorite player, Paul O'Neill. O'Neill is understandably upset -- he's not a home-run hitter, he claims -- and says even Babe Ruth "was not stupid enough to promise two." Kramer follows the game with Bobby, and they're both excited after O'Neill hits one home run. In the bottom of the eighth, with the score tied 1-1, O'Neill rockets a ball into deep left field. The third-base coach waves him in on what appears to be an inside-the-park home run, but the official scorer rules it a triple and an error on a Martinez overthrow. Bobby won't give up the card, so Kramer promises that O'Neill will catch a ball in his hat the next night.
Quotes:
Elaine: Your eye still hurts?
George: Yeah, yeah. You must have squirted a piece of pulp in it, too.
Jerry: Pulp couldn't make it across the table.
George: Pulp can move, baby! Why didn't you eat a real breakfast?
Jerry: Hey, I eat healthy. If I have to take out an eye, that's the breaks.
Bobby: Would he hit two home runs?
Kramer: Two? Sure kid, yeah. But then you gotta promise you'll do something for me.
Bobby: I know. Get out of this bed one day and walk again.
Kramer: Yeah, that would be nice. But I really just need this card.
7. Kramer, the World's Oldest Tennis Ball Boy
"The Lip Reader," Season 5, Episode 6, Oct. 28, 1993
Jerry scores a date with a deaf woman who's a linesperson at the U.S. Open. Kramer wants him to ask her "how those ball boys get those jobs." Jerry replies, "Perhaps you've overlooked one of the key aspects of this activity. It's ball boys, not ball men," but Kramer is undaunted. He scores a tryout and gets awarded one of the two open spots for the women's finals. "They said they haven't seen anybody go after balls with such gusto," Kramer boasts.
But Kramer's new career is expectedly short-lived, as he clumsily runs into Monica Seles during warm-ups and costs her a shot at the title.
Quotes:
Boy: Hey pops, isn't there a better way to spend your twilight years?
Kramer: I may be old, but I'm spry.
Boy: The tryout lasts three-and-a-half to four hours. Are you up for it?
Kramer: Oh, I'll be up for it, punk.
6. George Is to Bette Midler as Pete Rose Is to Ray Fosse
"The Understudy," Season 6, Episode 24, May 18, 1995
In a softball game reminiscent of the 1970 MLB All-Star Game, it's The Improv against the cast from the musical "Rochelle Rochelle," whose star, Bette Midler, is playing catcher. So is George, and the two try to get under each other's skin. ("Move in everybody! Get your shrimp here! Shrimp on special today!")
Just as Kramer returns from fetching a pineapple ice for his favorite musical icon, George tries to stretch out a home run with a wave from Jerry, the third-base coach, and ... WHAMMO! Midler is flattened, George is safe at home, an angry mob chases him and Jerry. Meanwhile, Kramer is left to console Bette by singing "Wind Beneath My Wings." Kramer smells a rat, as Jerry is dating Midler's understudy, Gennice, who tells the media she wasn't in on the "planning," indicting Jerry and George as orchestrators of a devious plan to rid Midler from the show.
Quotes:
Kramer: Oh, understudies are a very shifty bunch. The substitute teachers of the theater world.
Kramer: [on phone in hospital] A turkey sandwich. A side of slaw. You want white meat or dark?
Bette: White meat.
Kramer: Yeah, white meat. And if I see one piece of dark meat on there, it's your ass, buster.
Bette: Get me one of those black-and-white cookies.
Kramer: Yeah, all right, yeah. [hangs up] They don't have any. But don't worry, I'm going to get you one somewhere.
Bette: Good, because if I don't get a black-and-white cookie I'm not going to be very pleasant to be around.
Kramer: Now that's impossible.
5. Jerry's Legacy as Sprint Champ is Challenged
"The Race," Season 6, Episode 10, Dec. 15, 1994
Jerry dates a girl names Lois, whose boss, Duncan Myers, was defeated by Jerry in a controversial ninth-grade race to see who would represent the school in a track meet. Ever since, nobody challenged Jerry's 10-yard head-start, a product of his nerves, but Myers always suspected something fishy. Still, despite incessant pleading from schoolmates and faculty to not waste his assumed "god-given talent," Jerry always chose not to run. When Jerry agrees to meet Duncan and Lois for lunch, George comes up with a plan: he'll "unexpectedly" drop by, pretend he hasn't seen Jerry in awhile and back up the long-ago race as legit.
Duncan's not buying it, and finally gets Jerry to agree to a rematch, as Lois will be fired if he doesn't comply. After 20 years, even gym teacher Mr. Bevilaqua is an interested party. He's the starter, and he explains the rules: when his gun goes off, so should Jerry and Duncan. As Bevilaqua counts down from "ready" to "on your mark," Kramer's car backfires, and Jerry once again gets an illegal head start and a legacy-building victory.
Quotes:
Jerry: Duncan and I were just taking about the big race.
George: Oh, the big race.
Jerry: Yeah.
George: Yes, yes.
Lois: You were there?
George: Yes, sure, surely was. Yeah, I'll always remember that day. Well, I'll never forget it because that was the day that I lost my virginity to Miss Stafford, the voluptuous homeroom teacher.
4. George Tries to Get Fired From the Yankees
"The Millennium," Season 8, Episode 20, May 1, 1997
The Mets want to hire George as head of scouting, but they can't make him an offer while he's employed by the Yankees. So George goes all-out to get himself fired, because he wants to leave people saying , "Wow! Now that guy got canned!" The situation reminds George of when he lost a summer job at Dairy Queen for cooling his feet in the soft-serve machine. Among his stunts to draw Steinbrenner's ire: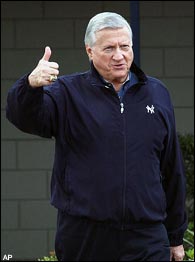 George Steinbrenner is always a George Costanza fan.
Wearing an authentic Babe Ruth jersey taken from the Yankees Hall of Pride display case, then cleaning his strawberry-stained hands on it. Unfortunately for George, Steinbrenner digs it, saying the team's gotta "tear down the past" and that Ruth was "nothing more than a fat old man, with little-girl legs."
"Streaking" through a Yankees-Orioles game in a flesh-colored bodysuit. The fans love him for it.
Tying a World Series trophy to the back of a car and dragging it around the Yankee Stadium parking lot, yelling, though a bullhorn: "Attention, Steinbrenner and front-office morons! Your triumphs mean nothing. You all stink. You can sit on it, and rotate! This is George Costanza. I fear no reprisal. Extension 5-1-7-0."

But Costanza just couldn't get out of the Bronx.

Quotes:
Jerry: How could they not fire you?
George: I never thought I'd fail at failing.
Jerry: Aw, come on there, now.
George: I feel like I can't do anything wrong.

3. Puddy Loves Them Devils
"The Face-Painter," Season 6, Episode 23, May 11, 1995
In a well-known social commentary on sports fanaticism, Seinfeld takes aim at face-painters in the form of David Puddy, who joins Jerry, Kramer and Elaine for a Rangers-Devils playoff game -- Jerry scored tickets because season-ticket-holder Alec Berg couldn't make it to the game. When the three pals pick up Puddy, he emerges from his apartment with red and green face paint, and his actions at the game are consistent with someone obsessed with his team. "You're dead, Messier!" is one of his impolite offerings. After the game, Puddy is nearly hit by a car driven by a priest. Puddy reminds him, "Don't mess with the Devils, buddy. We're No. 1, we beat anybody. We're the Devils! The Devils! Haaaa!"

After the game, Jerry refuses to thank Alec for the tickets -- judging it to be over-thanking, despite Kramer's protest. After recognizing his lack of thanking is the reason he hasn't been offered tickets to the next game, he calls Berg to thank him for the previous game. Berg says he wished Jerry had called earlier, because his tickets are gone, but he does have a friend with a couple of tickets in the nose-bleed section. The catch: Jerry and Kramer must paint their chests with a letter to help Puddy and his buds spell out D-E-V-I-L-S.

Quotes:
Kramer: I want you to get on this phone and give him his "thank you."
Jerry: No. No, I can't.
Kramer: Jerry, this is the way society functions. Aren't you a part of society? Because if you don't want to be a part of society, Jerry, why don't you just get in your car and move to the East Side?

2. Frank Costanza Is No Fan of Ken Phelps
"The Caddy," Season 7, Episode 12, Jan. 26, 1996
George locks his keys in his car at Yankee Stadium and suddenly he's being considered for the position of assistant general manager. And he's got a theory as to why: "See," George explains, "Steinbrenner is like the first guy in, at the crack of dawn. He sees my car, he figures I'm the first guy in. Then, the last person to leave is Wilhelm. He sees my car, he figures I'm burning the midnight oil. Between the two of them, they think I'm working an 18-hour day."

How to keep 'em fooled? Skip town for a few days, leave the car where it is and have Jerry sweep the dash for Chinese take-out menus. But Jerry arrives with Kramer, who jimmies the car door open and drives the auto to be cleaned. Along the way, he's distracted by a woman wearing only a bra and totals the car. Jerry returns it to its rightful place at the Stadium, but it's clearly been in a wreck.

Wilhelm reports the damaged car to Steinbrenner, who puts out a search for George. When his prized employee doesn't turn up, the worst is feared. And that brings us to an exchange between Steinbrenner and George's parents, at their house in Queens, that baseball fans will never forget:

Steinbrenner: Mrs. Costanza?
Estelle: Yes?
Steinbrenner: My name is George Steinbrenner, I'm afraid I have some very sad news about your son.
Estelle: (gasps)
(Costanza living room)
Estelle: I can't believe it. He was so young. How could this have happened?
Steinbrenner: Well, he'd been logging some pretty heavy hours, first one in the morning, last one to leave at night. That kid was a human dynamo.
Estelle: Are you sure you're talking about George?
Steinbrenner: You are Mr. and Mrs. Costanza?
Frank: What the hell did you trade Jay Buhner for?! He had 30 home runs and over 100 RBIs last year. He's got a rocket for an arm. You don't know what the hell you're doin'!
Steinbrenner: Well, Buhner was a good prospect, no question about it. But my baseball people loved Ken Phelps' bat. They kept saying "Ken Phelps, Ken Phelps."


1. Keith Hernandez and 'The Second Spitter'
"The Boyfriend (1 and 2)," Season 3, Episodes 17-18, Feb. 12, 1992
Originally broadcast as a 60-minute special, "The Boyfriend" ranks as one of the most memorable Seinfeld episodes, sports-related or otherwise. In a genius take-off of the 1991 Oliver Stone film "JFK," which also featured actor Wayne Knight (who played Newman on Seinfeld), Jerry debunks the theory that Hernandez once spit on both Kramer and Newman -- an event that would change them "in a deep and profound way from that day forward."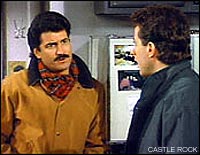 Who knew the art of spitting in sports goes this far back?

Let's set the scene: June 14, 1987. Mets-Phillies. Hernandez makes a crucial error in the ninth that cost the Mets the game. Newman spots the former first baseman outside Shea Stadium and heckles, "Nice game, pretty boy." Kramer feels the sting of saliva and yells out, "I'm hit!" before the spit reportedly ricochets toward Newman. Back ... and to the left. Back ... and to the left. "Unfortunately the immutable laws of physics contradict the whole premise," concludes Jerry, who assists the victims in determining an additional assailant: reliever Roger McDowell.

Quotes:
Newman.: Wow, it was McDowell.
Jerry: But why? Why McDowell?
Kramer: Well, maybe because we were sitting in the right field stands cursing at him in the bullpen all game.
Newman: He must have caught a glimpse of us when I poured that beer on his head.

HONORABLE MENTIONS:
Kramer tells of spotting Joe DiMaggio in Dinky Donuts. Jerry can't believe a man of DiMaggio's stature would be "sitting at the counter in little, tiny, filthy, smelly Dinky Donuts." Says George: "I don't even like to sit next to a man on an airplane 'cause our knees might touch."
While pitching at a Yankees fantasy camp, Kramer is disgusted at Joe Pepitone's crowding of the plate. So he comes inside once, then plunks him with the next pitch. A fracas ensues, and Kramer decks Mickey Mantle, ending the week's games.
George convinces the Yankees to switch to cotton uniforms, assuring manager Buck Showalter that the Bombers would be "five degrees cooler than the other team." Initial reviews were glowing: "Wade Boggs: 'What a fabric! Finally we can breathe.' Luis Polonia: 'Cotton is king.' Paul O'Neill: 'I never dreamed anything could be so soft and fluffy.'" But the cotton unis would shrink, leaving the Yankees, "running like penguins." Worst of all: Don Mattingly split his pants.
Abstinence turns George into a genius, so he offers hitting tips to Bernie Williams and Derek Jeter: "Guys, hitting is not about muscle. It's simple physics. Calculate the velocity, v, in relation to the trajectory, t, in which g, gravity, of course remains a constant. It's not complicated." They say, as World Series winners, that they don't need help from an assistant traveling secretary who put them up in a Milwaukee Ramada. George reminds them it took them six games to dispose of the Braves.
Kramer overhears two men talking about a sure thing at the track, a horse named Pappanick. And last night's rain plays right into their hands. "This horse loves the slop. It's in his bloodlines. His father was a mudder, his mother was a mudder."
George gets a little too comfortable with the Southern lingo preferred by Astros management. Mr Wilhelm overhears him on the phone saying, "You tell that son of a bitch no Yankee is ever comin' to Houston. Not as long as you bastards are running things."
Jerry buys a $200 tennis racket because the club pro, Milos, says it's the only one he uses. Well, Milos is to tennis what Carl Lewis is to singing national anthems, and Jerry feels taken. Milos tries to make good by offering Jerry his wife.
Jerry has tickets to the Super Bowl, but can't attend because of the Drake's scheduled wedding. Kramer doesn't want them because he's only interested in Canadian football.
Upon introducing "The Summer of George," Costanza says he intends to play a game called "frolf" -- frisbee golf.

Paul Katcher is a freelance writer based in New York City. He welcomes questions, comments and web links to interesting sites and news items at pkatcher@mindspring.com.