"Late Show with David Letterman"
The "Top 10 Things Auto Racing Has Taught Me," as read by Mario Andretti: (Oct. 5)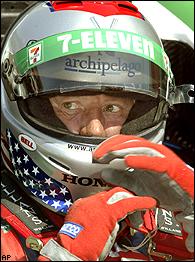 Mario Andretti proves you can learn a lot while driving in circles.
10.
"How to take the Arby's drive-thru at 135 miles an hour."
9. "Chicks can't resist a guy who smells like motor oil."
8.
"How many of you losers know what a wicker bill is?"
7. "You can go to some fancy racing school, but here's all you need to know -- stand on it."
6. "I'd trade everything for a talking car like Knight Rider."
5. "You can win the Daytona 500 and still have no idea how to check your oil."
4. "My grandkids could sleep in until two minutes before school starts and I'd still get them there on time."
3. "Even if you're one of the best race car drivers of all time, you still have to do crap like this."
2. "Although it has nothing to do with racing, here's one thing I know, the 2004 Yankees are going all the way, am I right, people?"
1. "Never get in a car with Letterman -- he's nuts."
"The Tonight Show with Jay Leno"
"During the (vice presidential) debate, President Bush was in the Oval Office with the TV on. He was cheering, he was screaming, he was jumping up and down. He was watching the Yankee game." (Oct. 6)
"This Friday, Martha Stewart is going to prison. I bet O.J. is having a big laugh over that one." (Oct. 6)
No. 4 from the "Top 10 Thoughts Going Through Dick Cheney's Mind At This Moment": "How the hell did the Yankees get shut out by the Twins?" (Oct. 6)
"President Bush called Dick Cheney and told him he might not be able to watch the (vice presidential) debate tonight because it's opposite baseball." (Oct. 5)
"The Daily Show with Jon Stewart"
Excerpts from an interview with Billy Bob Thornton, who discussed a clip while promoting "Friday Night Lights." (Oct. 5)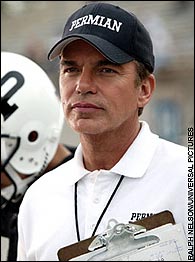 Growing up in Arkansas, Thornton learned that prep athletics aren't always kept in the right perspective.
Thornton:
"Those people take their football very seriously. And those guys were essentially telling me, uh, it might be a good idea that you win the state championship. Otherwise you might be picking the family up and moving to another location."
Stewart: "And is it that, I mean you grew up in the South, is sports that pressurized?"
Thornton: "Absolutely, yes it is. And my father was a high school basketball coach so I lived through that kind of stuff. I remember the booster club coming over from time to time and making ... you know ... friendly suggestions."
Stewart: "That makes the booster club seem almost like the Clan. Like they come out and put a burning goalpost on your lawn. Is it that kind of threat?"
Thornton: "Kind of. Actually in the movie there's a scene where I come home from losing a big game and, uh, there are real estate signs all over my front lawn."
Stewart: "Really? Just happened to be ..."
Thornton: "Yeah, just happened to be there."
Stewart: "Maybe it was raining them."
(Later, Thornton mentioned he loves baseball.)
Stewart: "Baseball?"
Thornton: "Oh, the Cardinals won today."
Stewart: "Did they really? Are they playing the games in the afternoon?"
Thornton: "Uh-huh."
Stewart: "I was watching the Sox game, but I didn't know the other ones were, uh ..."
Thornton: "Oh, yeah, Cardinals ..."
Stewart: "You looking a Cardinals World Series?"
Thornton: "Absolutely."
Stewart: "I'm looking, uh ... Red Sox-Mets ..."
Thornton: "Yeah ..." (then laughs)
Stewart: (Shrugs) "That's my team."
"The Late Late Show" with guest host Tom Arnold
"Hey, ESPN, I've got news for ya. Pete Rose is not gay. So I don't know what you guys were thinking with this ... (Shows clip from 'Hustle,' showing Rose's character being introduced to another man.) No self-respecting gay guy would have a haircut like Pete Rose. ... (Later in the segment) This just in, apparently Pete Rose is gay. Look at this ... (Shows clip from Rose in the wrestling ring with Rikishi rubbing his butt all over the face of a supposedly unconscious Rose.)" (Oct. 5)