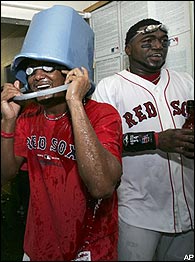 Pedro Martinez is practicing an end-of-the-world drill.
"The Tonight Show with Jay Leno"
"Now Boston will play the New York Yankees, and if the Red Sox win that series, they'll go on and play in the World Series and then, if the Red Sox win the World Series, then the Earth will crack open and we'll all die!" (Oct. 11)
"Last night, John Kerry stayed at a hotel in Colorado to get ready for the debate today. A hotel in Colorado. Today, Kobe called him and said, 'Whatever you do, don't order room service!'" (Oct.8)
"The Dodgers got killed again last night in St. Louis. You know, the last people to have this much trouble with the Cardinals were Boston altar boys." (Oct.8)
"I turned on that show 'Lost,' last night and then I realized it was the Angels game." (Oct. 7)
"According to ESPN, former Dolphins running back Ricky Williams -- remember him, he quit the NFL this past summer because he wanted to find himself and smoke dope -- wants back in. I guess he found himself. He found himself an out-of-work pothead. He wrote a letter to the NFL asking how soon he could come back. He wrote the letter on Zig Zag papers." (Oct. 7)
"Late Night with Conan O'Brien"
"Tiger Woods got married, did you know that? ... Yesterday Tiger Woods got married and among the guests were Oprah Winfrey, Michael Jordan and Bill Gates. Yeah, apparently the three of them chipped in and bought the happy couple ... Indonesia. ... Pretty nice, they opened it in front of everybody ... Indonesia!" (Oct. 6)
"Late Show with David Letterman"
"A lot of prominent Italian-New Yorkers were at the Columbus Day Parade. Mario Andretti was the Grand Marshall of the parade, Rudy Giuliani was at the parade, Hillary Clintoni was at the parade." (Oct. 11)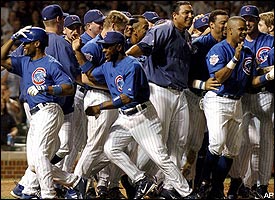 The city of Chicago's finest choke artists.
"Jimmy Kimmel Live"
"Some positive news in Chicago on Monday, for the first time since 1999 no one was shot or murdered in the city of Chicago. No shootings, no murders. There were still 512 kielbasa-related heart attacks but no violent crime ... and isn't it good news for a city badly in need of some after last week's tragic choking by these guys (shows team photo of the Chicago Cubs). But they're definitely gonna win next year. (Oct. 7)
"Baseball playoffs in full swing, the Yankees made a big comeback against the Twins. (whoops from the crowd.) ... (Kimmel laughs) Yeah, it's fun to root for the underdog, isn't it? They were down 6-5 in the 12th, their backs were against the wall, they're down one game to none, so they did something very interesting, they bought the Twins' best hitter from them. He changed uniforms quickly and doubled to win the game." (Oct. 7)
"Las Vegas police announced this week that Siegfried and Roy's house was the target of a drive-by shooting. You probably heard that, but today they identified a guy named Cole Ford, who was a former placekicker for the Oakland Raiders as the primary suspect. So many gang members in these Raiders jerseys, who would've guessed it was an actual Raider doing this, but ... I just, I know you all do, hope and pray that this ugly chapter in this ongoing feud between magicians and placekickers ends soon." (Oct. 7)
"A lot of talk about steroids in baseball this year. Gary Sheffield, who plays for the Yankees, lashed out at Giants slugger Barry Bonds yesterday. They used to be friends but Sheffield says Bonds gave him a cream for his knee a couple of years ago and he didn't know it but there was steroids in the cream. And I've been injecting the horse testosterone all this time; I had no idea. ... but Sheffield was angry because not only did he not know it was steroids in there, he also brushed his teeth with the cream, and as you can see the result was a disaster (shows photo of Sheffield with a Cheshire catlike grin across his face)." (Oct. 6)