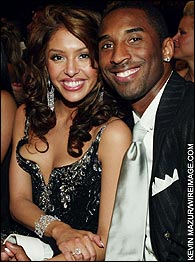 For Kobe, nothing says "I'm sorry" like expensive jewelry.
"The Tonight Show" with Jay Leno
"The Clippers won their first game of the season last night. Nice to see another 86-year-old curse being broken." (Nov. 4)
"Kobe Bryant plans to renew his wedding vows with his wife Vanessa in Hawaii. Apparently, he wasn't listening the first time around." (Nov. 4)
"Late Show" with David Letterman
"The marathon is over, all the runners are finished, and it turns out the Republicans won. (Nov. 8)
"Everybody says it was one of our most successful marathons ever: only 12 runners missing." (Nov. 8)
"The New York City Marathon is a 26-mile route that goes through all five boroughs. It's the same route that cab drivers take from La Guardia to Midtown." (Nov. 5)
"Here's some interesting statistics about the election. Eleven states voted to ban gay marriage. Three states voted to ban men's figure skating." (Nov. 4)
"Jimmy Kimmel Live"
"According to some newly released court documents, a month after the encounter in the hotel room, Kobe Bryant's accuser told a friend she wanted money from Kobe to buy new breasts, a recording studio and, this isn't made up, a koala bear. She wanted to buy a koala bear for a friend who likes koala bears. At one point, Kobe's lawyers had her down to a Wonderbra, a karaoke machine and a goat, but they couldn't get the deal done. If she does get that recording studio, I have a feeling I know where Shaq's next album is going to be done." (Nov. 8)