"Late Show" with David Letterman
So the first thing you see on ('Monday Night Football') is the beautiful ABC actress Nicollette Sheridan, and she's naked, and Terrell Owens is standing there, and so she jumps in his arms and now they're in big trouble. There could be a fine. Think about it, that's really more appropriate for halftime. (Nov. 17)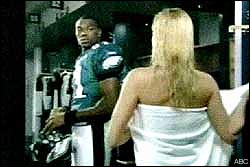 Anybody remember the score of the game?
"The Daily Show with Jon Stewart"
If you were watching 'Monday Night Football' last night you know that the woman from, what the hell's the name of that show, the 'Desperate Housewives' apparently she was on the show naked with Terrell Owens at the very beginning. And the nation was appalled because it was, umm, families were watching football and uhh, to see the back of a naked woman with Terrell Owens is apparently very traumatic. Umm, because it really took away a lot of the bite of the ... beer commercials later on in the night. When they had the two women wrestling over the light beer apparently people were hardened to that and didn't buy enough ... beer. So ... I apologize for them ... (Nov. 17)
"The Late Late Show" with guest host D.L. Hughley
ABC's getting flak about airing a sexy NFL promo of Nicolette Sheridan naked. Isn't this the same network that shows commercials for Levitra and Viagra and a billion other anti-impotence pills? Like, maybe it's me but I'd rather see Nicole's (sic) naked ass than some old, fat dude with a woody doing a cartwheel. (Nov. 16)
"Jimmy Kimmel Live"
Last night on UPN they broadcast the Vibe Awards, you know there was a huge brawl, it went on for like 20 minutes, a guy got stabbed. And while he was being honored with a lifetime achievement award, Dr. Dre got punched in the face by a guy. Unfortunately, the producers cut all the fighting out of the broadcast, which I think is a rip, especially with the hockey strike going on, you know ... you need something ... (Nov. 17)
"Late Night with Conan O'Brien
It's been reported that someone is trying to blackmail New York Yankee Gary Sheffield by claiming they have a video of Sheffield's wife having sex with R. Kelly. That's true, someone says they have video. Sheffield is positive the video is fake because his wife is older than 18. (Nov. 17)