At some point in the annals of pop culture, athletes began dating Hollywood starlets.
Perhaps it started with New York Yankee great Joe DiMaggio and Marilyn Monroe tying the knot in 1954. Who knows? But these days, it's becoming de rigeur for an athlete to date an actress (or socialite).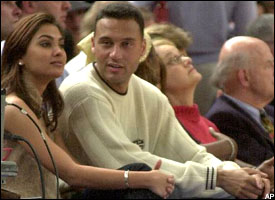 "As you can see, I love going to Knicks games."
Derek Jeter
may have perfected the art form in recent years, racking up the likes of Mariah Carey, Jordana Brewster, and Jessica Alba as dating partners, but it's clearly certain actresses also have a thing for ballplayers.
With the recent startling revelation that actress Tara Reid (of "American Pie" and "Van Wilder" fame) is dating hockey great Sergei Fedorov (of once-married-to Anna Kournikova fame), we take a look at the current trend of Hollywood starlets and their latest must-have accessories: athlete boyfriends.
TARA REID
Dated: Tom Brady, Patriots quarterback
In April 2002, Reid, heartbroken after a broken engagement to MTV nerd Carson Daly, tells her agent she wants to be set up with the reigning Super Bowl MVP. Reid, never one to miss a Super Bowl weekend bacchanal, even slipped Brady a note through proper channels. All efforts were rebuffed.
Then, in September 2002, Brady invites Reid to Foxboro, Mass., to watch him throw three touchdowns in a Monday night victory over the Pittsburgh Steelers. The pair are inseparable for the next month, but by late October, the hot romance ends.
Dated: Jeremy Shockey, Giants tight end
After meeting the hulking rookie at Super Bowl weekend 2003, the two made only one public appearance together -- at a Red Hot Chili Peppers concert in New Jersey. The media went wild -- but this couple never made it to a second date. Friends? More? We'll never know.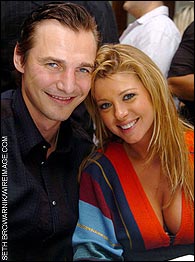 Tara Reid has given up football players for hunky hockey players.
Dated: Kyle Boller, Ravens quarterback
Clearly Tara likes them young. When these two met in April 2004, she was 28, he only 22. They made their first public appearance at an Xbox celebrity-studded party in the Hollywood Hills (Lindsay Lohan and Nicky Hilton also attended), and he later flew with her to California to celebrate his 23rd birthday party with his family in June. Things looked serious for a minute -- but by mid-July, they were kaput.
Dating: Sergei Fedorov, Mighty Ducks center
Perhaps finished with football players, Reid spent all of Thanksgiving weekend of 2004 in Miami with Fedorov. Just weeks after her infamous dress-malfunction at Puff Daddy's birthday party in New York City, Reid club-hopped with Fedorov. Maybe it was something in the turkey? Reid's next stop might be in Jacksonville for the Super Bowl, and it's anyone's guess who she'll be cozying up to.
ALYSSA MILANO
Dated: Wayne McBean, former New York Islander
Call it puppy love, but way back in 1988 -- not too long after McBean was the fourth overall pick in the 1987 draft -- they were a hot couple. Milano was in the late years of the classic sitcom, "Who's the Boss," and McBean was toiling in the minor leagues. The romance lasted until 1990.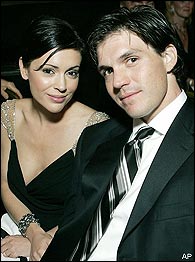 Alyssa Milano has put a recent spell on Barry Zito.
Dated: Carl Pavano, free-agent pitcher
After Milano had her fill of actors and the like in the 1990s, she connected with Pavano in the fall of 2003. They were first spotted at a NYC club after his Marlins defeated the Yankees in the World Series. The pair was inseparable for the next six months, with the "Charmed" actress showing up at many of his games. Something went amiss in June of 2004 -- he blamed the high-profile nature of the relationship -- sparing the world of this tongue twister: Alyssa Milano-Pavano.
Dating: Barry Zito, A's pitcher
Talk about a hankering for Italian baseball pitchers: Only months after the split with Pavano, Milano was cuddling up to the A's lefty. While tadpoling -- she's 33, he's 26 -- this couple began making the scene in the summer of 2004 at several high-profile Hollywood events. Then, in the fall, they were on the sidelines together for a USC-Arizona game. And now you know he's gone Hollywood: Thanksgiving week, the pair attended a gala in Beverly Hills. If, by the grace of some higher power, Pavano (a free agent) winds up on the A's next season ...
TYRA BANKS
Dated: Tiger Woods, golfer
In December 1996, just as Tiger Woods was going global, the two were at an event together. The media ran with "they're dating" stories, but both parties vehemently denied it. What Banks didn't deny was that soon after meeting Woods, she snuggled up with sprinter Michael Johnson.
Dated: Mark Messier, former New York Ranger
One of the great sports rumors to come out of Canada in 1999 involved a budding romance with the hockey great. Nothing was ever proved, so it'll always be stuck between urban legend and half-truth. The closest Messier ever came to fessing up was on the Howard Stern Show, where he said he went out with her.
Dated: Chris Webber, Kings forward
Then came the serious one. They began dating sometime in December 2001, and miraculously kept it under wraps until NBA All-Star weekend in February 2002. Then came Webber's explosion at the media in the fall of 2002 -- still, the couple pressed on and nearly hit the three-year mark before splitting up this fall.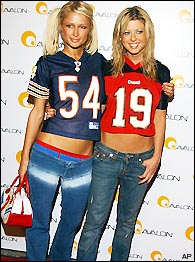 On this night, Paris Hilton and Tara Reid only had each other.
PARIS HILTON
Dated: Brian Urlacher, Bears linebacker
Everybody's favorite socialite has had dating interests spanning the spectrum -- actors, rockers, producers, models -- but in September 2003, she made the move to football. In a move that had NFL folks scratching their heads, Urlacher was partying at a club in Las Vegas, and when the "Simple Life" star lost her shoe, the All-Pro swooped in to offer a piggy-back ride. The two were later spotted at the Las Vegas airport together, and then he invited her to a Monday night game between the Bears and Packers. She must not have been impressed by his performance -- the romance fizzled shortly thereafter.
Dated: Mark Philippoussis, tennis player
Nothing Hilton does can be explained, and that's why, this October, when she whipped out a cell-phone picture of Philippoussis, telling journalists, "I'm head over heels," people really had no clue what was going on. Especially considering he had been dating an Australian singer. And then came reports that Hilton was spotted spending quality time with tennis star Andy Roddick -- the same weekend! -- and sports fans everywhere were scrambling to get their young children tennis lessons.
Jason McIntyre covers sports and entertainment in New York City.