Who says 2004 was the year of the tight end? This year belonged to the quarterback.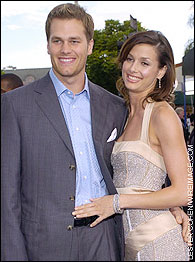 Most people will agree that Tom Brady is the man.
Look around the league -- who's dating the A-list actresses (
Tom Brady
), Playboy Playmates (
Jeff Garcia
), and hanging out with barely-legal pop stars (Kliff Kingsbury,
Eli Manning
)?
All quarterbacks.
Let's be realistic -- how important is red-zone efficiency when you're dating the most desirable female athlete on the planet (A.J. Feeley)? The trend of quarterbacks romancing starlets dates back to the 1960s with Broadway Joe Namath, and the tradition continues today, with signal-callers in 2004 burning up the gossip pages alongside celebrities.
TOM BRADY, New England Patriots
The current crown prince of football. Mothers wish their daughters could date him, guys want him as a wingman, and magazines eat up his cover-boy looks. He scores on the field (two Super rings) and off the field, he spends his free time with 34-year-old actress Bridget Moynahan.
Perhaps most importantly (to a certain segment of the population) he has single-handedly brought the butt chin back. Brady's sudden rise to fame didn't begin at the University of Michigan, but in April of 2002, when hard-partying actress Tara Reid told a magazine that she asked her agent to set her up with the Super Bowl MVP.
Apparently, uttering the phrase, "I'm going to Disneyland" is akin to, "Ladies, I have arrived." The Boston papers had a field day with Brady's nightlife antics after the Super Bowl -- he supposedly was dancing in the vicinity of songstress Mariah Carey, and then Britney Spears was in beantown for a concert, and made efforts to hang out him. By all accounts Reid was most persistent, and in September of 2002, he invited her to watch him carve up the Pittsburgh Steelers on Monday Night Football. The couple lasted all of a month.
But Brady, 27, apparently found love late in 2003 with Moynahan, a leggy brunette whose movie credits include "Coyote Ugly" and "I Robot." Meryl Streep she ain't -- but she's much, MUCH, easier on the eyes.
Is marriage in their future? Or if he wins another Super Bowl, does he upgrade from Moynahan -- is that even possible?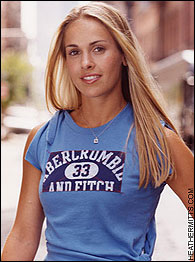 Thanks to Heather Mitts, A.J. Feeley's QB rating goes way up.
A.J. FEELEY, Miami Dolphins
On occasion, I'll look to the sky and ask, "Why is it blue?" Or maybe I'll look wistfully up at a basketball rim and ask, "Why wasn't I born to dunk?" In sports bars, I frequently hear, "How is A.J. Feeley dating Heather Mitts?
In the event you're out of the loop on women's soccer here's the skinny on Mitts: As a member of the U.S. National soccer team and Page 2's Hottest Female Athlete of '04, Heather Mitts is one of the most desirable female athletes on the planet (apologies to golf's Next Big Thing, Natalie Gulbis). Mitts, she of the cover-girl looks and disarming smile, has attracted many a suitor, namely ex-boyfriend, Pat Burrell (overrated Philadelphia Phillies outfielder) and actor John Cusack. A newspaper report in June of 2001 alleges Cusack attempted to kiss her after taking her to dinner in Manhattan, but she responded with the pullback. Ouch.
Feeley, 27, appears to have won her heart. Back in October of 2002, a newspaper spotted the couple cutting a rug on the dance floor at a club in Cherry Hill, New Jersey. Three months later, things got quasi-serious, as they attended the Super Bowl together in January of 2003. By March, they were Philadelphia's cutest couple (meanwhile, Burrell privately stewed and had the worst season of his young career).
Many predicted the relationship would go kaput when Feeley signed with Miami. Not quite. Word on the street is the 26-year-old Mitts has moved with him in Florida, and of all the quarterback couples, these two appear to have the greatest staying power.
KYLE BOLLER, Baltimore Ravens
After a rookie campaign that could only be considered a disappointment, Kyle Boller faded into the offseason last winter a forgotten man. By April, while the rest of the free world expressed concern over the status of Seth and Summer's relationship on "The O.C.," Boller was in New York City, cozying up to Tom Brady's ex-girlfriend, Tara Reid.
It was all on the down low until the two showed up together at an Xbox party in the Hollywood Hills in May, where they partied with the likes of Lindsay Lohan and Nicky Hilton.
Baltimore was positively giddy, with Tara sightings at the Power Plant, arm-in-arm with the city's hot new commodity (KB was quickly absolved of last year's putrid quarterback rating of 62.4 -- he was giving the city cred!).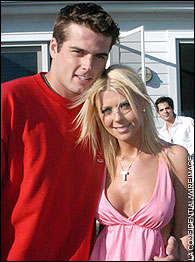 Kyle Boller was just another stop on Tara Reid's merry-go-round.
But to show you how new Boller was to all of this, in June, he flew out to see his parents in California -- with Reid -- to celebrate his 23rd birthday. Come on Kyle, you know the parents can't meet her until at least the five-month mark. Anything earlier than that and it's the kiss of death. By July, Kyle and Tara were history.
KLIFF KINGSBURY, New Orleans Saints
Who? Generally, third-string quarterbacks who wear a baseball cap and tote a clipboard don't make lists like this. Then there's Kingsbury. College football afficionados may recall his days as a fringe Heisman contender in 2002; a quarterback who took 60 passes a game to accumulate half a dozen touchdowns. Kingsbury finished ninth.
What the 25-year-old has going for him these days is his deep southern roots. He's one of those classic stories -- quarterback at a tiny high school, leads his team to State-Championship glory, rejected by all the big colleges, gets his chance to shine (at Texas Tech), proves all the doubters wrong, and gets all the girls (in this case, "hanging out" with Britney Spears and Jessica Simpson, though not at the same time).
What's the connection? The south. Spears is from the sticks in Kentwood, Louisiana; Simpson from a suburb of Dallas, and Kingsbury from New Braunefels, Texas. He's undoubtedly got that Southern charm -- that's probably how he ended up on Britney's tour bus in 2002, and received gifts and handwritten notes from the singer; and it's probably how he ended up hanging out a New Orleans Hornets basketball game this season with Jessica Simpson (she's in Louisiana filming the "Dukes of Hazzard").
Odds are good he's the type to break out the cowboy hat and guitar at the campfire and setting the southern ladies hearts aflutter.
JEFF GARCIA, Cleveland Browns
What is it about Cleveland Browns quarterbacks and centerfolds? Surely you recall the unjustly evicted Tim Couch and his much ballyhooed relationship with 1999 Playmate of the Year, Heather Kozar (and how his "friend" quarterback, Cade McNown, temporarily stole her from him). Couch and Kozar now live together in Wisconsin.
The current Browns quarterback, Jeff "I'm not gay, Terrell Owens just says I am" Garcia, is dating another one of Playboy's finest, 22-year-old Carmella DeCesare (2004 Playmate of the Year). Must be something in that blue-collar Cleveland air. The two began dating this summer, and after Garcia and Owens had it out in the media, she came to the red-head's side, saying, "I can attest 100 percent that he is not gay."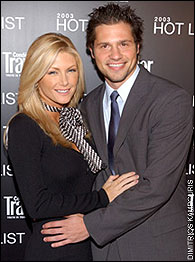 Brande Roderick once had a thing for NFL kicker Owen Pochman.
Later in the summer, she duked it out at a Cleveland club with Garcia's ex-girlfriend, someone named Kristen Hine. According to a police report, on Aug. 21, DeCesare "launched" herself at Hine three times, and then kicked her in the head.
The 34-year-old Garcia's NFL days may be numbered, but the real question is: Will Luke McCown date a Playmate of the Year? I hear Brande Roderick (2001) is available.
ELI MANNING, New York Giants
The emotionless rookie has been downright awful in 2004, but perhaps it's because he's been quietly living it up on the New York party scene. A national magazine made the claim that on Dec. 6 (just one day after a miserable showing by Manning in a 31-7 loss to the equally woeful Washington Redskins) the rook showed up at NYC lounge Butter.
Having attended the Monday night event on more than one occasion, I can tell you that the draw is mostly models and the Olsen twins. On this night, the 23-year-old Manning supposedly swapped phone numbers with 18-year-old actress Lindsay Lohan. If even a morsel of this is true, then although the rookie has left much to be desired on the field, at least he's showing promise off it.
Jason McIntyre covers sports and entertainment in New York City.