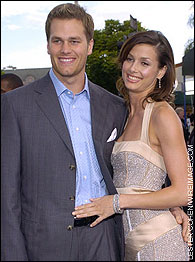 As Brady will tell you, being called the best has its privileges.
In Page 3's ongoing quest to bring you all that is relevant in the world of sports and celebrities, we present you with yet another blog! While blogs are so very 2004, it's the only legitimate way for P3's Jason McIntyre to keep you up-to-date with the latest celebrity gossip.
Is that Tom Brady?

At a relatively swanky Victoria's Secret book party Tuesday night in Manhattan, I'm getting a drink at the bar when a buzz ripples through the crowd around me. A two-time Super Bowl MVP towering over a crowd has that kind of effect.
Tom Brady, sporting a new military buzz haircut, was hanging out with some non-athlete friends. He couldn't have picked a better party to show up at.
Among the women circulating were pregnant Heidi Klum (but without question, the hottest pregnant woman I've ever seen – her purple skirt was maybe eight inches long and didn't come close to reaching mid-thigh), Sports Illustrated cover girl Karolina Kurkova, the amazing Alessandra Ambrosio, the stunningly gorgeous Adriana Lima and, as Conan O'Brien put it, "the most beautiful woman in the world," Gisele Bundchen.
Brady, who was without girlfriend Bridget Moynahan, was surprisingly approachable when I went up to him.

"You can have one question," he says in a joking manner.

"Just one? How about one Bridget-related and one non-Bridget?"

"Fine, but that's all, I'm a tough bargainer," he says.

I rattle off, "From what I hear, the Patriots say you are."

He laughs.

"What are you doing in New York?" I ask, with the premise that it doesn't count.

"We're in the offseason, so I'm trying to get away, and catch up with my friends, and see what I've missed for the last seven months."

Then, I snuck in a sly one: "So how's Bridget? You guys engaged yet?"

"No," rather sternly.

"So what's this I hear about you having political aspirations after football? Wanting to be a senator or something?"

"Really?" he says, genuinely surprised. "I was unaware."

"Supposedly, somebody in Vegas asked you about it, and you dodged it," I sheepishly inquire.

"I dodge everything, it works better that way. That's your two questions, you're done."

We both laughed, I said, "Darn!" and he was friendly about the whole thing.
The Patriots' quarterback spent the next couple hours mingling – Klum stopped by on her way out and Kurkova stopped by for an extended conversation before departing. Quarterbacks, they still get all the girls.
After the night of hard-partying, Brady hopped on a plane Wednesday and returned to Boston in time for the "Fever Pitch" premiere at Fenway Park. There, he walked on the red carpet among other celebs including Johnny Damon, David Ortiz, Doug Flutie and, of course, the stars of the movie, Drew Barrymore and Jimmy Fallon.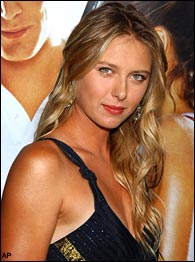 Sharapova fans will feel better about themselves when she's 18.
Celebrating in style
Tennis prodigy Maria Sharapova makes the transition from attractive teenager to sexy adult – miraculously, that transformation suddenly occurs once the clock strikes midnight on her 18th birthday. Everybody wants to know if the Palm Beach Post is hinting that there could (stressing could) be a budding romance between American tennis star Andy Roddick and Sharapova. Does that make it true?
Well, you may recall Roddick's initial foray into the celebrity dating world in 2002, when he began romancing just-turned-18 actress/singer Mandy Moore. Sharapova turns 18 on April 19, so perhaps we'll have an update then.
90210 lives forever
The nerds out in Los Angeles are already lining up for "Star Wars: Episode III" tickets, and my dad would be right there with them if the release date wasn't more than five weeks away.
What might make them scamper over to Beverly Hills? How about the presence of Mr. Beverly Hills, Brandon Walsh!
An on-the-ball reader e-mailed us a link to these pictures of Jason Priestley and his fiancee strolling through Beverly Hills and shopping up a storm. He's recovering nicely from that near-death auto accident, and likely wondering if "The O.C." will ever take the place of "90210" in the pantheon of teen angst-ridden dramas; she's a bustier, leggier, version of Scarlett Johansson. Nice work, Brandon!
Paris: She's back!

There was concern – and downright outrage – last week when we neglected to inform the viewing public at the latest haps of the indomitable Paris Hilton. It's probably best to chalk it up to technical difficulties.
Far be it [for me] to pass sartorial judgment on a fashion plate such as Paris Hilton, but folks ... she's hot!
While you line up for "Star Wars," I'll be looking into advance tickets for "House of Wax."
Jose Canseco goes the reality route

We're probably more likely to watch Britney Spears' reality show than the "Surreal Life 5," even if Jose Canseco will be mixing it up with Omarosa.
Who's more likely to knock Omarosa out? Janice Dickinson or Canseco?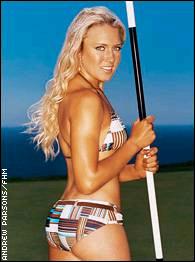 As if Ben Roethlisberger didn't have enough going for him.
Big Ben: Golfin' with his girl
In the event you didn't get your fill of the Natalie Gulbis/Ben Roethlisberger coupling in the last three months, there's a tiny update.
The two are playing coy about their relationship, which, to be honest, is the way to go.
That's not to say there's isn't any news. Since we sent golf and football fans buzzing with the news of their relationship, the best read comes courtesy of Alan Shipnuck, who sat in on corporate meetings with Natalie, and her hilarious father (stage dad, what?), as she makes the transformation from mere golfer to celebrity.
Eli Manning loses to an '80s movie star

Finally, we can rest easier: 18-year-old starlet Lindsay Lohan wasn't brushing off New York Giants quarterback Eli Manning for no reason – it looks like she had her eye on an older man, Christian Slater.
Leaving no "Star Wars" joke left unturned, the circle is complete. We have pulled off the holy trinity of celebrity mentions: Britney Spears, Paris Hilton, and Lindsay Lohan, all in one entry.
Jason McIntyre covers sports and entertainment in New York. He can be reached at jasonrajmcintyre@yahoo.com.