JACKSONVILLE -- The Maxim Magazine fiesta, the "mother" of all Super Bowl parties, is supposed to be a fun time full of debauchery, celebrity sightings and more décolletage than Elizabeth Hurley could dream of.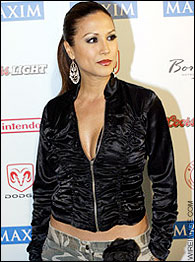 Sorry athletes, Leeann Tweeden has learned her lesson.
However, this wasn't the case for sexy pin-up model,
Leeann Tweeden
. When I asked her about her boyfriend
Josh Beckett
of the Florida Marlins, she told me that they are no longer together.
"We just recently broke up after a year," said Tweeden.
Apparently, the couple split because they were at "different times in their lives."
"I'm a little bit older than him," Tweeden added.
I wasn't sure if that meant that at 31, she had the intentions to get serious with the 24-year-old Beckett. Regardless of the breakup, she seemed just as bubbly and attractive as she is on television and in magazines.
But since she and Beckett made quite the quartet about eight months ago with Alyssa Milano and Carl Pavano, formerly with the Marlins, I asked Tweeden for her thoughts on Milano's recent split from Oakland A's pitcher Barry Zito.
"Really? I didn't even know that," she said.
"What, you didn't read Saturday's Page 3?" I replied laughing. "Are you surprised by that breakup?"
She quickly replied "no" and let out a sigh.
"It just seems like the ratio of breakups in professional sports and entertainment women are high," said Tweeden.
For now, Tweeden says that she's sworn off athletes.
Later in the evening, Jesse Palmer walked through the door and women cooed, "It's 'The Bachelor.'"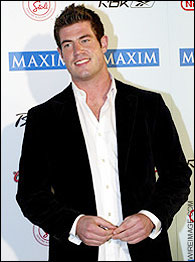 At the Maxim party, Jesse Palmer finally got to make some passes.
While he was swaying back and forth on the dance floor, there were at least seven or eight women dancing in his vicinity hoping to catch his eye. Each one slowly inched closer and eventually, a conversation would ensue. What a nice life for a third-string quarterback.
Factoring in the breakups of Leeann Tweeden, Alyssa Milano, and Roy Williams -- according to magazine reports, the wedding to Kelly Rowland of Destiny's Child has been postponed -- I asked Palmer about his struggles with the ladies. Why can't ahtletes hold down high-profile relationships?
Palmer, who was decked out in a resplendent suit and looking dapper as usual, was surprised by the heartbreak updates and replied,
"It [the breakups] probably is just time constraints with schedules."
"Actors and actresses have busy schedules and travel all around the world," Palmer said. "We're basically domestic, but for two seasons out of the year, our schedules are hectic."
And I asked if he could date anyone in Hollywood, who it would be.
"It would have to be one that would date an immigrant," the Canadian replied.
While Palmer certainly attracted the attention of the ladies tonight, it was nothing compared to the swarm of women swooning for actor Paul Walker. Or the bevy of beauties clamoring to get close to Josh Duhamel, even though his girlfriend, Fergie of the Black Eyed Peas, was with him.
However, the hands-down winner of the night was Ashton Kutcher, who arrived sans Demi Moore. He got on stage to work the crowd and then, took a seat in a booth that needed seven bodyguards to keep the frisky women at bay.
Jason McIntyre covers sports and entertainment in New York City. He can be reached at jasonrajmcintyre@yahoo.com.