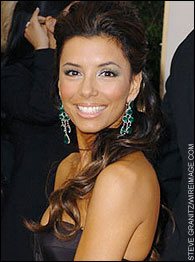 Eva Longoria and Tony Parker are Hollywood's newest "it" couple.
In Page 3's ongoing quest to bring you all that is relevant in celebrity relationships and sports, we present the list of the 10 hottest NBA couples ever. The only criteria needed to qualify for this esteemed list is that a star NBA player had to be linked to a celebrity or a high-profile athlete. Sad as it sounds, we're also including MTV veejays in the mix.
And if you're worried that Tara Reid didn't make the list, don't sweat it. There's always next week and she's got plenty of time.
10. Tayshaun Prince and Serena Williams
How do they make the list, you ask? Last summer, the Detroit Pistons swingman, who grew up in a neighborhood near where Williams was raised in California, made his move. He showed up at a match or two in which Williams was playing. Coincidence? Perhaps, but the rumors were flying. Who knows -- maybe Prince was a standout tennis player way back when and just loves the sport. However, the relationship began soon after the Pistons' NBA title, so it's entirely possible he was trying to capitalize on his fame.
9. Grant Hill and Tamia
By all accounts, Grant Hill is one of the most genuine athletes ever to lace 'em up. We feel like we grew up with him. It seems like only yesterday that he was reaching for the rafters as a freshman in the NCAA title game against Kansas to flush that alley-oop. And Tamia, a four-time Grammy nominee, sure can carry a tune. What a couple! Did you know multi-Grammy winner Anita Baker set them up?
8. Kobe Bryant and Brandy
This is practically a Trivial Pursuit question: Which famous singer did high school basketball star Kobe Bryant attend the prom with? This was a short-lived romance, and if you believe a Newsweek story regarding Kobe, it was basically one-sided. Wonder how bad it hurt Kobe that she took up with a member of Boyz II Men after him? I saw those guys the weekend of the Kentucky Derby and, wow, how the mighty have fallen.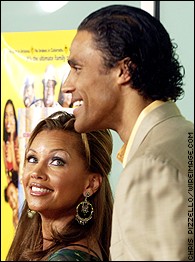 Will the Vanessa Williams-Rick Fox union stand the test of time?
7. Rick Fox and Vanessa Williams
Arguably the biggest cad in the league during his prime, Fox did what many men would like to do -- he married Miss America. And then he did what any guy would do -- he screwed it up. National magazines ran photographs of Fox kissing a blonde at a Hawaii bar last fall, which led to rampant speculation that the gorgeous Williams was understandably kicking him to the curb. But recently she went on
a radio show
to proclaim they were not splitting up. Huh? Fox should share his skills, because he obviously has some strong powers of persuasion with the ladies.
6. Quentin Richardson and Brandy
Not that she's a basketball groupie, but "Moesha" is engaged to the sharpshooter I like to call Q-Rich. The ring is 11.5 carats, or 11 carats more than you can afford. It's probably looking too far ahead, but if the Suns get the top seed in the West and face the Lakers in the playoffs, will Brandy attend any of the games? And if so, will there be any friction between her and Kobe's beautiful wife, Vanessa? Who are we kidding -- the Lakers aren't making the playoffs. One wonders, after Q proposed and Brandy said yes, do you think he did that silly fist celebration off his head?
5. Carmelo Anthony and LaLa Vasquez
With an engagement ring that checked in at nine carats, Melo got on bended knee on Christmas in 2004 to ask the MTV host to marry him. So what if she's C-list? The mere fact that one of the best one-year wonders in college basketball history is already engaged is pretty darn astonishing (and scary, too).
Hey, let's be proud for the kid. Sometimes, women straighten men out. Maybe there'll be no more pouting from Melo and no more silly videos. He ranks a distinct second to Oakland Raider Darrell Russell in the "dumbest thing an athlete has captured on videotape" category. And he'll unify the Denver Nuggets for a run at the playoffs ... right.
4. Steve Nash and Elizabeth Hurley
Who knows if it was a full-blown romance, but these two definitely hung out on the not-so-down-low. In the event you're out of the movie loop, Hurley is one of the sexiest women ever from across the pond. While she was filming "Serving Sara" in Dallas in 2001, the two hit it off. His agent went on the record saying, "They just vibed. They ended up hanging out and there was some chemistry. The relationship is authentic."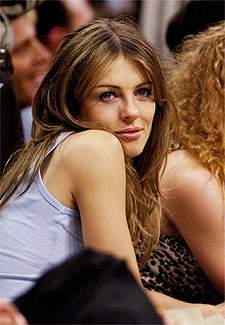 Elizabeth Hurley and Steve Nash reportedly, "just vibed."
It's quite a step up from his ex, former Spice Girl Geri Halliwell, huh? And so Nash will forever be known as the floppy-haired kid from Santa Clara who dated the woman, Hurley, that gave new meaning to the word décolletage on the red carpet in 1994.
3. Tony Parker and Eva Longoria
From the files of the bizarre, see if you can grasp this one. Supposedly clean-cut Frenchman Tony Parker, the dynamo point guard for the San Antonio Spurs, ditches his longtime girlfriend for a shot at the sultry Eva Longoria. If you're one of the seven people not watching ABC's "Desperate Housewives" on Sunday nights, she can be found dressed scantily clad in all of the lad mags. The girl is the definition of hot. I recall, back in my soap opera-watching days, seeing her on "Young and the Restless" and salivating. The Spurs can't be happy -- this officially takes them out of the running for the NBA title.
2. Dennis Rodman and Carmen Electra
Back before he was slamming the Mormons and still had a semblance of normality, the Worm married one of the most fetching women on the planet. In her heyday, Carmen Electra was on many college dorm-room walls and danced (probably provocatively) in the dreams of many a male. And she was on "Baywatch." When they unexpectedly tied the knot in November 1998 after only five months of dating, Rodman's agent told the media, "It sounds like he was deeply intoxicated." Since when do you need to be intoxicated to marry one of the most beautiful women on earth?
1. Chris Webber and Tyra Banks
How can you not have a soft spot for Chris Webber? Between The Timeout, never getting past Shaq in the West, his inability to shake that "soft" label and his split last fall from Tyra Banks, how can you not like him? C-Webb's got a smile that melts interviewers and he's a straight shooter, even when faced with tough questions. When I approached him at Fashion Week last fall in New York, I asked about the split with Banks and he politely confirmed it was over. He bowed his head a little, like a young boy does when he's shy. Let's go ahead and credit him with bringing hip-hop to hoops when he reached Michigan in 1991. As for Tyra, need I say anything at all? All we can hope for is that she wises up, dumps her new boyfriend baller, Giancarlo Marcaccini, and gets back with C-Webb. For about three years, they were the NBA's version of Brad and Jennifer (RIP).
Jason McIntyre covers sports and entertainment in New York City. He can be reached at jasonrajmcintyre@yahoo.com.