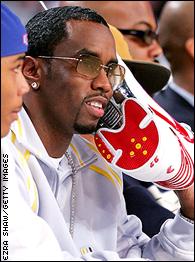 Paris, is that you? P.Diddy falls short on her list... maybe if the shoe phone was a Manolo Blahnik?
Many celebrities will spend the early portion of the week -- if the litany of prank calls didn't ruin their weekend -- changing their cell phone numbers. However, for a few in Hollywood, nothing hurts more than frantically scouring through
Paris Hilton's phone book
in hopes of seeing your digits and facing the ignominy that, alas, she does not have your number and you do not matter.
Personally, I would have settled for the heiress to have my e-mail address, but like most of America, I'm not fortunate enough to own a T-mobile Sidekick and apparently, if you don't have one of those (or a BlackBerry), there's no room for your e-mail address in her bicoastal world.
The same disheartened feeling is probably shared by Chicago Bears linebacker Brian Urlacher. He had his one- or two-week fling with Paris, yet his number is conspicuously omitted from the prestigious phone book. Perhaps Sidekicks weren't around during their brief September 2003 romance.
Andy Roddick, though, was fortunate enough to make it, just a few spaces away from the multiple entries for her "Simple Life" partner-in-crime, Nicole Richie. This sort of lends credence to all the rumors about Paris and Andy "hanging out" in Vegas last summer, doesn't it? Hilton's obvious flair for tennis players also includes Australian ladies' man Mark Philippoussis. I wonder if his just-turned-18 girlfriend, Alexis Barbara, is concerned.
In her notes section, Mark Cuban's number strangely pops up -- although I recall watching the Mavericks owner introducing himself to Paris at NYC club Marquee last year. Then there's a mention of New York Giants quarterback Eli Manning. Regardless what the exchange was, at least they were talking about him, right? Maybe Paris was critiquing his rough rookie season?
Also appearing in the coveted phone book is George Maloof, owner of the Sacramento Kings, along with Ashley Olsen (no love for Mary-Kate?) and Anna Kournikova.
Is there anyone on planet Earth who doesn't love the Internet?
Take Christina Aguilera for instance. She's in there twice -- meaning that their special connection atop the Raleigh Hotel on the night of the MTV Video Music Awards back in September of 2004 probably was more than a passing fancy.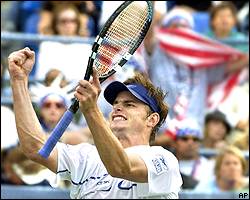 Yeeeesss! I made the cut!
Ashlee Simpson, anyone? Surely there is a creative soul out there who called up one of Ashlee's two numbers and made note of a certain Saturday Night Live lip-synching debacle. Who asked about the marital woes of Nick and Jessica? A savvy caller may have inquired what's up between Ashlee and Wilmer Valderrama -- and hopefully, how Lindsay Lohan feels about it.
Speaking of Lohan -- who brutally dissed QB Manning in New Orleans recently -- America has a million questions to ask her, few of which are printable here. But seriously, why does Paris have Lindsay's mom's number? Perhaps Lindsay and Dina Lohan are the new Gastineau girls.
Imagine all the single guys in the heartland who never will catch a glimpse of a big-name model. Now, thanks to Paris Hilton's phone book, you too can call a model directly! Summer Altice strike your fancy (if you've seen her on Howard Stern, we already know your answer)? Does Devon Aoki do it for you? Enjoy.
Then there's a Lenny with a 305 area code. What are the chances it's Lenny Kravitz? Is Cam possibly Cameron Diaz? So many questions. I just won't be finding out the answers from my cell phone.
Overall, the number I'm most likely to call? Kevin Connelly. Not because he's dating Nicky Hilton, and not to ask him how it felt losing his ex-girlfriend, Nikki Cox, to Bobcat Goldthwait, but to get a heads-up on the next season of "Entourage." It's the greatest show on TV -- after the "O.C."
Jason McIntyre covers sports and entertainment in New York City. He can be reached at jasonrajmcintyre@yahoo.com.