If you're upset about the extra week between Super Bowl XXIX and the NFL championship games, perhaps you can find solace in this weekend's high-profile wedding.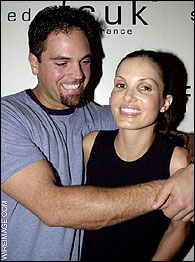 Mike Piazza makes better catches when he's not behind the plate.
It's a celebrity union that sports fans should find a tad more interesting than last week's nuptials between Donald Trump and his model-of-the-week. Future baseball Hall of Famer Mike Piazza is tying the knot with Playboy Playmate Alicia Rickter (to those itching to thumb through their back issues, she's Miss October, 1995).
An astute reader pointed out that the couple's fans can go to the Barney's website and check out the couple's registry. Somebody already splurged for a $1,700 side table -- I bet it was Roger Clemens, as a peace offering.
Page 3 loves trends almost as much as it loves athlete-celebrity unions, so we decided to present a list of some of the more interesting athlete-playmate connections.
And we didn't even count the athletes who dated or married women that have appeared in the prestigious pages of Playboy, like eccentric Dennis Rodman (Carmen Electra), hockey's Cale Hulse (Gena Lee Nolin), and San Diego Chargers lineman David Binn (Pam Anderson).
JOHN ELWAY and CARRIE STEVENS
Miss June 1997 won John's heart because when they met, she didn't even know who he was! In Oct. of 2004, she admitted being attracted to: "His smile. I like the way he looks at me, his integrity, the kind of father he is, his humble nature, and his big arms that make me feel safe." A classic photo of the couple from a Playboy Halloween party is circulating on the internet. Apparently, they've broken up, as Elway was quoted last week as saying, "She's a nice gal, it was just difficult." Poor John.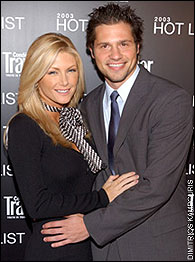 Brande Roderick once had a thing for NFL kicker Owen Pochman.
OWEN POCHMAN and BRANDE RODERICK
Yes, he's a kicker. No, there are no clues as to how he landed the 2001 Playmate of the Year. Apparently, they met at a party in November of 2002, and dated well into 2003. Pochman, who hasn't been heard from in NFL circles since an awful turn with the 49ers in 2003, is no doubt still bragging to the guys about dating Roderick. And probably still using it as leverage with the ladies.
AARON BOONE and LAURA COVER
The man who cannot set foot in Boston, and who etched his name into Yankee lore with one swing of the bat, is married to Miss October 1998. Take my word for it -- in a picture or two, she looks like a meaner, more busty version of Tori Spelling (aka 90210's Donna Martin). He may not have basketball skills, but Boone clearly knows how to charm the ladies. Nice work, Aaron.
TIM COUCH and HEATHER KOZAR
Currently living together in Wisconsin, one of the best quarterbacks in high school football history won Kozar over, then lost her to fellow NFL bust Cade McNown, then won her back. Judging by the many, many, pictures on the internet, the 1999 Playmate of the Year -- who looks like a cross between Marilyn Monroe and Uma Thurman -- is definitely worth fighting over. But is she worth getting banned from the Playboy Mansion (as McNown was)? Nobody is.
JIMMY CONNORS and PATTI McGUIRE
It's not highly-publicized, but one of America's best-ever tennis players has been married to the 1977 Playmate of the Year for 25 years! The sultry brunette adorned the cover when I was crawling in diapers, but the couple was able to buck conventional wisdom (which says, of course, that it's impossible to marry a playmate), and now have two kids together. With her looks and his athletic ability, their children are sure to rule the world.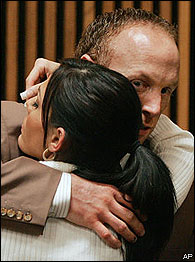 "Hey T.O., are you watching this?"
JEFF GARCIA and CARMELLA DECESARE
The redheaded QB moved to Cleveland, instantly was the biggest fish in town, and landed the 2003 Playmate of the Year. She may remind some of "Desperate Housewives" star Eva Longoria. But be leery of that temper -- she was recently acquitted on charges of kicking Garcia's ex-girlfriend in the head. Looking at the court pictures, the ponytail look definitely works for DeCesare. Come to think of it, any look works for her.
MIKE PIAZZA AND DARLENE BERNAOLA
Before Mike was making honeymoon plans with Alicia Rickter, he was dating the Playmate of the Millennium, Darlene Bernaola. (Quick sidebar: How does one go about dumping the Playmate of the Millennium?) The two appeared headed for the altar, and even got each other's initials tattooed on their ankles. After the split, he turned it into a stallion. (In case anyone doubted Mike's dating prowess, he also dated former Home Improvement hottie Debbie Dunning).
SCOTT PODSEDNIK AND LISA DERGAN
The guy you always pick up in fantasy baseball because he steals bases has been linked in recent months to Miss July 1998. To her credit, the blonde and very, very attractive Dergan (owner of a pretty radical safe-for-work website) also has modeled for Guess, was the 2003 St. Pauli Girl and is currently a reporter for FOX Sports Net. For Scott's sake, let's hope his recent trade to the White Sox doesn't cripple the relationship (if it's still ongoing).
Jason McIntyre covers sports and entertainment in New York City. He can be reached at jasonrajmcintyre@yahoo.com.