What better way to ring in the New Year than to predict what might happen?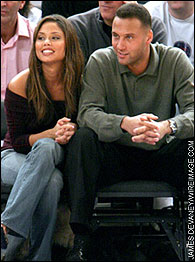 Sorry ladies, Derek Jeter is staying with his single ways.
For a sneak peak into the world of sports and entertainment in 2005, Page 3 turned to renown Los Angeles psychic -- Court TV uses her, so she's legit -- Carla Baron (
www.carlabaron.net
).
In case you're wondering, no crystal balls were used, no palms were read, and there will be no references to "Ghost." As Carla put it: "I have insight into what's to come."
(For all you "Cold Mountain" fans, Carla says not to worry, Jack and Renee will be getting back together at some point). Sit back, grab a pen and paper, and when all these visions come true, don't get mad when I go Sidney Ponson on you.
Q: Will New York Yankees shortstop Derek Jeter find love?
Psychic says: He's at least 40 by the time [love] happens. And she looks like she has a star of her own. She's pretty confident within herself. I don't see him settling down until he's done bettering and one-upping himself. It has something to do with his relationship with his mother. There's expectation levels for him to do better than the last time & he's got to better himself at every turn.
Translation: Deep. But hey, everyone tries hard to please their mom (What, Jordana Brewster wasn't good enough?). At least we know he'll be burning up the gossip pages for another 10 years.
Q: Will New England Patriots QB Tom Brady marry actress Bridget Moynahan?
Psychic says: [Garbled noise, sounding like No.] It kind of looks like she's going to break his heart. They have a profound love for one another, but she has hopes of putting herself out there a little more. She has other things on her agenda. I see her maybe starring in TV & another "Desperate Housewives" type of show. It's not that there's no room for him in her life -- it's that it's not the right time for him. They'll always be good friends.
Translation: Realizing that Boston may be shaken to its core by this prediction, the question begs -- Will the city have to re-adopt Ben Affleck as its prodigal son? I have no clue about her future in TV, but I thought she was spectacular in "I, Robot."
Q: Actress/party girl Tara Reid has dated tennis players, football players and hockey players. Is she likely to continue this trend, or might a bowler charm his way into her life? Perhaps a ping-pong player?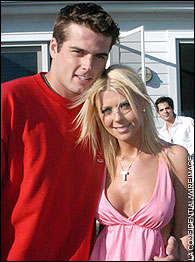 Kyle Boller could take another ride on Tara Reid's boy toy merry-go-round.
Psychic says: She sticks to sports figures because they are less disappointing to her. She has an inferiority complex where she doesn't feel she's worthy. She has to date someone where she can be the puppetmaster. I see a football player being the one. I don't think tennis. She likes personalities in hockey better, but she can control the football guys. The hockey situation is too deep -- they might actually fall in love with her.
Translation: Kyle Boller, you may have a second chance (should you want one). Sergei Fedorov, don't get too attached (but nice work nonetheless). I'll bet Carson Daly is happy he got out when he did.
Q: It has been said that golfer Tiger Woods has struggled with his game since he began dating Elin Nordegren. Will he be able to shatter every record imaginable now that he is married?
Psychic says: I think it's meant to be that he's not going to recapture his game. The threat of financial peril, or losing a lot of money because of a wrong financial decision weighs on him more heavily than his relationship does. She's not taking his focus away, it's all the business aspects. He's analyzing it all too much. But his golf game doesn't concern him as much as it does everyone else. He's already proven himself.
Translation: Tiger's moguldum is the reason his career has been in the tank the last 18 months. And you can bet your bottom dollar that somewhere, Jack Nicklaus is throwing his straw hat in the air and grinning.
Q: Actress Alyssa Milano has some type of Italian, baseball, pitcher fetish go on. After Carl Pavano and Barry Zito, will her next boyfriend be an Italian, baseball, major league pitcher?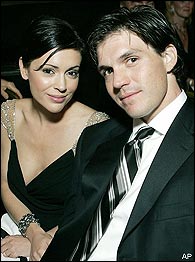 Alyssa Milano has put a recent spell on Barry Zito.
Psychic says:
She is too much for any guy. I see her willing guys toward her. It's like the moth going to a flame, only to get his wings singed. This helps the image of herself, but deep down, she feels like she hasn't quite achieved "it" yet. Her magnetism is her claim to fame. Italian baseball players represent father figures to her, including Tony Danza. Did he play baseball? [editor's note: YES!!] That was the first time she felt important. The Italian baseball players are an unconscious reference to the first time she felt she mattered.
Translation: Ah-o, is this lady good or what?
Q: Mike Piazza is getting married in January to Playboy Playmate Alicia Rickter. How much will the marriage cripple his run at the Hall of Fame?
Psychic says: I see him having a great sense of who he is. He's confident, and he blazes forward, no matter what. I see him always in the spotlight. I see him becoming a sports announcer. His opinion will always matter. I see him in a position giving commentary, and being one of the best ever.
Q: That's unbelieveable. Did you know that he had to call a press conference denying that he was gay?
Psychic says: He laughed it off, right? He doesn't care what people think.
Translation: Lost in all this, is the fact Piazza is marrying a Playboy Playmate. Regardless of what he does in 2005 and beyond is immaterial -- the man has succeeded in life. Does the Hall of Fame really matter when you're summering in Australia with Miss October 1995 on your arm?
Q: Did fading tennis player Anna Kournikova and her crooner boyfriend Enrique Iglesias get married this year, and if not, do you see wedding bells on the horizon for them?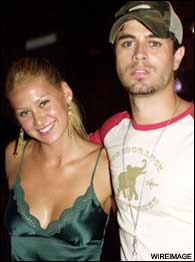 Ladies and gentlemen ... Mr. and Mrs. Enrique Iglesias! Or not.
Psychic says: They're manipulating the media. I think what they said was a plant. I don't think they got married. I think they're planning it, though. She's looking at this as her salvation, and it's keeping her in the spotlight. I think she feels she is done in the tennis arena. I see her next move being a TV personality. She'll entertain offers and do TV and film. She's tired of having to prove herself in tennis. But tennis wasn't her dream in the first place. She was good at it, but I don't think it meant that much too her to win.
Translation: She was awful in "Me, Myself, and Irene," reality TV is officially over, and late night isn't clamoring for her -- unless she does the show in a thong. Darn right she's clutching Iglesias for dear life.
Q: Are wedding bells in the future for cyclist Lance Armstrong and his rocker girlfriend, Sheryl Crow?
Psychic says: I see these two getting married. I see it because they're at the same time and place, and both accomplished enough in their own worlds. It's safe enough to get married and not to topple the whole structure. These two souls are much more developed, much more progressed. They're old souls.
Translation: She beat alcoholism and he beat cancer (a few times). A perfect fit. It will probably be a dry wedding with no band.
Q: Does tennis star Serena Williams really love director Brett Ratner, or is she just cozying up to him to get into movies?
Psychic says: She's in a mode where she wants to enjoy the fruits of her labor. I think [her tennis] could very much slow down. She did well and made a name for herself, and now, I see her wanting to go on to the new thing. She's not locked into the tennis world. She has other things on the horizon. I don't think she knows yet what she wants to do. I see movies as a life she was never exposed to, and she wants to do them now.
Translation: If she's spending the holidays in St. Bart's with Ratner, it must be more than some passing fascination. Bet she could take him in arm wrestling, though.
Jason McIntyre covers sports and entertainment in New York City. He can be reached at jasonrajmcintyre@yahoo.com.