Sports and music go together like Salt-N-Pepa ("Push It"), like Paris Hilton and Nick Carter (oops, not anymore), like Carl Lewis and "The Star-Spangled Banner" -- you know, like football and "American Pie."
SPORTS & MUSIC

Page 3 will examine the connection between sports and music all summer long. Also, catch SportsCenter's music series all this week at 6 p.m. ET on ESPN.


Athletes who'll make your ears bleed

Coming up:
At-bat songs for all 30 MLB teams

The hip-hop and hoop connection

Peter Gammons' musical bend
So here's a trip through some of the high points and low notes in the courtship of sports and music, from Mr. Marilyn Monroe to "Miss Jackson if you're nasty":
1955: Crossover move

Lee Maye was a member of the second generation of African-American players to hit the major leagues, and pro sports' most successful musician. He hit it big with "Gloria" as the frontman for Arthur Lee Maye and the Crowns, a doo-wop group, in 1955 -- this just after a fine minor-league season in which he hit .320.
He continued to record and perform with the Crowns until he hit the majors with the Braves in 1959. He played for the Braves and four other big league teams between 1959 and 1971. His best season: 1964, when he played 153 games and hit .304 with 10 HR and 74 RBI while leading the NL in doubles with 44. His musical career continued into the 1990s.
"I made the right choice going with baseball," Maye, who died in 2002, said. "In those days, none of us ever made much money in music, even when we wrote and sang hit records."
1968: "Where have you gone, Mickey Mantle?"
Thanks to the movie "The Graduate," Joe DiMaggio and singer-songwriter Paul Simon will be forever linked, with the Yankee great immortalized in two lines from "Mrs. Robinson":
Where have you gone, Joe DiMaggio?
A nation turns its lonely eyes to you.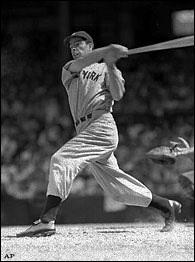 Where'd you go, Joe?
When he first heard it, Mr. Coffee was steaming hot. But he met Simon soon afterward and things went pretty well.
"The first time I met DiMaggio, I guess it was the year the song came out," Simon told Mark Kriegel of the New York Daily News. "'Mrs. Robinson' was still new and big. I was in an Italian restaurant on Central Park South. I went over and introduced myself. 'Mr. DiMaggio, I'm Paul Simon. I'm the guy who wrote 'Mrs. Robinson.' He knew. He invited me to sit down."
"What does that mean?" DiMaggio asked. "Where have you gone . . . ?" DiMaggio was still on the tube all the time, doing his Mr. Coffee commercials.
"Hey, it was still the hippie days and he was wondering whether I was making fun of him," Simon said. "And I told him I wasn't making fun of him. I said the song was about heroes, a certain type of hero."
That was good enough for Joe. He became a Simon and Garfunkel fan. His favorite song -- he'd sing along -- was "Bookends."
The line would've been "Where have you gone, Mickey Mantle?" if Simon had had his way. Turns out that Mickey Mantle was Simon's boyhood hero, not DiMaggio. One time, writes Kriegel, Mantle and Simon were both guests on "The Dick Cavett Show." Obviously, something was eating at The Mick, and he asked Simon during a commercial break, "How come you wrote that song about DiMaggio? Why didn't you write it about me?"
"It's about syllables, Mick," said Simon. "It's about how many beats there are."
1969: Baseball's lounge lizard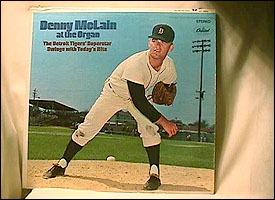 McLain's organ LP didn't get him suspended, but his bookmaking activities did.
In 1968, Denny McLain became baseball's latest 30-game winner and led the Detroit Tigers to a World Series title. The next year, the renaissance man released his first organ LP, "Denny McLain in Las Vegas." McLain had appeared on the Ed Sullivan show and, the previous August, had wowed sportswriters with a six-song recital at the Hampshire House in New York on what must have been a grinding day -- that night, pitching in Detroit, the White Sox would rock him for nine runs in a rare McLain loss.
McLain took the Vegas part of his act too much to heart, as he would be suspended from baseball in 1970 for bookmaking activities, and Sports Illustrated alleged that he had mob connections.
McLain's albums are out of print, but if you need some Denny for the hi-fi in your bachelor pad, you can find him playing Neal Hefti's swinging "Cute" on the compiliation "Ultra-Lounge, Vol. 18: Bottoms Up"
1970: "Van Lingle Mungo"
Jazz pianist David Frishberg's 1970 wrote a catchy little tune -- but then struggled for words. He thought, at first, he might call it "Please, Mr. Nixon." But then the baseball fan in him remembered the melodious name of a mean, hard-drinking fireballer who pitched for the Dodgers and Giants in the 1930s and 1940s, the one and only Van Lingle Mungo. And he checked the Baseball Encyclopedia. And fooled around with the names.
Mungo and Frishberg met once, according to The Baseball Reliquary, backstage at "The Dick Cavett Show." Frishberg recalled the encounter: "He was very nice and he said I really like the song. Of course, he was a big celebrity now down in Pageland, South Carolina. So he takes me aside and says, tell me, when do I get the first check on this. I saw the look in his eyes and he was not kidding. He really expected there was going to be a check. And he was a big guy and looked like he might be a little unreasonable, you know. I thought fast, though, and I said, well look, nobody's gonna make any money off this song -- that's number one. Number two, if anyone does make any money off of it, I'm gonna be the last one. And I said, you're never gonna see a cent off this. He said, but it's my name. I said I know. The only way we can get even on this is you gotta go home and write a song called 'Dave Frishberg.' So he laughed and hit me on the back and he said, that's okay, I like the song anyway."
1972: Gary Glitter's sordid story, Parts 1 and 2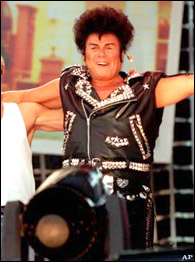 The latest chapter of Gary Glitter's life of leather has been an ugly one.
In 1972, Gary Glitter scored a huge U.S hit with "Rock and Roll, Part 2" (yes, there is a part 1), a single that sold more than a million records stateside. Depending on who you ask, the lyrics consist of either one word -- "Hey!" or two -- "Hey" and "Ugh." Glitter, a star in Europe who had more ups and downs than the Otis Elevator testing facility near ESPN HQ in Bristol, had no idea that "Rock and Roll, Part 2" had become a huge sports anthem in the States until 1992, when he happened to hear it during a hockey broadcast he was watching in New York.
Glitter didn't get rich off the zillions of times the song has been played since it was introduced to the sports world in 1976 (something having to do with one-time licensing fees), but it did help keep him in the news. And then he became even more newsworthy when, in 1999, he was convicted of possession of child pornography.
Many sports teams dropped the song from heavy rotation almost immediately.
The song was actually supposed to sound like an entire stadium cheering, Glitter told Woody Paige of the Denver Post in 1996. "When I went to cinema on Saturday mornings, I loved cowboys and Indians, and remember how the Indians used to run around the fire before the battle chanting 'Hey, hey, hey, hey, hey.' Years later, I was trying to create a '50s kind of sound with a song. I wanted something totally different with a great beat, and I remembered the Indians chanting. I wanted it to sound like 50,000 chaps at Wembley."
Glitter was deported from Cambodia in Jan. 2003 after being jailed for two days following allegations of sex offenses. He's since snuck back into the country, and, according to the Australian, is "at the top of Cambodia's blacklist of suspected pedophiles." He's challenging the legality of the deportation.
But his anthem, while fading, still sees some major action.
1975: Bob Dylan's "Hurricane" and "Catfish"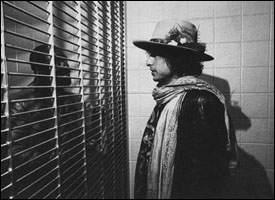 Rubin Carter and Bob Dylan saw eye-to-eye on their effort to free the "Hurricane."
In 1975, Bob Dylan spun out two sports tunes. "Hurricane," a long single about imprisoned boxer Rubin "Hurricane" Carter, whom Dylan befriended, was part of Dylan's effort to get Carter a new murder trial. In addition to the song, which reached No. 33 on the U.S. charts, he played a concert in Madison Square Garden (Muhammad Ali was the master of ceremonies, and the "undercard" for both included Joan Baez, Joni Mitchell, and Roberta Flack), and another in the Astrodome -- to raise awareness of Carter's plight and money for Carter's legal efforts.
At the show, Ali, according to the New York Times, told the crowd it had "the connections and the complexion to get the protection" Carter needed.
Also at the show: Earl Monroe, Walt Frazier, Bill Bradley, Joe Frazier, Candice Bergen, and Dyan Cannon.
In 1975 Dylan also wrote "Catfish," which wasn't officially released until 1991, on "The Bootleg Series Volumes 1-3." At Dylan's site, you can listen to a bit of the song or just graze some sample lyrics:
Used to work on Mr. Finley's farm
But the old man wouldn't pay
So he packed his glove and took his arm
An' one day he just ran away.
Catfish, million-dollar-man,
Nobody can throw the ball like Catfish can.
Come up where the Yankees are,
Dress up in a pinstripe suit,
Smoke a custom-made cigar,
Wear an alligator boot.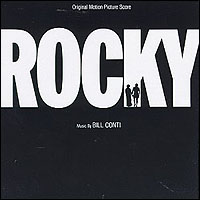 "Gonna Fly Now" was Oscar-nominated and continues to fire up jocks and fans.
1976: "Gonna Fly Now"
The American Film Institute recently came out with its list of the top 100 movie theme songs. Only one sports movie theme: Bill Conti's "Gonna Fly Now," from "Rocky," cracked the list, finishing in the No. 58 position. But seven other tunes were among the 400 nominees
:
"Eye of the Tiger" ("Rocky III")
"Secret Garden" ("Jerry Maguire")
"Against All Odds" ("Against All Odds")
"I'm Alright" ("Caddyshack")
"M'Appari Tutt' Amor," ("Breaking Away")
"Through the Eyes of Love" ("Ice Castles")
"Werewolves Of London," ("The Color Of Money")
No songs from "Chariots of Fire" ("Titles," which was No. 12 on Billboard's 1982 pop chart, would be the main candidate) made the list of 100 or 400, because only American films were eligible, and the movie was a British production. However, Vangelis, who composed the original score, did win an Oscar for his work on the film.
1977: Phil Rizzuto's "Paradise"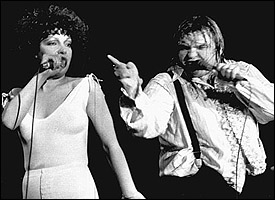 Meat Loaf found paradise in Phil Rizzuto's "squeeze play" call.
It's the greatest vocal performance ever by a baseball Hall of Famer -- Phil Rizzuto's play-calling in Meat Loaf's 14-minute epic about love in the back seat, "Paradise By the Dashboard Light." Mr. Loaf, a Yankee Stadium regular, asked Rizzuto to do the recording and the Yankee broadcaster immediately agreed. He got the script when he arrived at the studio the next day:
"OK, here we go. We got a real pressure cooker going here, two down, nobody on, no score, bottom of the ninth. There's the wind-up, and there it is, a line shot up the middle, look at him go. This boy can really fly! He's rounding first and really turning it on now, he's not letting up at all, he's gonna try for second. The ball is bobbled out in center, and here comes the throw, and what a throw! He's gonna slide in head first, here he comes, he's out! No, wait, safe. Safe at second base. This kid really makes things happen out there. Batter steps up to the plate. Here's the pitch. He's going, and what a jump he's got. He's trying for third, here's the throw, it's in the dirt -- safe at third! Holy cow, stolen base! He's taking a pretty big lead out there, almost daring him to try and pick him off. The pitcher glances over, winds up, and it's bunted, bunted down the third base line. The suicide squeeze is on! Here he comes, squeeze play. It's gonna be close. Here's the throw, here's the play at the plate. Holy Cow, I think he's gonna make it!"
In an interview with the Baseball Hall of Fame (Question: "When this recording artist named Meatballs did a song, was that really your voice?"), Rizzuto said, "My son came home from college all excited. He said, 'Dad, you're a rock star! You're on Meat Loaf's album!' I asked him what he was talking about. I had forgotten all about doing this because it took about six months to get the album completed. This was one song out of a bunch that he had in there. So my son said, 'Here, listen to this record.' I'm listening to it and I made him play it about six times before I finally realized what was going on."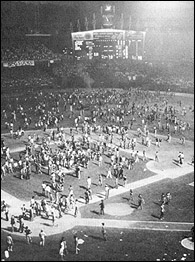 1979: Disco Inferno -- Burn that mutha down! Disco Demolition Night didn't go according to plan, forcing the Chicago White Sox to forfeit a game.
In a
"10 Burning Questions" interview
with Page 2, Meat Loaf said, "He was real flat when he did it. So I had to run around the studio like I was circling the bases."
1979: "We Are Family"
No team ever adopted a song as thoroughly as Willie "Pops" Stargell and the 1979 Pittsburgh Pirates, who with their fans danced and wiggled and hugged and won the World Series to the strains of "We Are Family," the hit R & B song by the sibling group Sister Sledge.
Speaking of family, it was "Pops" who brought the team together, said Pirates infielder Phil Garner: "To keep factions from developing, you have to have someone that the blacks respect and the whites respect, and the guy that puts that all together for us is Stargell."
1984: Bo & "Bolero"
Music figures heavily in figure skating, which is only one of the reasons some people don't consider it a sport. That goes double for ice dancing.
But the sports world took notice in 1984 when Jayne Torvill and Christopher Dean began ice dancing to a song that had been recently popularized by Bo Derek in the movie "10" -- Ravel's "Bolero," an erotic tale of two lovers. Like Bo and inspired by "Bolero," Torvill and Dean reached simultaneous perfection at the 1984 Winter Olympics, climaxing with a dozen perfect sixes, including nine for artistic expression.
The routine was unusual in that few, if any, ice dancing couples had performed an entire routine to one composition. And it was controversial because, well, they went with the music. Which meant they began their free dance with knees on the ice, not arising for almost a minute. And then & well, it was hot. Reporters described it as "steamy" and "suggestive." The pair were rarely more than a few inches apart. And it was not lost on anyone that, as the All Music Guide puts it, the song includes the "longest-sustained single crescendo anywhere."
Later in 1984, Bo Derek tried to reach another career peak with "Bolero" (the movie with the tagline "An adventure in eXtasy") -- which quickly made its mark as one of the all-time worst movies.
Now that "Bolero" has been done, Bizet's "Carmen" is the song to play if you're serious about winning an important figure skating competition, according to the Skate Music List . Some of the more "questionable cuts" used by prominent figure skaters over the year: "The Muppet Show TV Soundtrack," used by Katarina Witt in her short program at the 1981 Worlds, and Tonya Harding's long-program medley at the 1991 U.S. Nationals, which combined the theme from "Batman," "Send In The Clowns," and Tone Loc's rendition of "Wild Thing."
Harding's strange combination turned out to be a winning one. Not only did she upset Kristi Yamaguchi, she also became the first woman in the world to land a triple axel -- and she did it with the strains of the "Batman" theme in the background.
1984: "In the wink of a young girl's eye"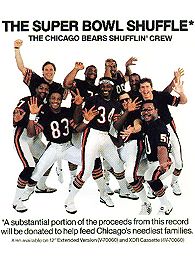 It ain't braggin' if you back it up. But it ain't exactly music either.
Bruce Springsteen's "Glory Days," from the blockbuster "Born in the U.S.A." album, went as high as No. 5 on the U.S. singles charts. Like so many of his songs, this one seemed to be at least partly autobiographical. Which set many in his boyhood hometown of Freehold, New Jersey. wondering just who he was singing about here
:
I had a friend was a big baseball player
Back in high school
He could throw that speedball by you
Make you look like a fool, boy
Saw him the other night at this roadside bar
I was walking in, he was walking out
We went back inside sat down had a few drinks
But all he kept talking about was
Glory days, well, they'll pass you by
Glory days, in the wink of a young girl's eye
Glory days, glory days, glory days
Springsteen says the "speedballer" verse "actually happened." Though the lyrics aren't all that optimistic, the rousing bar band sound of the E Street Band has made it a popular stadium song -- and who hasn't had some glory days to sing about?
1985: "Put me in, coach"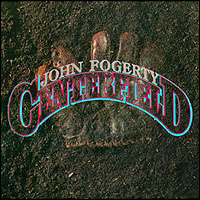 Love it or hate it? "Got a beat-up glove, a homemade bat ..."
John Fogerty, who'd seen plenty of rock 'n roll glory as the star of Creedence Clearwater Revival, had a great career revival with the release, in Jan. 1985, of his solo album, "Centerfield." The disk hit No. 1, and the title song, as you know, has become a stadium stable. While touring in 1997, he played the song in concert using a baseball-shaped guitar.
His inspiration? As a boy, turned on by the Treniers song, "Say Hey (The Willie Mays Song)," he went to see his hometown San Franciso Giants play at Candlestick, and sat in the center field bleachers in order to get close to Mays. Then, decades later, when he was putting together the album, he felt so good about what he was doing that, he said, "I felt as if I could play center field at Yankee Stadium which, of course, I could never do." This brought back memories of boyhood baseball dreams. Then came the song.
He's still surprised that it's become such a popular baseball anthem. ""I'm not nearly clever enough to have figured out that would happen," he says.
1992: The Fab Five blows up
Big time hoops and hip hop merged into one seamless unit when the Fab Five, the University of Michigan's great young early '90s team, shaved their heads and put on baggy shorts, black socks, and Nike Air Max kicks -- and started a sensation.
The look "started in the streets as an urban kind of uniform, was made popular through music, and made its way to the courts," Annet Couwenberg of the Maryland Institute College of Art told Maryland Newsline.
Chris Webber, Jalen Rose, Juwan Howard & Co. also inspired Mitch Albom's first "five" book, entitled: "Fab Five: Basketball, Trash Talk, the American Dream."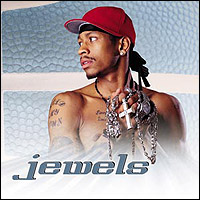 Iverson had the look and the hook but his album was shelved.
2000: AI's ego alteration
In mid-October of 2000, Allen "Jewelz" Iverson was getting ready for his MVP season . . . and his new hip-hop career. His soon-to-be released "40 Bars" off his "Non-Fiction" album was getting some heavy airplay in Philly, and some important folks were reading the lyric sheets (some of the offensive stuff was edited out in radio play).
In his single, Iverson rhymed "maggots" with another word we'd rather not say, and the Martin Luther King Jr. Association for Nonviolence, the NAACP and the Gay and Lesbian Task Force as well as NBA commissioner David Stern took note. "The lyrics that have been attributed to Allen Iverson's soon-to-be-released rap CD are coarse, offensive, and antisocial," said Stern. Iverson changed the lyrics, then decided to shelve the album entirely under pressure from the NBA.
2001: The return of "God Bless America"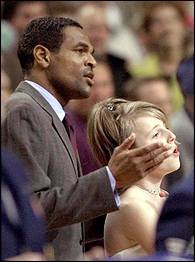 2003: Blazers coach Maurice Cheeks provided a valuable assist for a young singer during her rendition of the national anthem.
In a wave of patriotism since the attacks of Sept. 11, 2001, U.S. sports events have featured "God Bless America" on a regular basis, in addition to the traditional rendition of "The Star-Spangled Banner" (the national anthem was first played at a baseball game in 1918). In New York City, the Yankees have played "God Bless America" at every home game since 9/11. Some have faulted the Yankees for excessive jingoism, and earlier this month, during a visit to Yankee Stadium, Carlos Delgado of the Toronto Blue Jays made a silent protest when "God Bless America" was played by leaving the field and the dugout. "I"I am not pro-war. I'm anti-war," he explained. "I'm for peace."
The song's sports history goes way back. Irving Berlin wrote "God Bless America" for Kate Smith, and she sang it for the first time on Nov. 11, 1938, on her radio program. The Philadelphia Flyers were a long way from being born.
The song was a huge hit from the outset, but the Flyers made it especially popular in Philly when they played it, in place of the "The Star-Spangled Banner," before their Dec. 11, 1969, home game. The Flyers won, and won again, and won again when Smith's recording subbed for the national anthem. Three times Kate Smith sang the song live at The Spectrum, and all three times they won. Her most critical live rendition came before the Flyers won the Stanley Cup, beating the Bruins 1-0 on May 19, 1974.
By the end of the 1975-76 season, the Flyers and Kate had combined for two Stanley Cups and a 41-5-1 record. About a year after her death in 1986, Philadelphia unveiled a bronze statue of the singer outside The Spectrum.
2004: The wardrobe malfunction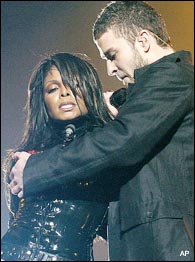 Oops!
Now's the perfect time to make a documentary about the evolution of the Super Bowl halftime show, from the Grambling marching band to Anita Bryant to "Up with People," and, finally, to the perfect ending, Janet Jackson's 2004 nipple exposure.
Justin Timberlake, who ended his duet with Jackson by ripping off the top of her bustier, almost immediately came out with an apology for what he termed a "wardrobe malfunction," and that phrase has become the catch phrase of the year. Jackson talked about a "wardrobe reveal" gone awry. MTV said the incident was "unrehearsed."
But most people didn't buy it. Timberlake and Jackson's rendition of "Rock Your Body," ended with Timberlake singing, "Let's do something, let's make a bet, 'cause I gotta have you naked by the end of this song."
MTV, which produced the halftime show, had promised some "shocking moments," but in its official apology after the incident, said, "Our goal with the Super Bowl halftime show was to produce an entertaining stage experience with a positive message about empowerment and voting."
MTV succeeded. Sports fans flocked to ESPN's SportsNation to vote on Jackson's stunt. Of the 237,000 who voted, nearly 61 percent said the exposure was "intentional."