There are two big problems with theme songs:
They're almost always lousy;
Nevertheless, they're played incessantly.
SPORTS & MUSIC

Page 3 will examine the sports and music connection all summer long.


This leads to problem No. 3
:
You're walking the dog or sitting in a doctor's office or, you know, just hanging out, and, for God's sake, the theme from "Gilligan's Island" pops into your head. And it won't leave. For days. We love them, we hate them, and, sadly, we sing them. But most folks who read this are lucky enough not to live in England, where soccer theme songs regularly hit the charts running and zoom to No. 1. That's what happened when England beat Germany three years ago. Two guys wrote a song that lauded national team coach Sven Goran Eriksson. And it was musical magic. Who could resist lyrics like these?
"Sven, Sven, Sven Goran Eriksson.
"He's a lovely geezer, but don't forget that he's from Swe-den."
Mookie Blaylock's crossover
In 1990, a newly-formed Seattle grunge band that loved Mookie Blaylock sent out a demo tape. The band had no name, so, perhaps to provide
some
kind of identity, they stuck Mookie's card in the sleeve. The tape was good. A job opening for Alice in Chains followed, and the nameless band decided to call itself "Mookie Blaylock." After about 15 shows, the band changed its name to Pearl Jam. "I remember seeing Oklahoma on TV when Mookie was a senior," bass player Jeff Ament told Steve Kelley of the Seattle Times in 1993. "He hit about 12 or 13 three-pointers. I was really impressed. And there's no question his name is unique. When you hear it, it kind of sticks. But the joke kind of wore off, and we really didn't want to be known as a jock band." But when Pearl Jam hit it big, the band didn't forget Mookie. Their first, huge album, "Ten," was a tribute in itself, named after Blaylock's uniform number.
Oh, I love me ...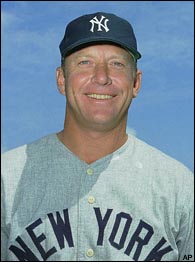 The Mick was a great player, but we never wanted to be his "fly ball."
Our biggest sports heroes almost never fail to spawn at least a couple of tribute songs. And if you want to talk about an East Coast bias, look right at New York's finest (players): in 1941, Les Brown and His Orchestra honored the finest in pinstripes with "Joltin' Joe Dimaggio." Six years later, Jackie Robinson would be hailed in song. "Did You See Jackie Robinson Hit that Ball?," recorded by the Count Basie Orchestra, hit No. 13 on the charts. Then, after the Giants' magnificent triumph in the 1954 World Series, Willie Mays joined the Treniers in their recording of "Say Hey (The Willie Mays Song)." Then came Mickey Mantle. During his Triple Crown season of 1956, he managed to find time to join pop star Teresa Brewer in an ode to himself, entitled, "I Love Mickey." Listeners first got to hear it on "The Ed Sullivan Show," which aired on Aug. 12 -- the
entire show
was devoted to honoring the Yankees. Brewer sang her song, and (it was assumed) Mickey joined in the fun from off-stage. Two weeks later the single hit WMGM's chart at No. 30. Here's what they heard:
I love Mickey! His muscles are a mighty sight to see
I love Mickey! The one I want to steal right home with me
I'd sacrifice most anything to win his manly charms
I'd like to be a fly ball and pop into his arms
Wait. "I'd like to be a fly ball and pop into his arms"? Listeners caught on. This was a
bad
song. It dropped off the charts and into oblivion.
Luv ya, Blue
One of the best remembered NFL team tributes is "Luv Ya Blue," a hymn to the late 1970s Oilers of Bum Phillips, Earl Campbell, Dan Pastorini, Billy "White Shoes" Johnson, etc. Maybe it's because, for a brief time in the late 1970s, it actually looked like the Oilers would be Texas' team. Alas, it wasn't to be.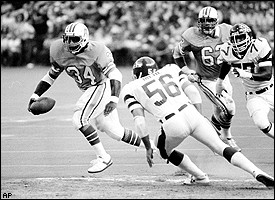 As Earl Campbell rumbled, Oilers fans sang along to that impossibly catchy theme song.
But the song lives on:
Look out football, here we come,
Houston Oilers, number one.
Houston has the Oilers, the greatest football team.
We take the ball from goal to goal like no one's ever seen.
We're in the air, we're on the ground ... always in control
And when you say the Oilers, you're talking Super Bowl. 'Cause we're the Houston Oilers, Houston Oilers, Houston Oilers, Number One.
Yes, we're the Houston Oilers, Houston Oilers, Houston Oilers, Number One. We've got the offense.
We've got the defense.
We give the other team no hope. 'Cause we're the Houston Oilers, Houston Oilers,
You know we're gonna hold the rope.
You can't put "Tennessee Titans" in there. Doesn't work. So relive the glory days.
LISTEN to the Houston Oilers' theme song from the late 1970s. Warning: This one will stick in your head
You mean someone wrote this?
Most team theme songs are so insipid that it's hard to imagine someone actually sat down and wrote the thing. The more complicated ones, like "Meet the Mets," sometimes even require two songwriters. "Meet the Mets" was penned by two pros, Ruth Roberts and Bill Katz, in November 1961, six months before Casey Stengel and his Amazin's played their first regular-season game. It was selected as the official team theme by none other than Mets president George Weiss. In case you've forgotten the words, here's the first verse and a little more:
Meet the Mets ... Meet the Mets,
Step right up and greet the Mets,
Bring your kiddies, Bring your wife,
Guaranteed to have the time of your life,
Because the Mets are really sockin' the ball,
Knockin' those home runs over the wall,
East side, West side, ev'rybody's comin' down,
To meet the M-E-T-S Mets of New York town Oh, the butcher and the baker,
and the people on the streets,
Where did they go?
To meet The Mets
Leonard Koppett of the New York Times was merciless in his review of the tune. No doubt he was already sick of it by the time he wrote this screed, in May 1963: "From an artistic point of view, the work must be judged more harshly. There is little in the score of interest to a mid-20th century audience. The harmony is traditional; no influences of atonality or polytonality can be found. In fact, it's sort of atonal." We still enjoy it. It's perky!
LISTEN to the song and draw your own conclusions
How to break The Curse: Bring back "Tessie"
Boston's Royal Rooters, most active in the early 1900s, sure knew how to heckle: they took their unofficial theme song, "Tessie," by Billy Murray, and twisted the lyrics around to antagonize the opposition.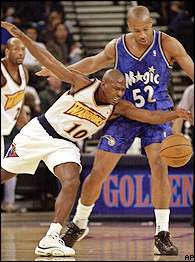 Pearl Jam is now a world-famous rock band, while Mookie Blaylock ended his career in Golden State.
The real words go like this:
Tessie, you make me feel so badly,
Why don't you turn around,
Tessie you know I love you madly,
Babe, my heart weighs about a pound
But during the 1903 World Series, whenever Honus Wagner came up, they serenaded him with:
Honus, why do you hit so badly? Why don't you take a backseat and sit down?
The Red Sox won the Series. And sang lovingly-altered Tess variations to their heroes:
Cy Young, you know I love you madly ...
So, Red Sox Nation, let's go!
Derek, why do you hit so badly? Why don't you take a backseat and sit down?
Or, maybe,
Man-ny you know I love you madly &
Well, it's worth a try, anyway.
LISTEN to "Tessie" and insert your own alternate lyrics
Hey! Broadway ripped off my club's theme!
Rodgers and Hammerstein probably had never heard of Liverpool when they wrote "You'll Never Walk Alone" for "Carousel," the Broadway smash hit, in 1945. Twenty years later, two lads from Liverpool laid claim to their title of best songwriting duo. But what Liverpool taketh away, it giveth back.
Gerry and the Pacemakers, the band the Beatles aimed to eclipse in their earliest years, recorded the song in 1963, and their version topped the British charts.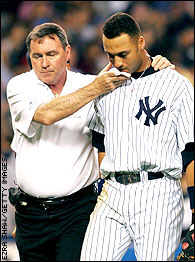 Derek Jeter could really take one on the chin if Red Sox fans started singing again.
Six weeks later some Liverpool fan started singing at Anfield, and the Liverpool Football Club had a new theme song, according to Robert Butler's "Lives of the Great Songs." Not all fans are aware of its origins, though, writes Rodgers. One Liverpool supporter went to see a local production of "Carousel" in 1994, and was struck silly when he heard the character Julie sing, "When you walk through a storm/Keep your head up high/And don't be afraid of the dark." "I couldn't figure it out," the fan told Butler. "I didn't know what it (the Liverpool theme) was doing there." It's not hard to understand his confusion, considering how the song has slithered into the collective unconscious of Anfield regulars. Exhibit No. 1: Carl Sutton. He'd been hurt badly in a fall and was unconscious for 10 days in a New York hospital when Michael Owen, Robbie Fowler, Jamie Redknapp, and other Liverpool stars rushed him a copy of the tune. Sutton's father told the story to the British tab, The News of the World, on Sept. 19, 1999. "Carl was in intensive care on a life-support machine, and we sat by his bed listening to the tape. Suddenly he started mumbling. My wife put her ear to his mouth, and he was singing along to 'You'll Never Walk Alone.' "We were all there and couldn't believe it. It wasn't top voice or anything but you could hear it. These players have helped save Carl's life, and we'll be forever grateful." No word on whether anyone's ever awoken from a coma singing "Meet the Mets!"
LISTEN to the Pacemakers' version of "You'll Never Walk Alone," and see if you believe in its healing powers
Explain, Gaskin, explain!
No doubt about it -- Mike "King" Kelly, a Hall of Fame slugger and speedster was one of the 19th century baseball greats, leading Chicago to five pennants with a great bat and some outrageous baserunning. After he was dealt to the Braves in 1887, Kelly stole 84 bases that season and was one of the best doubles hitters in baseball.
So the chant would go up from the stands when Kelly stood on the base or at the bat: "Slide, Kelly, slide!" That spawned a hit song. George J. Gaskin 1893 tune went like this:
Slide, Kelly, slide!
Your running's a disgrace!
Slide, Kelly, slide!
Stay there, hold your base!
If someone doesn't steal you,
And your batting doesn't fail you,
They'll take you to Australia!
Slide, Kelly, slide!
Slide, Kelly, slide
There are only a few mysteries, which we haven't had time to research:
1.
Why was Kelly's running a disgrace?
2.
If he's a good base stealer, why shouldn't he try to steal?
3.
Australia? It doesn't even
rhyme
. Guess you had to be there.