WESTWOOD, Calif. -- There's no better place to talk sports movies with actor Tim Daly than Pauley Pavilion, home of the storied UCLA Bruins.
Daly is one busy guy. Fresh from the Sundance Film Festival debut of his basketball movie "Edge of America" -- a film he produced as well as acted in -- the former star of the sitcom "Wings" opens this week in another sports film, "Against The Ropes," the boxing flick with Meg Ryan and Omar Epps. Daly also recently finished co-directing "Bereft," and he's preparing to start production on "Return to Sender" with Kelly Preston and Aidan Quinn. While the setting might seem ideal, it's not a perfect plan: UCLA has been on a six-game losing streak. And Daly's only connections to Bruin Basketball were an occasional pickup game at Pauley and a Lew Alcindor sighting (before he became Kareem ...) at a local grocery story.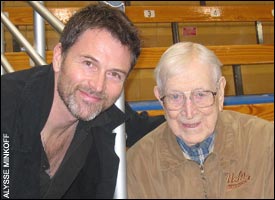 Meeting legendary coach John Wooden was the highlight of Tim Daly's day at Pauley Pavilion.
But one thing is clear from the start: Daly is a willing co-conspirator and Wing(s)-Man. (OK, now that we've dispensed with that pun about his eight-year tenure on NBC's hit sitcom ... it's game on!) Our first stop is the UCLA student store, where I convince Daly to buy a copy of John Wooden's classic book, "They Call Me Coach." "You mean he's actually going to be at the game?" Daly asks. "Man, I really wish my son Sam was here. He'd be all over this. And he'd be able to rattle off the stats of just about every player out there." Daly's 18-year-old son plays guard at Middlebury College in Vermont. Daly and his wife, actress Amy Van Nostrand, and their 14-year-old daughter, Emelyn, happily make their home in Vermont, well away from the Hollywood spotlight. As we walk out onto the floor at Pauley, Tim looks up at the banners flying from the rafters, "He won how many national championships in a row?" And before we can count to seven and I can explain why UCLA missed a year in 1974 ... we are greeted warmly by the Wizard of Westwood himself who personalizes Sam's copy of his book and formally welcomes Tim Daly to his first UCLA basketball game. "Wow! When my publicist said I would get to meet the coach, I had no idea I'd get to meet Coach," Daly says. "I can't believe he's still coming to games. This is so cool."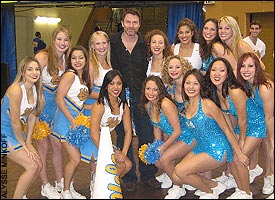 Of course, Daly did enjoy meeting the UCLA spirit squad, too.
Coach Wooden seems to have the same effect on just about everybody. They instantly transform into awestruck little kids, "He is really, really old. And it's so fantastic that he's still here. I can't believe it -- it's like he's built into this place." And as we take our seats in the student section, Daly cautions me again; "I have nothing invested in the Bruins, so I hope I don't let you down." But the warm welcome of the students instantly makes Tim feel like a part of the Bruin family. And, of course, the kids are all huge fans of "Wings." "They must not sleep," Tim chuckles. "They must stay up watching the reruns on Nick-At-Night." In between learning our cheers, chants and taunts; Tim gets to know the kids sitting around us. Turns out, we're sitting in a virtual sea of economics majors. Tim is mock horrified, "This makes me worry about their values a little bit. I hope there are some psychology majors or literature majors up there too." He laughs, "Where are all the film and theater majors? Are they at the basketball game? Nooooooo. They are all off finding their center. We need more artists who appreciate sports! I've always thought there was a huge similarity between sports and theater." Sadly, the UCLA basketball program boasts an inordinate amount of fair-weather fans, and Pauley is only about two-thirds full. The arena is eerily subdued, but the Spirit Squad is all smiles. Working tirelessly to fire everybody up, they quickly corral Tim for a photo-op. "Wow, those Girls are always smiling, aren't they?" he says.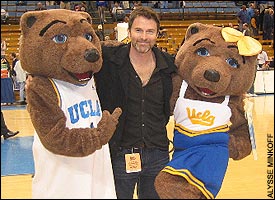 Joe and Josie Bruin celebrate the victory with UCLA's newest good-luck charm.
As the Bruins take the floor I realize I am about to introduce this charming, gracious and funny man to the utter heartbreak of being a Bruin fan. The University of Washington enters Pauley on a five-game winning streak. At tipoff, I hope that the autographed book and the photos of Tim with the spirit squad and John Wooden will be enough to ease the pain of yet another UCLA loss. By the time he nails "The Eight-Clap" cheer, I notice an odd phenomenon on the scoreboard: UCLA is actually up by 11 points. Tim is positively giddy. "I'm going to go out on a limb here," he says just before halftime, "and predict a 17-point UCLA victory." I am speechless. I've always been a romantic where my Bruins are concerned, and I am not about to argue with him. As the action unfolds, Daly explains what draws him to sports. "Acting and sports are virtually the same thing: You practice and practice something. And then there is a period of time: Curtain up to curtain down. Or when the whistle blows until when the whistle blows -- that you have to perform," he says. "Athletics is more of an improvisation, but it is a finite period of time where you have to forget about all of the practice and be in the moment and make whatever you're given work. So there is a huge similarity there. "When I was growing up, my parents were both actors: Whenever I was going off to Little League, they'd say: 'Are you going off to Little League rehearsal?' And I'd say: 'Oh, Mom, no. It's called practice. You can't call it rehearsal -- I will get killed." Talent clearly runs in the family. Tim is the brother of actress Tyne Daly. "My problem, growing up is that I wanted to be a professional athlete ... in several sports. But I also wanted to be a doctor. And a cowboy. And an astronaut. And a criminal. I realized that in order to do all of those things successfully, you had to devote your entire life to that one thing. So, I found myself in the perfect profession: I get to pretend to do all of those things." But who gets more girls: Basketball players or actors? Daly thinks for a moment, "That would depend if you're Brad Pitt or Jason Alexander." And cracks himself up. "But I'm thinking probably ... basketball players." As we are handed the stat sheets at the start of the second half, I am totally shocked: UCLA has played its best basketball in more than a month. Bruins coach Ben Howland keeps making a series of changes in his lineup, and the bench ends up scoring 25 points. Daly, who shares co-directing duties with noted cinematographer Clark Mathis on the film "Bereft," can appreciate a good coach.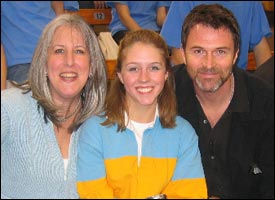 Daly and our writer tried to blend in with all those economics majors in the UCLA student section.
"Directing is very much like being a coach. You make all of these plans, and you get into the game, and it's like: 'Oh, my God, this isn't working. Timeout! Change the entire plan to make this scene work. I loved directing. It was a great time for me." And producing "Edge of America," a film that is close to his heart on so many levels was another kind of joy. "I loved showing up on the set and seeing that a lot of people had jobs -- and you know it's because you spent six years trying to get something done. "The movie is about this black guy, played by James McDaniels, who comes from Texas to teach English on an Indian Reservation in Arizona and winds up coaching the women's basketball team and taking them to the state championships. The cool thing about it is that on one level, it works as a kick-ass sports movie. It's a really exciting, raise-the-roof basketball movie. And on another level, it's a profound story about an American minority who goes to live as a minority amongst another American minority. Everybody's cultural assumptions about their positions in the White uber-culture don't work. And they find a way of coming together, not only as a team, but as human beings." With two minutes left in the game, Washington rallies from a 10-point deficit to within one. Well, at least Tim will be able to experience both the ecstasy and the agony of Pauley. But he is unwavering in his support, "OK, we're not going to win this by 17. But we're still going to win." We're on our feet for the last two minutes, holding our breaths and high-fiving while Dijon Thompson and Cedric Bozeman each nail both of their free throws in the final 30 seconds to ice UCLA's 80-75 victory. Afterward, the mascots, Joe and Josie Bruin, pull Daly out onto the court for a victory photo. "There sure are a lot of happy people running around with megaphones!" Tim laughs. "This was a very collegiate experience! I am still a little upset that they were all majoring in economics, though!" As we walk out into the February night, talk turns to "Against The Ropes," where Daly plays a sports announcer. In his typically wry style, Daly says, "Here's something that's always fascinated me: Tuxedos and boxing. I'm fascinated by boxing. On one level, it's so horrible. Two people are trying to give each other brain damage. And yet there is this bizarre group of people who are dressed up in tuxedos and gowns to watch the most brutal of all sports. The reality of boxing is that it touches some primordial blood lust. And as horrible as it is, intellectually, I cannot help but be aroused by it on some lizard-brain level." Despite his success in theater, television, feature films and now broadening his career to include producing and directing, the challenge Daly really wants to embrace most is portraying a professional athlete. "The one thing that's killing me is that I have not been able to play, in my career, a professional athlete. And now I'm too damn old so I have to play a coach or something ..." Daly has his eyes on Dale Earnhardt. "There is not an actor on this planet who will play Dale Earnhardt better than me. I'm at the perfect age to play him because I can play him younger, as well as over a period of time. I just think he's got a fascinating story because he had a passion for something that started out as something that was scoffed. And it has become a huge and important part of the business world, as well as the sports world." As we say goodnight, it's clear I've made a Bruin convert out of Tim Daly. "Listen, as you know I had nothing invested in the UCLA Bruins when I first walked into Pauley," he says. "But because I am completely responsible for breaking their six-game losing streak tonight by my sheer presence and my will ... I feel, now, closer to them than ever. ... And that picture with all those Pom-Pom girls didn't hurt, either!"
Alysse Minkoff has written for Ladies Home Journal, Cigar Aficionado and MSNBC.com and can be reached at AGirlReporter@aol.com.