LOS ANGELES -- Last fall, talk-show host Craig Kilborn traded jumpers with the Minnesota Timberwolves during the team's training camp.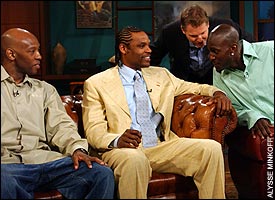 Craig Kilborn, second from right, provides a little coaching for Sam Cassell, Latrell Sprewell and Kevin Garnett.
On the eve of the NBA's All-Star Weekend, three Timberwolves -- Kevin Garnett, Latrell Sprewell and Sam Cassell -- returned the favor by invading Kilborn's house as his guests on "The Late, Late Show." Sounded like too much fun. Page 3 just had to go along for the ride. A die-hard Minnesota fan, Kilborn, 41, welcomed Minnesota's three leading scorers to his CBS show, along with actor Chris Noth, who was man enough to admit he doesn't possess a whole lot of knowledge about the NBA. Then, there was Sports Illustrated swimsuit model Marisa Miller, who is as charming as she is gorgeous. Probably more so. Kilborn, KG, Spree, Cassell and Noth: Not a bad bunch of chick magnets to be sharing space with a swimsuit model. But which of them will have won her heart by the end of the taping? SI's managing editor, Terry McDonell, has the scouting report on at least one of them: "(Kilborn) has a tradition of making himself charming to swimsuit models. But will he prevail in such August company? I do not know." Kilborn is quick to dismiss this, "People ask, you have these beautiful women on, and we flirt on the show because it makes for good TV. They ask if I have dated any of these people. Sadly, the only guest I've even gone out to have drinks with is Ben Stein. I'm sorry to let you down." Kilborn, who played basketball at Montana State from 1981 to 1984, did his best George Plimpton imitation during his stint at Timberwolves camp. There were, of course, a few problems. "Defense bores me, and I refused to learn offense," he said. "It's like going back to school -- who wants to study? I just want to coast. I said, when I get in the game, make sure they play zone. And, of course, it was man-to-man defense, and Randy Whitman called a play for me, and I don't know if I was in the right spot. I was supposed to pop out and get a pick and get a jumper from Sam Cassell, but Sam went out on his own." He laughs, "Either the play broke down because I was in the wrong place or Sam just took it upon himself. I asked (coach) Flip (Saunders) what happened there. He said, 'Sam went on his own. He's known to do that on occasion.' "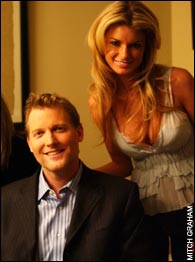 Although he regularly hangs with beautiful women like SI swimsuit model Marissa Miller, Kilborn says he never leaves the set with them.
The good news: Kilborn did master the chest-bump with Sprewell. He made a few really nice passes. And he played Garnett in an epic game of H-O-R-S-E, which he lost ... intentionally. "I could have beaten him," Kilborn says with a wry smile, "But here's what Flip told me: If I had beaten him, KG would have kept me in the gym until he beat me. And I just don't have that kind of time." He adds, sotto voce, "I'm a KG guy and I want to keep his confidence up." But on tonight's show, Kilborn has home-court advantage. The Timberwolves are in his environment, and they are a bit nervous in their shared dressing room. It's astonishing: With KG, Spree and Cassell all on hand, there is surprisingly little trash talk. Of course, the Wolves perk up when asked about Kilborn's stint in their gym. Spree is the first to offer. "He actually made a nice pass," he says. And what about that play where Cassell went out on his own? "I was too damn tired," Cassell says. "I was injured," Sprewell adds. KG then diplomatically interjects, "I think that was a play where Craig wasn't open, and Sam had to do what he had to do at the time. The shot clock was running down, so he had to take the shot. Craig felt like he got sort of blackballed from then on. But he wasn't open. And Sam doesn't turn the ball over. So, that's what happened." Garnett says there's only one way to put the D back in Kilborn's game, "If we let him know that he's going to get the ball on the offensive end, maybe he'll play some defense." "I've got some advice," Spree chimes in, "Tell him that he's got to deny the man as much as possible and not let his guy catch the ball. Because once that guy catches the ball, it's a wrap. It's over! So that would be good advice." "I think the best thing is probably his shot," Cassell adds, weakly. "He can shoot," KG assures. "I've seen him hit two or three in a row. He can pass. He can shoot. He's not that bad." But Kilborn's reluctance to learn the plays in Saunders' playbook rankles Garnett. "Listen, there's no way you're going to learn -- there's no way that you're going to get better -- if you don't learn the plays. The plays are what make you. You gotta learn the plays." What he lacked in preparation, Kilborn made up for in style. He played the T-Wolves' intrasquad exhibition game in floppy black socks in front of 6,000 fans. Pistol Pete would have been proud of the socks. The Wolves exit the green room and take the stage for the show. Saunders takes the back row in the studio audience, standing behind what looks like the entire state of Minnesota. While the crowd cheers wildly for the players' entrance, Saunders explains why he's not on the show: "I promised Craig that I'd be a guest after we win an NBA championship. I don't want to jinx it." Not surprisingly, the crowd goes crazy when Kilborn announces Miller, the swimsuit cover girl -- but the loudest ovation of the night is for Kevin Garnett. The Wolves stumble a bit during Kilborn's "five questions" segment, unable to name even one Eagles song in the 10-second time period. After that, Kilborn does his own mock "I Love This Game" NBA promo, and it goes a little like this: I love this game because KG is the highest paid player in the NBA, and I still get more women then he does. Spree just nods. Sam keeps a straight face. KG squirms a bit. It is priceless. Saunders has his own post-taping evaluation of his players: "They did really well. They were witty. Energetic. Very personable." Long pause. Very long pause. "And they kept Craig in his place. Where he needs to be." "The best thing about having Craig at training camp is that he was a team player," Saunders adds, "and the worst thing about his game is that he's not athletic anymore. I should have gotten him 10 or 12 years ago." Walking back to his office at the end of the night -- without, incidentally, the swimsuit model, who left alone -- Kilborn asks, "The guys had fun, right?" And it was clear they had. "KG's a great guy. Sam and Latrell are great people. They were so funny with those five questions. I was going to change it to a Run DMC song. But it was perfect. It was fun. Nobody got hurt." Rustling up all the mock-earnestness he can after a long day, he adds, "What you saw tonight was a wonderful orchestration of questions to Sam. Question to Spree. Question to KG. I think the only people who could do that are Charlie Rose and me. And Charlie Rose doesn't like basketball." Wink, wink. Nudge, nudge. "It was fun."
Alysse Minkoff has written for Ladies Home Journal, Cigar Aficionado and MSNBC and can be reached at AGirlReporter@aol.com.