LOS ANGELES -- The 2004 All-Star Celebrity Game at the NBA Jam Session featured a veritable constellation of stars: Head coaches Sean "P.Diddy" Combs and Lisa Leslie. Assistant coaches Paris Hilton and Ashton Kutcher. And rosters chock full of notables from sports, music and Hollywood.
Page 3 in L.A.
As the NBA All-Star Weekend hits Los Angeles, Page 3 has the celebrity scene covered:
On any given Friday night, the mere thought of watching P. Diddy "boss" around Paris Hilton was enough to get me courtside. Plus, if Ashton showed, could Demi be far behind? I had to find some way to get as close to the action as possible ... so with a little help from the NBA, I landed the gig of working as the "water girl" for both teams. When I ran into P. Diddy earlier in the day (now there's a sentence I never thought I'd write), I told him that I was going to be fetching his "refreshments" at the game. "I'm here for you," I assured him. "Whatever it takes, whatever you need: water, Gatorade, champagne." I started to eye his jewelry. And instantly I wondered: Is P. Diddy a big tipper? Could I parlay my stint as his water girl into something ... bigger? Maybe by this time next week, I'd be running out and getting his lunches. His phalanx of beefy security guards must have noticed that I was coveting the bling, because he was hustled away quicker than you can sing "Diamond's Are A Girl's Best Friend." There was a lot at stake for me. A possible career change. The chance to use the phrase "Whoa Nelly" to a man actually named Nelly and to hear his response. Plus, I could count Mark McGrath's tattoos up close and personal. So, what are the qualities that every good water girl must possess? I asked Flip Saunders, coach of the Western Conference All-Star squad. He was quick to point out that the job had myriad potential pitfalls: "First of all, you have to find out if they want water or Gatorade. And you've got to make sure that it's nice and cold. And you have to make sure that there are no water cups in front of the coach. That's the worst thing that can happen." OK, Coach. Got it. Was there some super-secret towel fold that I needed to know? "No, just don't throw towels at them. And no sharing -- even though some of the guys might want some of the girls' towels, you can't allow that," Saunders said. Okey dokey. When I arrived at the arena, I was given a spiffy water-girl outfit, courtesy of the NBA. (Thank you, Commissioner Stern.) After I hit the court, Bill Walton pulled me aside and offered a few more pointers: "You have to know your players. And no matter what they ask for, give them exactly the opposite. This is where you need people to be on edge. That anger, that sense of angst. Listen, the fate of Western Civilization hangs right here in the balance at the celebrity game, you don't want people to feel comfortable. You need to understand the flow and the rhythm ... and do everything you can to disrupt it.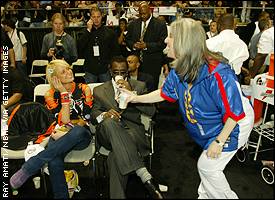 Page 3's Alysse Minkoff carries the water for Paris Hilton and P. Diddy.
"It's all about substance here," he continued. "No egos. No self-promotion. This is the grandest of stages, and the pressure on you, as water girl, will be overwhelming. You could have a huge impact on this game." No doubt. I looked down at my white pants ... and imagined a whole lot of pink Gatorade. The pressure was already overwhelming. The moment was at hand. The Laker Girls and the Clipper Girls had left the court. Walton's last few words of advice -- "Spike The Water" -- were running through my head, and it was tipoff time. As P. Diddy's Buffalo Braves were introduced, I noticed Paris Hilton clutching something at center court. Tinkerbell? She brought her dog? Great, I'm setting up the glasses of water and Gatorade in preparation for the first half, and I'm wondering to myself, "Am I going to have to walk Paris Hilton's dog? Is this how Adam Sandler got started?" I'm not going to bore you with a lot of game notes when what you really want to know is this: What is Paris Hilton really like? The answer: I have absolutely no idea. She spent most of the game on her diamond-encrusted cell phone. She always said "please" and "thank you" when she asked for her beverages: Water for Tinkerbell, Gatorade for Paris. Lovely courtside manners. But about 10 minutes into the game, I noticed that she and fellow teammate Nick Carter were cannodling on the bench. P. Diddy, busy pretending that he was trying to decide between the man-to-man and zone defense, failed to notice that love was in bloom on his bench. But after about the fourth phone call, I decided that the only thing a good water girl could possibly do in this situation was to tell the coach what was going on.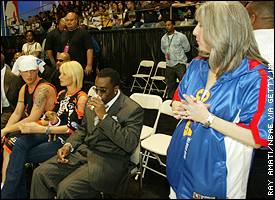 Our water girl keeps tabs on the romance between Nick Carter, left, and Paris Hilton.
"Listen," I said pulling him aside in a way that made his security detail a bit nervous. "I don't mean to be a tattle-tale or anything, but Paris is really spending an awful lot of time on the phone. And when she's not on the phone, she's nuzzling Nick. I'm worried that it's bad for team morale. The other guys are getting jealous. They're playing flat. Missing easy layups. It's gotta stop." He looked over and sure enough, Paris and Nick were all snuggly ... and then her phone rang. And she answered it! "Don't make me have to come over there! We'll have none of that on the bench," P. Diddy said. "This is a family show." Paris just rolled her pretty little eyes and made another call. By the start of the second quarter, Nelly finally showed up. He had been caught in traffic. Meanwhile, P. Diddy fussed with his BlackBerry, and Paris took a few more calls. And then the half ended. Despite all the phone calls and the cuddling and the dog and all those diamonds ... the Braves had the lead.
Helping Ashton save the Lakers
I was assigned to work with Leslie's Minneapolis Lakers for the second half. Ashton Kutcher was desperately looking for a stat sheet. "I need to see where they're damaging us," he muttered as he approached the scorer's table.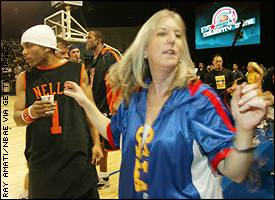 No word on whether Alysse actually said, "Whoa, Nelly," when she handed the rapper his water.
When you're the water girl, preparation is key. You don't want a timeout to be called and not have at least five waters and five Gatorades ready to go. This was a really good concept, until an aggressive paparazzi-type dove in for a shot of Ashton and knocked pink Gatorade all over my nice white pants. Oh well, I thought. At least I didn't accidentally dump it on Richard Jefferson. Leslie was trying to figure out an offense that this team could execute. Nikki Teasley was being consoled on the bench by GM Steven A. Smith when an errant elbow found its way into her eye, and I was mopping the floor. "Aren't you glad you went to journalism school?" Demi Moore joked. Just about every day. Things were not looking good for the Lakers, so I decided to give them some help. I pulled Lisa and Ashton aside and said, "Listen, I hate to tell tales, but I learned a bit about the other team during the first half that might be of some help." Ashton started taking notes. McGrath circled in. Frankie Muniz and Michael Rapaport joined us. "Paris Hilton and Nick Carter are making out on the bench. A lot." Everyone was horrified, especially Lisa Leslie. "That's not appropriate Team behavior," she sniffed. "Can I watch?" Rappaport asked. "Focus," cautioned McGrath.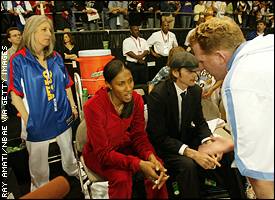 Coaches Lisa Leslie and Ashton Kutcher share some inside info with Michael Rapaport, right.
"And everybody's talking on the their cell phones on the bench," I added. "Paris is taking calls. P. Diddy's checking his BlackBerry. I think there's a way that you can use this knowledge to your advantage." Given the morale boost from my inside information, the Lakers rallied to tie the score at 46-46. With about two minutes left, Demi made her way out of the arena ... but not before stopping to kiss Ashton on the way out. Alas, none of this was enough to save the Lakers, as the Braves pulled out a 60-52 victory. The postgame interviews were refreshingly candid. Bill Bellamy offered no excuses: "We didn't rebound well enough, and we lost. We didn't execute very well. Mark Jackson was fouling ... a lot. And that whole (Cuttino) Mobley substitution, that was a little suspect: They went 'pro' on us." "That wasn't it," teammate Nick Cannon offered. "We didn't play hard. We were too busy in the clubs last night. We were tired." Nick Carter was, in his words, "playing hurt," with a knee injury. MRI report to follow. I wondered if the kissing and the cell-phone chit-chat might have actually helped the Braves? "We only kissed once," Paris corrected me. "And cell phones should definitely be allowed on an NBA bench." Nelly was quick to defend his infamous assistant coach: "I think it definitely helped the team. I think that's what it was. Paris, she executed the perfect game. She sat there, and we already knew what she had in mind. We went out and executed it. "Puff's probably the only guy who could coach the team and own it at the same time. I also think some of his jewelry blinded the other team a couple times." I couldn't help but wonder: Will dogs, making out and cellular telephones soon become SOP on NBA benches? "As general manager of the winning team, I was a little apprehensive about allowing the animals and the cell phones on the bench," Smith said. "But you know what --- my team was able to focus. Block it out. I didn't realize what a good coach Paris Hilton would be, because it was all a part of the plan. She's all about motivation. She went down and started whispering in the guy's ears, and I heard something to the effect of 'video.' Next thing I know, her guys just took it to another level." Although he played for the winning team, Roger Lodge, the host of TV's "Blind Date," was a bit miffed with his coach. "Diddy was so busy on his cell phone making deals throughout the entire game that it was difficult to get on the court," Lodge said. "He really wasn't paying attention to the game. If he's back here next year coaching, half our team probably wouldn't show up because he has no business coaching a basketball team. We were very disappointed. But despite all that, we didn't come to lose tonight." Sometimes you win. Sometimes you lose. But for this water girl, there's always next year to look forward to. And as I packed up my cups and cleaned up the area around the bench, Paris Hilton offered me a bit of practical advice. "Next time," she said looking down at my Gatorade splashed white pants, "I'd go with a darker color."
Alysse Minkoff has written for Ladies Home Journal, Cigar Aficionado and MSNBC and can be reached at AGirlReporter@aol.com.