If you're looking to describe Oakland A's pitcher Barry Zito's musical contribution to his sister Sally's band The Sally Zito Project, you'd first better talk to his Dad.
"We're going for a female 'Ben Folds Five' kinda groove," says Joe Zito.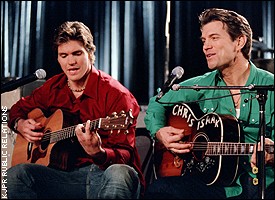 Lefty pitcher Barry Zito here using his right hand to jam with musician/actor Chris Isaak.
And at his age (a sophisticated senior), the elder Zito knows a thing or two about putting together a band that grooves. Joe was Nat King Cole's composer and arranger who met his wife, Roberta, when she sang in the back-up group The Merry Young Souls. Catching up with the Zito's between the sound check and the performance at Los Angeles nightclub Club Lingerie, it's clear that music is a family affair. Think post-modern von Trapp Family: Middle child, Sally (34), does most of the songwriting, plays the keyboards and sings. Eldest Bonnie, (38) sings background vocals. And baby brother Barry, who will turn 26 in May and has a day job pitching for the Oakland A's, plays guitar, sings lead and background vocals; and occasionally writes a song or two. And here's a great piece of Barry Zito Trivia: He uses both hands. Though this Lefty is known for his dirty curve ball, he plays guitar with his right hand. "I've always been ambidextrous," he shrugs. Barry writes and plays guitar right handed -- he only makes a living pitching with his Cy Young award-winning left hand. Guitar and baseball are, pardon the expression, hand in glove for Zito. "I started playing guitar my first big-league Spring Training in 2000. I knew baseball was going to be pretty hellacious and I needed to be sure I had something to take my mind off the game. Something to do in the hotel at night. For a year it was
classic
; I was tuning my guitar and playing 3 chords. And then I started getting some books -- a lot of Dave Matthew's stuff and it really helped my technique." The make-your-own music trend has caught on to the point where the A's Clubhouse is about to become a hootenanny. "Now Tim Hudson, Scott Hatteburg, Rich Harden, have all gone out and bought guitars. So I'm really looking forward to seeing these guys progress. It's great when we can all strum together," says Zito. But it was Sally who saw that her little brother had potential. "Barry was kinda listening to my songs and at one point I wrote charts for him. About a year and a half ago, in the off-season, we started jamming together. Then I got a percussionist, a bass player. And we've just added two backup singers, our sister Bonnie is one. We've done maybe five or six shows together. We're kinda new, so we've just been stacking on as it goes." "Barry is a great songwriter," Sally explains. "Forget that he's only been playing for three years; he's got musicianship as if he'd been writing songs for years. The first song he ever wrote was ridiculously advanced. Our jaws dropped." Singer/songwriter John Mayer has always been a musical influence of Barry's. "The key is to take sophisticated music and dump it into a contemporary pop form," Barry contends. "Most people are like: 'Your body is a wonderland...' Yeah, John Mayer is a pop singer. They have no idea of his musical abilities and that's fine. They don't' need to know. And I think Sally is in that boat... the music is so advanced yet it is wrapped up, sealed and delivered in a pop fashion." "I wrote a song a year ago called 'Boy Next Door'. It's like the whole bar scene... you go up to a girl and talk to her and she has her guard up. She thinks you're the Big Bad Wolf, which is what most guys are, I guess. So I'm like, 'Hey, I could be the greatest guy you ever met, so just give me a chance. I could be your Boy Next Door.'"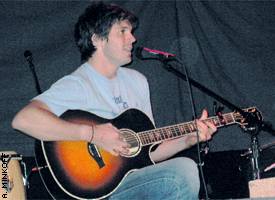 Barry Zito puts in his worthy contribution to his sister Sally's band, The Sally Zito Project.
He takes a beat and adds, "It just so happens we're meeting each other in a strip club. But don't paint me with that brush." And with that, all three Zitos dissolve into laughter. One of the added benefits of having a close relationship with his older sisters is that it gives Barry a unique take on the female psyche. "It gives me a real perspective into the female --" "Mind?" Bonnie interjects. "And sometimes I'm able to translate 'guy behavior' for my sisters. Bonnie will call and say, 'He told me this, and he did that. What is he saying?' And I'll sort it out for her." Sometimes help for Barry Zito in the always baffling girl department is only a speed dial phone call away. "I was walking out of Target one night at 8:30 and I was like, 'Why is Barry calling me?' And it was, like, 'Emergency girl advice. Right now, dude!'" says Bonnie. "Sometimes it's all about whoever I can get on the phone first," Barry laughs. "If it's the dating game, I'll call Bonnie. If some chick says something that's a deeply rooted 'girl thing,' then I'll call Sally. It's great -- I get advice from both sides." But who gets more girls, rock stars or baseball players? "I know a lot of guys who play in bands who are totally hot. And yet I think baseball players get more chicks," opines Sally. "I don't know," counters Barry. "I think rock stars definitely appeal to a wider audience. Everyone likes music, but only a select amount of females like baseball... ." Duly noted.
Ultimately, music is an integral part of what keeps Barry focused over a long season of road trips, hotel rooms and room service. "It helps me. I find that when I'm focusing just on baseball it actually works against me. Last year, I was in this rut -- the whole year. I just kept stressing out about baseball. I find when I'm thinking about music, or other projects like photography... whatever I can do to get me away from baseball, when I get to the field I have an underlying conviction that everything's cool. " And while pitching informs his music, music definitely informs the work that he does on the mound. "It's that zone you get into," Barry says. "Even when you're playing onstage and you've got the percussion and the bass and everyone is just locked into that pocket, everyone is on time. Boom. It's kinda like pitching. If you're in the pocket, everything mechanically in your delivery is on time." "Our dad says that you only win to the degree that you're willing to lose. And if you're willing to lose it all, then you're probably going to win it all," quotes Barry. "It's becoming more and more of who you are. That's the whole point of being on this planet," Sally offers as they head up for one last sound check before their performance, "Becoming more. Let it all show and unzip and give it you're all. That's what we try to do up there, and that's what Barry does on the mound that's so cool." The Sally Zito Project will release their debut CD in May 2004. As usual, it is a family affair: Barry's song, "The Boy Next Door," featuring Barry on lead vocals, is one of the tracks. "We should sell it on eBay," Barry laughs. "We can package a signed baseball with every CD. That oughta work." Alysse Minkoff has written for Ladies Home Journal, Cigar Aficionado and MSNBC and can be reached at AGirlReporter@aol.com