WEST HOLLYWOOD, Calif. -- Sir Elton John's annual Oscar Bash to benefit the Elton John AIDS Foundation was a whole lot like a high school prom. From the kids who are way too cool to talk to you (read: publicists and other assorted handlers) in their tuile and taffeta ... right down to the lime green on lime green color scheme. Memo to Sir Elton: Nobody looks good standing next to, or underneath, lime green. Anything for a good cause, as they say ...
More Oscars
For complete coverage of the 76th Academy Awards, check out www.oscars.com.
After a seated dinner for 360, Sharon Osbourne and Sir Elton auctioned off a new Bentley Continental GT. Bidding started at $125,000. "Let's see some nice large paddles please," encouraged Osbourne. And when the bidding got up around $300,000 she asked the stunned bidder, "What's your phone number." When the bidding stalled a bit at $400,000, Osbourne quickly offered a "spin" in the Bentley with Sir Elton as part of the package. But Elton wasn't going anywhere for less than a half mil.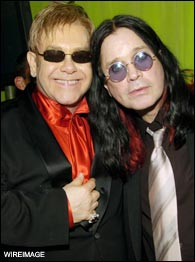 Sir Elton John and his royal pal Ozzy Osbourne.
Then she looked at Donald Trump, with his tangerine colored hair and said, "Donald Trump stand up and be counted -- you've got the biggest bloody hit here." This did not bode well for the rest of the evening. Even after offering to fill the tank, the car went for $400,000 to Joe Blount from Birmingham, Ala. The party after the party was the usual crush of the usual suspects: Patrick Swayze, James Van Der Beek, Tim Allen, Phil Collins, Sela Ward and former Angel Jaclyn Smith, proving that 50 is indeed the new 30. "The Mighty Wind" star Jennifer Coolidge was adorably awestruck about Elton, "He really changed all of our lives. I kissed a guy in the seventh grade and everybody used to sing 'Je Je Je Jenny Is A Slut' to the tune of Benny and the Jets." Sting shared a few words with Phil Collins. Paris Hilton couldn't find her way to the VIP area. Sir Ben Kingsley was noshing. Everyone was mumbling about gridlock. Diana Krall came with hubby Elvis Costello. Norah Jones was spotted. Prince was dressed in a red suit, which matched nicely with Elton's red shirt. And everyone clashed with all the lime green. Actor Aaron Eckhart ("Paycheck," "Eric Brockovich") waxed rhapsodic about football: "I'm a big Raiders fan. I grew up in the Bay Area -- back when Madden was coaching. Huge fan," said Eckart, who was drinking a Shirley Temple and whining about 3-year old injustices. "I hate the Patriots because they kept the Raiders out of the Super Bowl and won the Super Bowl. It was clearly a fumble. I think it's a winning season when the Broncos lose."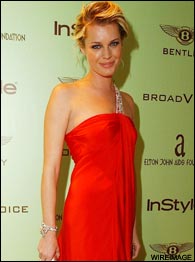 Rebecca Romijn-Stamos wasn't happy with her "cheapskate" husband.
John Stamos and wife Rebecca Romijn-Stamos loved the meal. "It was free. Steak and potatoes. Mousse for dessert. Booze went with everything. There was a lot of booze," John said. "And I begged him to bid on the car, and he wouldn't. Cheapskate!" Rebecca teased. "I didn't like the color," John offered weakly. "I did," Rebecca mocked pouted. And so it went. Miami Heat president Pat Riley said he was "having a good time party hopping." Also hopping were: Lance Bass, Carson Kressley, Andre 3000, Faith Hill and Tim McGraw, David Spade and Dule Hill. Dean Cain made the party a family affair, with his father, director Christopher Cain, and his mother, actress Sharon Thomas Cain. "I'm really happy that Sean Penn won, he's a friend of mine," Cain said. "But I've never been to the Oscar ceremony. Until a film of mine is nominated, you won't see me there." Cain is about to star in a new series for CBS called "Clubhouse," in which he plays a professional baseball player. The post-dinner show featured Elton John singing a duet with 17-year-old singing phenom Joss Stone.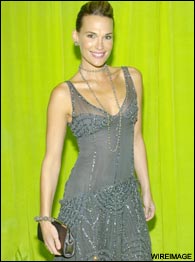 Not even supermodel Molly Sims could look stylish in front of all that lime green.
Tom Arnold drew the first sports parallel of the evening. "The Oscars are the Super Bowl of entertainment. With all the parties, thank God it's over tonight. And now we can focus on getting ready for the next Oscar ceremony. And the pre-game is insane. It's the most boring show I've ever seen in my life." Christina Applegate was struggling after getting victimized by Limo-Gridlock. "We're behind schedule. We've been in traffic for over an hour, and we should have been to three parties by now. I have to go to the bathroom. And my bladder is starting to push out of my dress right now." She pointed, "It was flat about 20 minutes ago." Too much information. Ron Perlman, star of the Oscar-winning short film "Two Soldiers," was on cloud nine. "It was pretty trippy, man. I really had a strong feeling we were going to win. It's a superb film. I wasn't surprised that we won, but I'm terribly delighted." Robin Williams was leaving the party with his "date" Bobcat Goldthwaite. "We're the new power couple in Hollywood," Williams cracked. "We're two comics going out now -- two parties, it's been nice." "We're registered at Target," Goldthwaite offered as a parting shot. But what about those infamous goody bags, Robin? "The goody bags are insane. After a while people are coming from other countries going, 'Do you have an Oscar Bag? I wish for your Oscar bag.' " Presenters this year, reportedly hauled away goody bags in excess of $110,000. That's more than some college tuitions. Go figure. By 1:30 a.m., only two gold statues (and their new owners) had made their way to Sir Elton's party: Aaron Schneider, director of "Two Soldiers," and Andrew Stanton, director of "Finding Nemo." It was time to bid all of that lime green goodnight ... and get ready for next year.
Alysse Minkoff has written for Ladies Home Journal, Cigar Aficionado and MSNBC and can be reached at AGirlReporter@aol.com