PHILADELPHIA -- Sporting some serious bags beneath his bleary eyes, a slightly built man with shaggy and artfully tousled blond locks opens the door and extends his hand. "Hi, I'm Jon," he says with a huge smile as he ushers us into his luxury suite at the Wachovia Spectrum. "Can I get you something to drink?"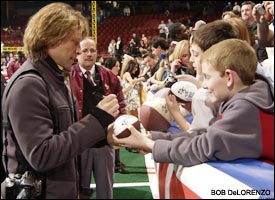 Jon Bon Jovi practices what he preaches as he signs autographs for Philadelphia Soul fans.
On the surface, he might appear to be just your average affable Jon from Jersey. A guy who is about to celebrate his 15th wedding anniversary, with his fourth kid on the way. A Pop Warner football fanatic. A psycho New York Giants fan. It takes a beat and a half to realize that he's Jon Bon Jovi. His band has sold more than 100 million albums. He has performed for more than 32 million fans around the world since strutting across his first stage in 1983. He also dabbles a little in acting, having appeared in movies such as "Moonlight and Valentino" and "Pay it Forward," and on hit TV shows like "Sex and the City" and "Ally McBeal." But his new passion is the Philadelphia Soul, the Arena Football League team that is warming up on the Astroturf about 50 rows below where we're sitting on this early March afternoon. He owns a share of the team. "I'm a football junkie," he laughs. "I'm one of those guys who goes into mourning post-Super Bowl. What appealed to me about buying this franchise was all of the accessibility (and) the affordability -- the idea that this league is on the climb. It started to make sense as a business venture." So, Bon Jovi has taken a fan-friendly, family-friendly, affordable sport and transformed the franchise into a major philanthropic force in the Philadelphia community. The Philadelphia Children's Alliance, the Northern Home for Children, Corporate Alliance for Drug Education and Philadpelphiabundance have all benefited from the Philadelphia Soul in the inaugural season. Bon Jovi is a wee bit tired and turning to any caffeinated beverage he can find. The fatigue is understandable. He flew all night and landed at 7:30 in the morning after playing a private party in Barbardos, hosted by the owner of the Ottawa Senators. While the rock star squirms at the notion of playing a "private gig," the paycheck certainly doesn't bother him. "Lots of zeros, and well-placed commas," he jokes. Nor did the added benefit of enjoying the site of all 150 party guests clad in togas. Just another day at the office for Jon Bon Jovi. But Bon Jovi is not taking his role with the Soul lightly. He is all business and hands-on. "I knew right from Day One, I was going to do everything outside of the box. It was going to be different. I have a partner, Craig Spencer, who takes care of all the administrative stuff, and I take care of all of the creative stuff," he says. That "creative" stuff unfortunately caused Bon Jovi to get fined by the league during his first week on the job. He suggested that fullback/linebacker Chris Ryan put the nickname "Soul Train" on the back of his jersey, a la "He Hate Me" of the old XFL. "In one day, I made a household name in a league that can use household names," Bon Jovi says. Trouble is, the league has rules about such acts of self-expression, and the owner was assessed a small fine.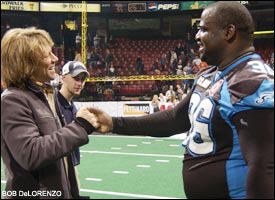 Bon Jovi gave Chris Ryan the nickname "Soul Train," but the league wasn't amused when it showed up on the back of Ryan's jersey.
After the national anthem is sung, and the slickly produced (no surprises there) opening lineups are read by stadium announcer and local rock DJ Vinnie "the Crumb," we settle into our seats. As you look around the sold-out 17,500-seat stadium, it's hard to believe the Philadelphia Soul did not exist one year ago. "We had our first meeting in April of last year, and we announced the team in September, and we opened camp in January. It's pretty unheard of," Bon Jovi says. He fails to mention that while all of this was happening, he was on the "Bounce" world tour, working on his latest album, "This Left Feels Right: Greatest Hits with a Twist," and producing a live DVD. No wonder he's a tad sleep deprived. "Soul Man," the team mascot who looks vaguely like Jay Leno, stops by the box for some photos. As kickoff approaches, a Bon Jovi tune is played over the loudspeaker. While his songs are a staple at football games, Bon Bovi is still mystified by this. "They weren't written as sports anthems," he says. "The underlying themes of optimism -- in a tempo people can relate to in a stadium atmosphere -- lent itself to it being played in a stadium. 'It's My Life' was the most self-indulgent song I could have ever written about how I wanted to do music and movies at the same time. And like Frankie (Sinatra) said, 'I did it my way.' For some reason, it became an anthem for athletes. Then as a songwriter, you realize: What kid doesn't want to say they are in control of their lives?" Realizing that I am still without beverage, Bon Jovi immediately hops up and gets me a bottle of water. Then he offers a soda to my boss, KJ, who is eyeing the food. As soon as Bon Jovi devours a cheesesteak, KJ decides to join him. We're not reporters there to cover his team -- we're part of a happy mix of family: kids, cousins, in-laws and outlaws, plus old friends such as St. Louis Rams punter Sean Landeta, longtime engineer Obie O'Brien, and, of course, Bon Jovi's irrepressible bandmate, Richie Sambora. "This is pretty unprecedented, especially without any NFL affiliation," Bon Jovi says of the Soul's popularity. "And now, we're leading the league in all revenues. Actually, it's pretty unheard of." Everything about the team is unique. From their gun-metal and turquoise uniforms right down to their nickname: the Soul. Bon Jovi says his choice of names raised a few eyebrows. "We wanted to be unique from Day One. The obvious name choice would have been an aggressive animal: the Cubs, the Bears, the Bulls, the Lions, the Tigers. Or we could have done the cliché thing that goes with Philadelphia: the Revolution, the Freedom. Neither option appealed to me. If you're not a Bon Jovi fan, if you're not a Football fan, you think you have soul, even if you don't," Jon laughs.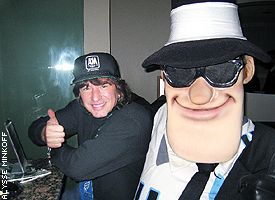 Bon Jovi guitarist Richie Sambora hangs out with the team's mascot, Soul Man.
So, just how different is this team? "I have implemented a 'no-thug rule.' I am only interested in guys who were players on and off the field. Sometimes professional athletes or celebrities feel they are in a place where they are allowed to be arrogant. (They) show up late, and (they're) allowed to just be in the business of 'me'. I told these guys, this is about the power of 'we.' "Look, it's very hard to tell Donovan McNabb or Allen Iverson that you've got to go out and work in this community three times a week. And it's really cool that my guys are very excited about it." The Soul players have become visible and active members of the community: Passing out beds, reading to children, mentoring. It goes beyond signing a few autographs and then heading out to the bar. The Soul is not merely a name. Bon Jovi is not content to slap his image on the team or a charity and write big checks. He's a highly visible owner. He always has been active in his community, and it's part of what he's trying to impart to his organization. "In my position, it's easy to forget where you started (and) forget where things come from. So, the purity of our sport and the salaries that these guys make, you know that they are in this thing for the right reason. When they start getting involved in the community and begin being an influence on a kid, it's a big deal. You can really change the world one person at a time." And with that, he shifts from being a concerned owner to a passionate fan. "C'mon, defense! Give me a miracle," he yells. While I struggle with the intricacies of the Arena League -- like the Imaginary Box -- Bon Jovi is happy to explain them to any newbie. The game is fast and fun, and the action is nonstop. And when you look around the crowd, you notice 70 percent of the fans are under 18. During a timeout, Bert and Ernie of "Sesame Street" take the field with the cheerleaders. "They got married last week in San Francisco," Jon quips. "They're honeymooning here in Philadelphia and decided to come by and enjoy the game!" Now there's something you won't see at an NFL game. And you won't see the entire arena launch into a rousing chorus of "SpongeBob Square Pants," either. Bon Jovi's first love is still the NFL, and he is, first and foremost, a die-hard Giants fan. "Football was the sport in my house that brought everybody together. It was the ritual, and everybody in the family rooted for the Giants. "I jokingly say there was a little affair I had with the Miami Dolphins during that undefeated season -- but no one really leaves being a Giants fan." Then, the Big Blue memories start to flow. "I liked when (Larry) Csonka came to the Giants. I liked when we started winning some ballgames and Parcells came in. I like that Simms played his whole career there. I liked that LT was such a wild man, but never failed to amaze and amuse everybody." Bon Jovi knows that he is living out just about every man's fantasy. He owns a football team, and he's having so much fun that even the occasional "minor-league" accommodations don't bother him. "This is the most fun I've had in a while. Listen, I find myself sitting in (expletive) Holiday Inns, which I haven't been in for more than 15 years. By myself! I'm just not used to this. You have to know I'm dedicated to this organization if I'm sitting somewhere, and I cant get a cup of coffee delivered to my room. It's unbelievable. I love this team so much that it does not even matter. It's incredible." So, who has cuter groupies, rock stars or football players? "Judging from some of the women I've seen in some of the bars I've been in with the team? I'd have to say rock stars. Definitely rock stars!" The game is winding down, and the Soul is clinging to a 53-40 lead. Bon Jovi nervously paces the box. He sits down, scoops up his 8-year-old son, Jesse, into his arms and says, "I'm so nervous, I'm going to start biting your fingernails. "Does it get any better than this? "It's crazy cool," Jon says, offering me another bottle of water. "Who would have thought? I play Rock 'n' Roll for 100,000 people at a time in stadiums. I make movies. I make albums. I own a football team. Pretty neat job. It's a blessing every single day."
Alysse Minkoff has written for Ladies Home Journal, Cigar Aficionado, ESPN 360 and MSNBC and can be reached at AGirlReporter@aol.com