Sure, they were just costumes in a movie. But pulling on those 1980 USA Olympic hockey sweaters for Disney's new movie "Miracle'' was a little more inspiring than, say, putting on a pair of Hobbit pants.
"I remember when we were auditioning,'' said Patrick O'Brien Demsey, who portrays Mike Eruzione. "We were standing in the hallway at the last audition and I said, 'I hope I get the part because I can't wait to put on that USA sweater.' And Mike Mantenuto just looked at me and said, 'You
are
Eruzione.'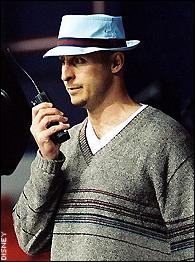 "Miracle" director Gavin O'Connor giving -- what else-- directions on set.
"In the two months we were doing those scenes, I must have put it on a thousand times, and every time it was special. When I got to put on the sweater everyday,'' recalled Mantenuto, "forget that I was filming a movie, that was a dream of mine since I was a boy playing hockey.'' That the USA sweaters held such appeal to Demsey, Mantenuto (who portrays Jack O'Callahan) and the rest of the cast is not surprising. Director Gavin O'Connor insisted on using real hockey players for the movie. "There was no other way I was going to do it,'' O'Connor said. "I told the studio that. I didn't want to cast actors. You can't get actors to play hockey at the level required. I thought the way to go was to get hockey players born with the acting gene but who didn't know it and teach them how to act.'' O'Connor held tryouts with approximately 4,000 players in six cities to find his players, even holding a combine before finally settling on 80-some players to portray the U.S. and European teams. Almost every actor played hockey in college or the minor leagues (Demsey played college hockey in Boston while Mantenuto played at the University of Maine). For further authenticity, the production team also plotted the actual games on a computer, diagramming the movement of each play and player, then recreating them as closely as possible in front of the cameras at an old rink in Vancouver, B.C. The result of this attention to hockey detail? Forty enthusiastic thumbs up from the 20 members of the 1980 team. When the movie was screened for several members of the team last month, they regularly burst into applause when goals were scored. "The hockey scenes are fantastic,'' O'Callahan said. "These guys are real hockey players, the Russians are really good players, the hits, the on-ice action, the body contact -- there is even real blood in this movie if you can believe -- the fisticuffs, the passion, it's all through the movie at every level.''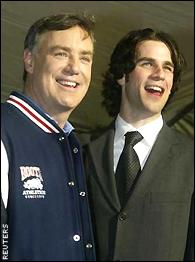 Actor Eddie Cahill celebrates at the "Miracle" premiere with real-life 1980 team member Jim Craig .
The interesting thing is that in re-creating perhaps the biggest moment in American sports history, the player-actors found themselves living their roles more than even Robert DeNiro would attempt. "We visited the set and we went out together afterwards, and these guys would talk to each other and refer to each and they would use our names,'' O'Callahan said. "Someone would say, 'Hey O.C., what time are you getting up tomorrow?' and we would both say at the same instant, 'About 8.' "That was the weirdest part for us, to see these guys really take on our roles and personalities.'' Of course, one actor had a long time to study for his role. Billy Schneider portrays his father, Buzz. "I put it on a couple times,'' Schneider says. "We had one of the Russian's jerseys, too, and my brother and I would throw those on and play games. One of us would be dad and the other would be the Russian.'' Not only the players had hockey roots. Kurt Russell, who gives a superb portrayal of coach Herb Brooks, is a former pro athlete whose son, Wyatt, is a promising goalie in Vancouver's youth leagues. The cast was together almost as long as the actual team was, playing, rehearsing and filming for about half a year in Vancouver. By the end of production, they say, they were more than a cast, they were a team. "We all bonded,'' adds Schneider. "We practiced for a month before filming, just skating and playing hockey, and afterward we went out every night. We wanted to be friends and get the same bonding as a team that they had.'' "Our team of 20 guys has expanded now,'' O'Callahan said. "These guys have connected in such a way, and the fact that Billy Schneider played his dad might have something to do with it, but there is this sort of connection over the generations now that is pretty cool.''