HOLLYWOOD -- Lance Armstrong and Diana Taurasi taking home Male and Female Athlete of the Year awards was big news at the ESPY Awards Wednesday night.
But it wasn't the biggest news. Not by a longshot.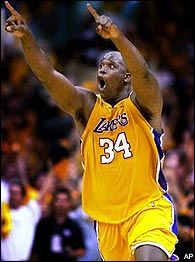 In L.A., there will always be love for the Big Diesel.
The biggest news was the Big Fella and his one-way ticket to South Beach.
All over L.A., people are in mourning. The guy driving my cab just shook his head over and over saying, "It isn't right. It shouldn't be like this." The woman checking me in at the hotel said she "doesn't want to talk about it." Gary Payton's wife, Monique, looked shaken. "It's so sad," she said.
There's a lot of respect for Kobe in this town, a lot of admiration for the intensity and skill he brings to the floor every night.
But there's a lot of love for Shaq.
"It's just very sad to see him go," "Alias" star Carl Lumbly said Wednesday night. "We've had a chance to see him mature as a player and a person into someone who always handles himself with dignity and aplomb. We're really going to miss him."
Ken Howard, known to most of us as Coach Reeves from "The White Shadow," said it's a crushing blow to the Lakers: "Wherever Shaq goes, there goes the franchise."
Could he imagine sitting O'Neal and Bryant down, like working out a conflict between Coolidge and Thorpe, and some how saving this thing? No way.
"I believe that with the personnel the Lakers had, they never should have lost, if they just played as a team. But I think Phil Jackson did as much as anyone could have done," he said. "There's just too much money involved, and when there is a player (Kobe) with that much power, with that much money coming in, the team is going to pretty much do what they want."
Luke Walton and Kareem Rush weren't ready to put this deal on Kobe (they're not looking to lose two Famers in one week), but they sure our going to miss the Diesel.
"I personally loved playing with Shaq," Walton said Wednesday. "He was such an amazing player, especially for someone like me who loves to pass the ball."
Kareem, still in shock from the news everyone knew was coming, said, "I don't think it's really sunk in yet that the Big Fella's not gonna be here. It's hard, but Shaq decided he didn't want to be a part of us any more, and we respect his decision."
What if Kobe signs with the Clippers?
"More FGAs for Kareem!" Walton laughed. "No, seriously," he said, "either way, we're going to have a team that puts out a lot of effort every night. We're not going to get outworked by anyone."
"Now we've just got to find 12 guys we can muster up," Kareem chimed in. "Because right now I see about seven."
For those guys, the loss of Shaq is an on-court reality.
And Gary Payton, despite some of the rumblings we've heard, says he'll be right there with them, slugging it out.
"It's hard to lose Shaquille. You know, I came here because of Shaquille, and when I found out he was leaving, I thought about whether this is really where I want to be.," he said Wednesday night. "But I had a pow-wow with my agent, my lawyers, and my wife, and I just think I made a commitment and I'm going to go ahead and play."
Knowing it had already been a dark day, I didn't mention the $5 million he'll get here, and probably only here. Didn't want to pile on, especially when GP was trying to put on a brave face.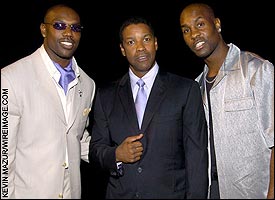 Denzel Washington, center, hangs with two of the biggest mouths in sports -- TO and GP.
"It's going to be hard, but it's going to be OK. We're going to start with a new philosophy and system, and with the guys we're getting from Miami, you know we're going to run."
And what if Kobe doesn't come back?
"I think he's coming back," GP said, almost too quickly. "I really do."
If the old vet was playing Pollyanna, the young hoopsters at the ESPYs were playing the role of the hardened pros.
"Players have to do what they have to do," Emeka Okafor said. "This is what happens. It's a business."
Dwight Howard, the Magic's new 18-year-old center, sounded just as cool about it all.
"People are going to make a move that's best for themselves," he said. "I'm not really concerned about Shaq and Kobe, I have to worry about getting ready for the season, and myself and the position I'm about to put myself in."
Which is playing Shaq four times a year, now that he's in the East.
"That's cool with me," Howard said. "I know I can learn a lot from him."
Pro athletes outside of L.A. weren't sweating the city's loss Wednesday night.
Peyton Manning said, "I'll say this, I know Shaq's the best player in the league right now, but I figure, if you're the Lakers, and something like this happens, you have to make it the right decision with what you do from here on out."
Chauncey Billups said, "I don't know man, it just looked like Shaq really didn't want to be here anymore. I stay out of it though. I worry about my team."
His coach was a bit more empathetic.
"I'm disappointed," Larry Brown said. "Because it was such a great team, and you hate to see it break up like this."
Larry's so earnest, I almost believed him.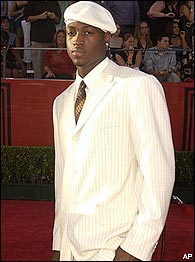 Dwyane Wade will look even smoother with Shaq in the paint.
Dr. J, on the other hand, was kind of happy with the changes the trade brings.
"It's a huge, huge deal. It shifts the balance of power back into the Eastern Conference," he said. "Which is pretty special if you're an Eastern Conference guy like I am."
But the most excited person at the show Wednesday night, the most excited person in all of Los Angeles, was Heat guard Dwyane Wade.
"I talked to the Big Fella today," he said. "He just said he's ready, hungry, and he wants to get this ring. And I just said, 'let's do this,' you know?"
"I don't even know the way I'm really feeling inside," he gushed. "It's an unbelievable feeling. I can't wait to get on the court. I love to pass the ball and I know Shaq loves to receive it, so I can't wait."
Jamie Foxx, who hosted the ESPY Awards, said it's the Lakers who should have waited.
"If it were me, I just wouldn't ever let anybody like Shaq go," he said. "I think you have to work on making him feel comfortable. I think through this whole time he just kind of felt like he wasn't being appreciated, and now he's going to go to Miami and he's going to turn it on like nobody's business."
Yeah, Wednesday was a dark day in L.A., but like Foxx, Lumbly thinks the worst may be yet to come.
"I tell you what," he said. "I would not want to be a Laker heading into Miami next season. Uh-uh."
Eric Neel is a columnist for Page 2. His "On Baseball" column appears weekly.