Ask me about stadium songs and I'm going to start dreaming ...
SPORTS & MUSIC

Page 3 will examine the connection between sports and music all summer long. Also, catch SportsCenter's music series all this week at 6 p.m. ET on ESPN.


Athletes who'll make your ears bleed

Coming up:
At-bat songs for all 30 MLB teams

The hip-hop and hoop connection

Peter Gammons' musical bend
The best marriage of stadium and song I can imagine has got to be the sound of Three Rivers, especially in October 1979. Pops is swirling the bat behind his ear, about to lay a hurt on somebody. The Cobra is coiled to fire from deep in the right-field corner. Omar Moreno, all 97 pounds of him, is flying into third. Kent Tekulve is digging worms with his arm and cooking eggs on the field with the light bending through his glasses. Everybody's wearing bright gold and black, and their hats, twinkling with Stargell's stars, look like Lincoln's stovepipes with a bill. And through it all, around and above it all, Sister Sledge is singing "We Are Family." I was never there. I saw it during the World Series broadcasts, but TV isn't the same. I can't imagine a better scene to have been a part of. The wild optimism, the crazy disco groovin', the goofy freedom of terrible uniforms worn proudly. Man, what I wouldn't give to be in that mix for just one night. Put me in the wayback machine. Let me make like Dr. Beckett and take the quantum leap. Please. Just one night. Wake me up from the Three Rivers dream and I'm going to tell you about a little place I know that's real ... The best blend of song and stadium I've actually been a part of? That's easy: A Humboldt Crabs game at the Arcata Ballpark in Arcata, Calif., where every break in the action is accompanied by the sweet sounds of the legendary Crab Grass Band.
The venue is tiny, tucked up against the famed Highway 101, with room for maybe 1,500 of the faithful. The ball puts the minor in minor league. But the band can't be beat. They heckle the umpire and cheer for the home team. They drink microbrew and down dogs right alongside the fans. And at every half-inning break they blow and bang out tunes from a catalog as thick as a phone book. Journey's "Separate Ways," Van Morrison's "Domino," the Manfred Mann Earth Band's version of "Blinded By the Light," Frankie Laine's "Theme From Rawhide," Ozzy's "Crazy Train," and the list goes on and on. The highlight of every game is the band's cover of the old Oak Ridge Boys tune "Elvira." Led by tuba impresario and fearless bandleader Gordon, they stir the locals into a deep-throated howl to the heavens for the girl with eyes that look like heaven and lips like sherry wine. Every performance is all-out, full of swagger and gusto, backed by the out-of-tune but earnest, well-lubed fans in the stands. Kids are dancing in the aisles. Moms and dads are swinging in time. The game is a party, and the band is the heart of it. If you love baseball, if you love being a part of the crowd, heck, if you love all that is good and right about this great land of ours, get ye to the Arcata Ballpark some summer night. You bring your singing voice, they'll send you home with a smile. Tell me to stick to the mainstreams and the big cities, and I'm going to break it down like this ...
Winners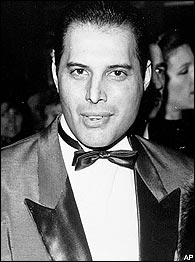 Queen singer Freddie Mercury was king of the stadium song.
"We Will Rock You" and "We Are The Champions," Queen:
Here's the highest compliment I can think to pay Freddie Mercury as a singer -- he sang with the hunger, with the fierce heart, and with the perfect passion of a great athlete. It's no accident Queen's songs are our anthems; it's no accident their songs are in the deep memory of everyone who has ever been to a sporting event.
"Celebration," Kool and the Gang:
I suppose there are people who don't like this song, people who think it's cheesy, dated, naive. Thing is, I don't really want to know these people. And I sure as hell don't want to be sitting next to them at a game.
"Tequila," The Champs:
I've heard this all over the country, but the best rendition I've heard is at Husky Stadium in Seattle. Maybe it's the wacky way the band gets on their backs on the stadium turf, maybe it's just the way tequila sounds like the perfect antidote to a rain-drizzled Saturday afternoon.
"Welcome To The Jungle," Guns N' Roses:
I'm thinking particularly of the moment when they play it at Dodger Stadium as Eric Gagne comes trotting out of the bullpen. The "Hells Bells" bit for Trevor Hoffman in San Diego is good, too, especially when the bells toll at the beginning, but there's something edgier, more angry and out-of-control about Axel's tune.
"Glory Days," Bruce Springsteen:
Yeah, it's poppy, but it's also Bruce.
"Charge," Traditional:
With an organ accompaniment and arms thrown high into the air.
"Kiss Me," Sixpence None The Richer:
None of my choices embarrasses me more, but there is something charming about this tune, and about the way stadiums are using it to prompt couples to smooch in the stands. I like the old couple genuinely surprised to be on the big screen, the young couple a little overzealous with the tongues, and the not-really-a-couple couple who is about to find out, in front of all of us, if their relationship is headed for the next level.
"Hot In Herre," Nelly:
There is a study to be done on the deep-channel relationship between libido and fandom, between the sex drive and the sport drive. Is there grant money for such a study? Nah, there's Nelly.
"It Takes Two," Rob Base & D.J. E-Z Rock:
Certain tunes are just so illogical in a ballpark they can't help but be perfect. This is one of them.
"I Got You (I Feel Good)," James Brown:
If I were making a list of best tunes to be heard inside the walls of a prison, if I were making out a list of best tunes to play at a knitting circle, if I were making out a list of tunes I'd want blaring inside my coffin, or laying the backtrack for my grocery store runs ... If I were making a list of any kind for anywhere, this song would be on it.
"Takin' Care of Business," Bachman-Turner Overdrive:
If you'd seen them live (which I confess I have), you'd be with me on this.
Losers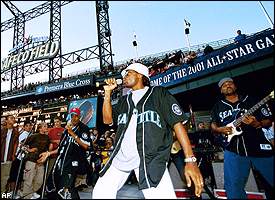 The Baha Men enjoy one of their 15 minutes of fame during a performance at Safeco Field.
"Who Let The Dogs Out," Baha Men:
I once met the guy who supposedly launched this craze when he was DJ'ing Giants games in the late '90s. I met him, he admitted to playing the song, not just once but over and over again. I met him, and I did not smite him, did not snap his CD-spinning fingers like so many twigs, did not snap a Polaroid and pass it along to a professional hitman. I'm sorry. I don't know what I was thinking.
"YMCA," Village People:
I like the fact that straight folks all over America seem oblivious to the fact that it's a gay pride tune; subversion of the uptight mainstream is a great thing. What I don't like, what I can't shake, are the harrowing pictures in my mind of fleshy, rhythmless fans doing that goofy spell-the-letters-with-your-arms thing. That thing's an abomination. (And the same goes double for that Chicken Dance thing you see sometimes.)
"Cotton Eye Joe," Rednex:
Like there aren't enough reasons to hate the Yankees ...
"Macarena," Los Del Rio:
I don't care what people do in the privacy of their own homes, but dances that make you look like Genie doing the "Yes, Master," bit? There's no place for those at the game.
"Centerfield," John Fogerty:
There is a magic number past which you should never ever have to hear a song again. No one can say for sure what the number is
;
it varies for every tune. The number for Marvin Gaye's "Let's Get It On," for example, seems to be infinity. The number for Alanis Morissette's "Thank You," on the other hand, is less than or equal to minus-1. Like I said, it varies. "Centerfield" was good for about six spins, nationwide, throughout all time.
"Blitzkrieg Bop," The Ramones:
The Ramones are great. In a dark, dank club somewhere. In CBGB. At the Whiskey, maybe. Do not bring the Ramones out into the full light of day. Do not cheapen them with Cracker Jack and foam rubber fingers.
"Tomahawk Chop," Atlanta Braves fans:
I'm not going to talk about how horribly out-of-date, clichéd, and offensive it is. I'm just going to say this
:
It's annoying as all hell and if I never hear it again I will die a happy man.
"All Star," Smash Mouth:
Maybe I'd like this song if there were no "We Will Rock You," maybe I'd like it's losers-will-win-the-day angle, maybe I'd tap my toe to its little upbeat chorus. No I wouldn't.
"Gonna Make You Sweat (Everybody Dance Now)," C+C Music Factory:
After the whole scandal about who really did the singing, the tune just died for me. I can't hear it now without thinking of the lies and the deception. It's a lot like looking at Pete Rose.
"Unbelievable," EMF:
Some songs are inextricably tied to their videos. This one is inextricably tied to its video by the bouncing, not-so-fly-for-a-white-guy braids of lead singer James Adkin.
"Mony Mony," Billy Idol:
What gets me is the thought the idea that he might still be getting a check for every time somebody plays it. "White Wedding" I'm down with, but "Mony Mony"? Uh-huh. Not unless he's sending his residual checks to Tommy James and a little something extra for every one of the Shondells.
Eric Neel is a columnist for Page 2. His "On Baseball" column appears weekly.