BEVERLY HILLS -- Playboy Mansion. Those two words conjure up images of all-night swinging from the chandeliers parties, hot chicks, cool cats, Hef in his silky pajamas surrounded by his 10 (or is it 12?) blonde girlfriends, and the Grotto -- and we won't even get started on the PG-13 ideas that come to mind.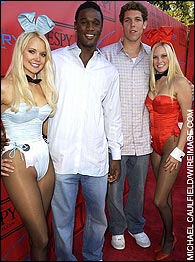 Kareem Rush, Luke Walton and their pet bunnies.
So how does it happen that you find yourself at the ultimate party spot, tucked away in the lush Hills of Beverly, and be ... bored?
The easy answer: Corporate dudes.
The ESPY Fight for Victory event at the Playboy Mansion on Tuesday night was well attended -- by business folks dressed down, California casual, who kept things way low-key for far too long.
Sure, Hugh Hefner was there along with super star athletes and some celebrities, but the "par-tay" party never really got underway.
The live, televised boxing matches occupied the early part (and most) of the evening. Well, the event was called "Fight for Victory" so the complaint is pretty much moot.
Around 9:45 p.m., the stiff-necked set had to fade to the background as the real reason folks came out that night -- the sports stars -- starting to pop up, brightening up the joint: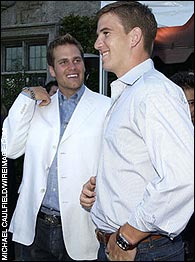 Eli could learn a lot from Mr. Brady about women and football.
Patriots' QB Tom Brady (with actress girlfriend Bridget Moynahan) and linebacker Ted Johnson, Charlotte Bobcats' newbie Emeka Okafour, Saints' QB Aaron Brooks, NBA champs Richard Hamilton and Darvin Ham of the Detorit Pistons, Phoenix guard Diana Tarausi, Redskins' linebacker LaVar Arrington, NFL brothers Peyton and Eli Manning, tennis phenom Andy Roddick, boxing champ Antonio Tarber, and NBA party animals Kareem Rush and Luke Walton.
But the night's only real buzz happened at 10:45 p.m. when there was a parting of the red (carpet) sea and LeBron James arrived. Digi cam flashes went off, and people started to clamor to get closer to the young Cavalier.
Things finally started to resemble a Playboy party. Famous and fans of the famous mingled by the open bars, and athletes chatted up other athletes, sharing their mutual admiration.
However, it was getting close to midnight, the official end of the party. Large groups of people started to leave, some headed back to their homes and hotels, and others moved on to the next stop on the ESPYs party train ... minus the corporate dudes.