The sun flares on Joey Harrington's face and the Detroit Lions quarterback looks as comfortable behind the piano as he does in the pocket this preseason.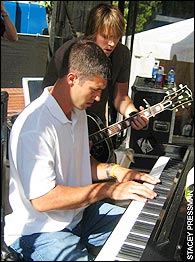 Joey Harrington, the musician ...
He sits at the piano for sound check. He writes keys on tape and begins tuning the piano. Next to him, singer Pat McGee strums his guitar. They quickly fall in tune while McGee sings "Annabel."
You may remember Harrington's ability to tickle the ivory from last season's Monday Night at the Mic, a competition in which NFL players showcased their musical talents. True, many performances left you thinking, "Hey don't quit your day job." But Harrington, who lost in the final showdown to Doug Flutie on the drums, is no doubt the real deal.
On a warm July evening in Portland's Pioneer Square, Joey even performed alongside the Pat McGee Band and Third Eye Blind at the second annual Harrington family foundation benefit concert for the Shriners Children's Hospital.
For the record, Joey just doesn't make an appearance at this concert. This is an event that Harrington says he starts planning "the second the season is over." He is involved in every miniscule detail from the recruiting of the bands to the crowd seating. Had you arrived early to the show, you could have caught a glimpse of Harrington stressing out over the configuration of plastic chairs that his mother had wanted set up in a particular area of the venue. Unhappy with the way they were positioned, he took the time himself to rearrange them to his liking. That's how involved the Lions signal-caller is.
Page 3 had a chance to ask the quarterback, who sometimes moonlights as an accomplished pianist, about football and music.
Pat McGee on Joey Harrington

How would you rate Joey's performance?
PM: I would rate it a 10. I couldn't believe how into it he was. I mean the guy knows piano and when you know piano, you know music. It's not like someone who knows just one instrument. If you learn on piano you know structure of songs and how to sit in with a band properly and he got up there and killed it. It was great. Anytime he wants to be in the band, he can come join us. In the offseason he can be in the band.

Before you met Joey, what did you envision his musical talent to be like?
Not to sound musically snobby, but totally average. Like if I said, "Can I take a few snaps?" he'd be like this guys gonna get killed and I probably would get killed. But you wouldn't think that somebody that plays football and is dedicated to a life of sports would have time for anything else. But obviously he's applied himself to something else and sits at home and plays piano. That's pretty amazing.

Are you a huge sports fan?
Yes, I am a Redskins fanatic, and I'm so happy Joe Gibbs came back, I can't wait for the new season to start. Whether it's good or bad I'm just happy he's back.
Page 3: What is the extent of your musical talent?
JH: I play piano. And let's just say I was a better piano player when I was 16 than I am now. It's been a while since I practiced. I can hang, I can step in and play a little bit, but I was better 10 years ago.
How long have you been playing?
I've been playing since I was four-years-old -- going on 22 years now.
How often do you practice?
More in the off-season, but I wouldn't call it practice. It's more just kinda sitting down and playing a little bit. I haven't had a professional lesson in who knows how long. I love to play, but since my sophomore year in high school, I just don't have the time for it as much anymore.
What's more difficult for you: learning the West Coast offense or sitting down and learning a new song?
Right now the West Coast offense because I have a pretty big, pretty good base in music. But the West Coast offense was just something completely different. I had never seen it before so it was a little difficult the first time.
Do you have any relationships with famous musicians?
I don't know if you would call them relationships, but last year John Popper and Chan Kinchla from Blues Traveler came down and Jason Mraz played at our inaugural event. It was the first event and it was a great success. We played at the Crystal Ballroom in Portland. This year we moved into a bigger stage and something that's right in the heart of downtown Portland. There are a lot of great musicians out there who are willing to come in and help people out.
How do you choose the bands for your benefit concert?
We pick the bands based on 1) who we enjoy and 2) who will come and play. You know, it's a matter of availability. There are a lot of great bands out there that would like to come and do benefit concerts but it just doesn't work into their schedule. We got lucky this year and got two great bands in the Pat McGee band and Third Eye Blind.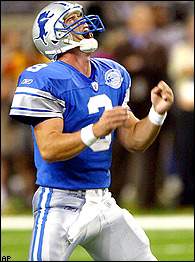 ... Joey Harrington, the athlete.
When it comes to athletes crossing over into music, are there any athletes that come to mind that garner your immediate respect?
I hear Wayman Tisdale is a terrific musician. I've heard him a little bit. And obviously Doug Flutie is great. He beat me in that (Monday Night) competition last year. He had all of Canada, all of the East Coast, all of San Diego and he's played in so many places. But I got 40 percent off him so I was proud of that.
Are there other guys on the Lions that play an instrument or have any musical talent?
Not that I know of. There are a couple guys on the team who think they can sing a little bit. But all guys think they can sing in the shower.
What do you do before a game, do you play piano at all?
I'll go home and play a little bit, yeah. I love music before a game. I used to have a certain CD -- I don't wanna say good luck, I don't believe in luck -- but we won a few games in college when I listened to it, but since I've been in Detroit the CDs have changed up a little bit.
You had your great-grandmother's 1911 Baldwin piano restored and shipped to Detroit, what makes it so special?
It was my great-grandmother's piano growing up. It played in the silent movies back in Idaho and it died, for lack of a better word, and just got so old it needed to be reconditioned. After I got drafted I sent it to the shop and they did it from top to bottom -- refinished it, just gutted it -- and it's beautiful. And before my grandmother died last March she had a chance to go and see the piano and it made her day just to see the piano reconditioned. So it was special.