Here's a shocker: hockey players and hockey fans love their rock 'n' roll.
What, you were expecting a bunch of Dan Fogelberg enthusiasts perhaps? Kajagoogoo boosters, maybe? Smarten up, people. Nobody in their right mind goes to a hockey game expecting a Vangelis retrospective to break out over the public address system. They go to see their team attack the opposition with the ferocity of a Hillary Duff-Avril Lavigne war of words, and they expect nothing less from their tunes.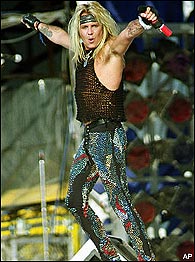 Motley Crue and hockey are a match, unlike Vince Neil's pants.
So when Page 3 put out the call to see what music NHL teams played for their in-game entertainment, the results weren't shocking.
What they did confirm was that hockey's commitment to rock 'til the break of dawn spans generations and genres -- from Led Zeppelin's swordfishin' reprobate days ("Rock N' Roll") to the rock stars-as-transvestite halcyon era of Quiet Riot ("Bang Your Head") and Motley Crue (''Live Wire''), through to the Don Corleones of nu-metal (Metallica).
Are there exceptions to the rule? Absolutely. But even then, the variations wind up sounding awfully rock-like: L.L. Cool J's "Mama Said Knock You Out" and the Beastie Boys' "Fight For Your Right (To Party)" are about as homeboy-ish as hockey arenas get.
There are strict standards, though. Not everything with a pounding beat makes the cut. There is, for example, a permanent ban on the lone ''synthesizer-disco-by-way-of-the-Netherlands'' entry from NHL playlists. (The endlessly abominable and possibly carcinogenic ''Get Ready For This'' by 2 Unlimited ­ is the first and only thing commissioner Gary Bettman and players union boss Bob Goodenow have agreed on for a new labor deal.)
This isn't to say the DJs and game operations people who compile the in-game music don't take their jobs Henry Rollins-serious. In fact, they're under tremendous pressure to put out good ear-product and often have their choices made for them.
One unnamed management bigwig wanted all the music she'd heard at her Pilates class played during a game. And another DJ's choice of The Who's ''Won't Get Fooled Again,'' which includes the verse, ''Meet the new boss, same as the old boss,''­ resulted in a reprimand from his superiors. (It wasn't so much some higher-up had seen one too many gruesome acting hatchet jobs from Roger Daltrey, but more to do with the circumstances under which the song was played --­ specifically, the day after the team hired a new GM. To which, we say: nice one.)
SPORTS & MUSIC

Page 3 will examine the connection between sports and music all summer long.


Bon Jovi rocks a new arena


Coming up:
The hip-hop and hoop connection

That said, when players and their fans grow up enjoying a certain kind of rock, repetition of songs from arena to arena is inevitable. And that's an issue in a lot of NHL cities: there are only so many consecutive games you can hear ''Back In Black," ''Welcome To the Jungle'' and Stompin' Tom Connors' "The Hockey Song" before you want to strangle somebody.
There is another group of advisors in play when it comes to in-game song selection --­ the players. These are the same guys who would eat a box of thumbtacks and wash it down with Liquid Drano if they thought it would give them a leg up on the competition.
Think they're going to want to hear the same song again if they scored a goal just after it was played? Um, that's a definite no on that one.
So, if, like Flames goalie
Miikka Kiprusoff
, German metal band Rammstein is your thing, odds are you'll be happy at an NHL game. Ditto if you dig Rob Zombie, a major-league hockey fan who is a huge favorite of
Los Angeles Kings
players or Pearl Jam, who
San Jose Sharks
defenseman
Brad Stuart
can't get enough of.
However, if you're Vancouver Canucks coach Marc Crawford, your requests for in-game music aren't simply for diversion and entertainment purposes, but for motivation and, perhaps, a little gamesmanship.
''I've got the last line change at home, so I'll delay the puck drop a little longer if I like the song that's playing,'' joked Crawford, who on occasion will request a particular song be played during a game to spur on his charges. "But I think music can have the power to add a little 'Ooomph' to a situation, either through the tempo or through the lyrics, so I like to have fun with it." See how tough it is picking music for an NHL game? You've got the equivalent of backseat drivers at your every turn, you've got to try pleasing 30,000 ears a night, and hovering over your head all the while is the urge to tie a stick of dynamite to your copy of Blur's ''Song 2'' and detonate it at center ice. So think twice before bringing along a bag of rotten tomatoes for whipping at the arena speakers. It could be much, much worse. Remember, Phil Spector still needs a new gig.
Adam Proteau is a writer for the The Hockey News and can be reached at aproteau@thehockeynews.com.