"If and when you get into the endzone
Act like you've been there a thousand times before
Don't blame don't say people lose people all the time anymore."
-- The Tragically Hip, "Heaven Is A Better Place Today"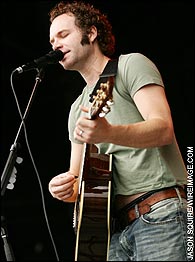 Five minutes penalty for fighting? Hmm, great rock band name: Five For Fighting.
In their tribute to Dan Snyder, the
Atlanta Thrashers
forward killed in a single-car accident last September, The Tragically Hip capture perfectly the sense of humility NHLers are renowned for.
The song, found on the group's new album "In Between Evolution," is a fitting homage, avoiding the temptation toward maudlin, embracing instead a gritty sound that mirrors the approach Snyder took to scale hockey's highest heights.
As the lyrics make clear, the blame game --- whether it's after a lopsided loss or it's the vehicular manslaughter charges fellow Thrasher Dany Heatley faces in connection with Snyder's death -- - is to be eschewed in favor of moving on and supporting those still engaged in the battle. It's a sentiment felt by the grand majority of those in the hockey culture, Snyder's family included, and it's another reason why the band's music is so beloved by the players who grew up listening to their albums on cross-country bus trips.
Indeed, if any rock band could identify with what it's like to be a Canadian icon like an NHLer, it'd be "The Hip"; although they've had success in the United States, including an appearance on Saturday Night Live, the group does better business north of the 49th parallel. (Sound like any league you know?) But, like the punishing defenseman who won't get anywhere close to the glory -- or salary -- of his logical equivalent in the NFL, the Hip are content with their life's lot and count themselves fortunate to have had elite-level success in the first place.
For Hip lead singer Gordon Downie, the band's links to athletes stem more from the culture of celebrity that has enveloped both pro sports and music than in any other sense.
SPORTS & MUSIC

Page 3 will examine the connection between sports and music all summer long.


Bon Jovi rocks a new arena


Coming up:
The hip-hop and hoop connection

"We share similarities as 'entertainment' and we work in some of the same confines, but the end sum of what we do is entirely different and unique from one another," said Downie, a huge Bruins fan --- his godfather is former Boston general manager Harry Sinden --- who plays goal in a Toronto-area pickup league when he's not making music. "That said, we also both find ourselves disparaged by those who believe in a mythical 'golden age' that none of us, apparently, are living up to --- and we both soldier on in spite of it."
The low-key, dignified approach taken by Downie and his bandmates can be found in almost all musicians who count themselves hockey fans, regardless of the type of tunes they specialize in.
"Hey, Wayne Gretzky is one of the most humble guys I've met," said John Ondrasik, lead singer and songwriter behind the ultimate hockey-named band, Five For Fighting. "And there's no easier reason to be arrogant than being Wayne Gretzky. The example he provides is something I try and take into my everyday life."
Although he grew up on the West coast, where the game's popularity spawns sporadic, Ondrasik caught the hockey bug as a teenager and has stayed under its spell ever since.
"I've been a Kings fan since Luc Robitaille was a rookie," says Ondrasik, who scored a Grammy nomination for "Superman" in 2002 and whose new single "100 Years" sits at No. 1 on Billboard's Adult Contemporary chart. "Sports are my escape, just like music is an escape for other people, and I really enjoy being a fan of hockey players. They're the most human athletes we have and that's why I love the sport as much as I do."
Nickelback bassist Mike Kroeger might not find himself on the same bill as Ondrasik, but he, too, knows what it's like to have hockey in the blood. Growing up in rural Hanna, Alta., he said he didn't have much of a choice.
"Where I come from, there's hockey and there's not much else," Kroeger said of Hanna, which retired NHLers Lanny McDonald and Jim Nill also call home. "The game is such a big part of the town's social structure and before you know it, it's become a part of you. That was exactly what happened to me."
Kroeger meets loads of celebrities when he's on tour, but the only ones that get his pulse racing are NHLers.
"It wouldn't mean much for me to meet a baseball player," he said, "because I'm not a baseball fan. But any time we meet a hockey player, it1s a thrill. These are the guys we all wanted to be when we grew up.
"Funny thing is, though, you talk to them and they tell you how much they'd love to live the rock star life. I guess it's a 'grass-is-greener-on-the-other-side' thing."
As with any NHL fan, musicians treasure their on-ice memories. Ondrasik is no exception, although one of his all-time favorite days will be agonizingly painful for Maple Leafs fans to recall.
"When I was in college, a buddy and I flew across the country to Buffalo, then took the bus to Toronto for Game 2 of the Kings' series against the Leafs," he said referring to the 1993 Western Conference final, which the Gretzky-led Kings won in seven games. "It was a true initiation into how passionate lifelong hockey fans could be. And there we were, two guys with their Kings jerseys on in Maple Leaf Gardens, getting the full beer shower after the game. We were in heaven.
"It's why Toronto will always have a warm spot in my heart," he said. "And a wet one, too."
Adam Proteau is a writer for the The Hockey News and can be reached at aproteau@thehockeynews.com.