What's that? The NHL lockout is only two weeks old and your hankerin' for on-ice action is making you romanticize the notion of a pre-season game between the Penguins and Predators?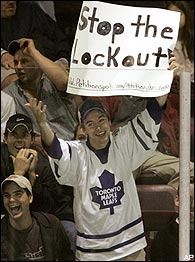 For the love of Brian Boitano, stop the lockout!
Well, snap out of it. The best hockey has to offer has disappeared like Clay Aiken's testosterone, and it'll be a miracle to see NHLers back on the ice before you're mumbling your way through "auld lang syne" and pretending the cheap champagne is to your liking.
But that doesn't mean you can't quench your thirst for hockey elsewhere. On the contrary, your unrequested downtime is a golden opportunity to pursue all the things being an NHL fan has prevented you from doing.
And that's where we come in. Like your "friendly" local tow truck driver -- only without the contemptible fees, gramatically-incorrect tattoo collection and unkempt moustaches -- we're here to get your rustbucket of a social life back on the road.
Here are five time-wasters and to-dos that, if followed to the letter, will ensure you stay aneurism-free every time you hear the words "Goodenow" and "Bettman" from here until January:
1. Call your local sports radio station and complain on-air about the nutjob parents and their frightening delusions of grandeur for their hockey-playing spawn. With no NHLers or referees to spend their life's frustrations on, the scourge of amateur hockey promises only to get scourgier this winter.
Surviving the NHL lockout
And since the sports talk radio market will have some call-in segment space available, you'd do well to direct your bitching toward someone truly repellent instead: the self-appointed arbiter of "fair play" also known as the overzealous hockey parent.
Whether they're second-guessing coaches or preparing lawsuits against on-ice officials, there are few folks more deserving of public ostracizing than the PUTMIHCITNCOWG (Parent Under The Mistaken Impression His Child Is The Next Coming Of Wayne Gretzky -- yes, we failed Acronyms 101 in high school).
These unfortunates are well overdue for a good shaming, if only to disabuse them of the notion their child should come away from a game with anything more than a smile on their face. Consider it a Kevin Spacey-like exercise in "paying it forward" to your puck-appreciating community.
2. Rent Jean-Claude Van Damme's "Sudden Death"
to remind yourself the movie industry is just as hapless as the NHL. With Wolf Blitzer scaring us half to death every hour on the hour, we all need a good belly laugh these days. What better way to get it than by watching an inexplicably famous movie star go from civilian cop to starting goalie for the Penguins, stop a breakaway, and top it off by starting a bench-clearing brawl?
Say what you will about the man's subsequent career flame-out -- the one that made Leif Garrett's life trajectory look like Leonardo DiCaprio's -- but for sheer comedic value, we'll put Van Damme's fight scene against the Penguins mascot up against Abbott and Costello or Groucho Marx any day.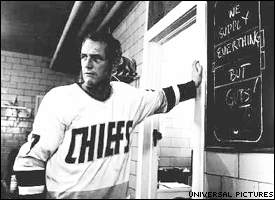 There's time to be wasted. So go on and write Paul Newman a letter.
3. Donate the money you set aside for NHL tickets to a local hockey charity.
A good number of the letters we get at The Hockey News virtually pulsate with fans' anger over the lockout. Many people swear they won't come back when the league finally does.
While that kind of sentiment gives us the warm-and-fuzzies, we won't be truly happy until the talk is walked and there are more empty seats than occupied ones when games resume. The easiest way to do that? How'bout spending the money you allotted to NHL tickets on equipment for kids who can't afford to play? How'bout donating a whack of cash to help fix up the local ice pad?
By doing so, you'll sleep easy with the knowledge you've kept the game growing at its most important level, something the corporate weasels in the good seats know little about.
4. Write a letter to Paul Newman asking him why he won't talk about "Slap Shot." Sure, it shares neither the artistic merits of "Lawrence of Arabia" nor the earning power of "Star Wars," but there's not a pro hockey player alive who can't recite every line from the greatest movie ever made about the sport.
"Slap Shot" may be many things -- romanticizer of egregious violence, pioneer of product placement for Hot Wheels racetracks, treatise on the many usages of tin foil -- but it isn't worthy of being shunned by an otherwise upstanding Hollywood legend.
It's been more than two decades since the guy who played Reg Dunlop spoke about the film, far too long to clam up about a national treasure that's also rumored to be one of Newman's favorite movies. We understand why you wanted no part of "Slap Shot 2," Paul, but you started out with a classic. Helping celebrate it will speed the healing process for all the damage Stephen Baldwin wrought in the sequel. Which reminds us ...
5. Rent "Slap Shot 2," take a hammer to it, burn what remains, and bury the ashes at least 10 feet underground. Because if only a single copy of the worst cinematic catastrophe since "From Justin To Kelly" winds up where it belongs, this entire column was worth it.
Adam Proteau is a writer for the The Hockey News and can be reached at aproteau@thehockeynews.com.