When Anson Carter isn't playing right wing for the L.A. Kings, odds are he's listening to music. And not just for fun, either; the native of Toronto started up his own record label, Big Up Entertainment, to give artists a chance to make themselves heard.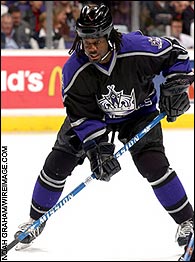 Anson Carter scores points off the ice with his musical selections.
Page 3 caught up with Carter at his California home to find out his all-time favorite albums, and the reasoning behind each pick.
10. "Dr. Dre 2001," by Dr. Dre
When people thought Dre fell off, he unleashed this beast on the public.
9. "Enter The Wu-Tang: 36 Chambers," by Wu-Tang Clan
This super group's release spawned the career of several talented artists.
8. "Word Of Mouf," by Ludacris
Luda's style and energy make this a constant.
7. "Get Rich Or Die Tryin'," by 50 Cent
With this record, 50 made the jump from the king of the mix-tape circuit to one of the top artists in the game.
6. "Reasonable Doubt," by Jay Z
"Hov" definitely brought the heat with an album a lot of mainstream listeners have slept on.
5. "The Miseducation of Lauren Hill," by Lauren Hill
She did what few others have done, breaking free from a successful group to launch a great solo project.
Surviving the NHL lockout
4. "Me Against The World," by Tupac
Nothing else needs to be said.
3. "Illmatic," by Nas
After Nas dropped this album, he automatically moved to the upper echelon of hip-hop lyricists.
2. "Ready to Die," by Biggie Small
Anything by Notorious B.I.G. is a classic.
1. "Passion and Pain," by Main and Merc
My favorite album, hands down. These two cats out of Virginia have the underground buzzing. They will be the next big thing! (Note: Main and Merc were the first artists signed to Carter's label. Their record is expected to be released soon.)
Adam Proteau is a writer for the The Hockey News and can be reached at aproteau@thehockeynews.com.