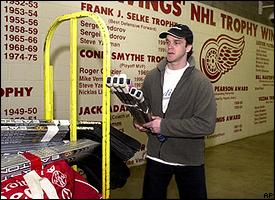 These days Luc Robitaille is putting down his hockey sticks for a remote control.
It's a natural fit,
Luc Robitaille
and Hollywood.
The veteran left winger, who has spent 13 of his 18 NHL seasons with the L.A. Kings, is more than familiar with the entertainment industry; he has appeared in two movies ("Sudden Death," and "D2: The Mighty Ducks") and his wife, Stacia, is a singer with a full-length album ("Hush") to her credit.
So what better NHLer than the eight-time All-Star to provide a list of his favorite movies for bored NHL fans to enjoy during the lockout. Here are Robitaille's top 10 favorite films:
1. "The Shawshank Redemption"
Just a great movie. The story is very deep and Tim Robbins and Morgan Freeman give really powerful performances.
2. "What's Eating Gilbert Grape?"
An all-around solid cast, and an especially great performance by Leonardo DiCaprio.
3. "Rocky"
An amazing, inspirational story.
Surviving the NHL lockout
4. "Pulp Fiction"
An unbelievable cast, great direction from Quentin Tarantino, and a little bit of everything.
5. "Schindler's List"
A true story that is told very well. Moving and powerful and made by Steven Spielberg, the best director ever.
6. "It's A Wonderful Life"
My favorite holiday movie.
7. "American History X"
The movie is great, and Ed Norton takes it to another level.
8. "Dumb and Dumber"
My all-time favorite comedy.
9. "Reservoir Dogs"
Another Tarantino classic, with an awesome plot and cast.
10. "Life is Beautiful"
An extremely moving story about World War II, told and made very well.
Adam Proteau is a writer for the The Hockey News and can be reached at aproteau@thehockeynews.com.